We're hitting the road in Vermont for a series of fun, informative, climate action get-togethers and we hope you'll join us!
Over the next several weeks, the Keep Vermont Cool team, Senator-elect Becca White, and many other legislators, partners and special guests will be traveling across Vermont for our Climate Action and Advocacy Tour!
Each event will include a brief election recap and climate update, advocacy training, meet and greet with legislators and partners, music, food, drinks, giveaways, raffles and more!
We'll be in a town near you within the next few weeks: check out the tour schedule and RSVP to the stop on our tour nearest to you!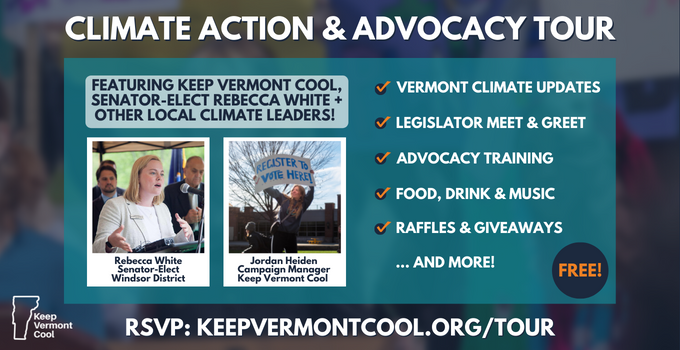 I hope you can join us at one of these events to meet with some of your local elected officials and learn how you and members of your community can act on climate in 2023.
At each event we will take a look back at the recent midterm election and discuss climate impacts and opportunities in the coming legislative session.
There will be a chance to meet with some local legislative climate champs and connect with other Vermonters in your area who care about climate action. And, of course, we'll have food, drinks, music and lots of other fun activities.
This tour will educate, inspire, and empower Vermonters all across the state to take meaningful climate action!
We've confirmed the following events but keep an eye on your email and the Keep Vermont Cool social media pages, because more stops are in the works!
We're grateful for VPIRG and VNRC's support in bringing this series to life.
All events are free and open to the public, but please reserve your seat ahead of time – check out the tour schedule and RSVP today at keepvermontcool.org/tour.
Vermont voters have made it clear that climate was a top priority when choosing their leaders this past election – join us on our tour to meet with some of these leaders and learn how you can help make sure Vermont moves forward with bold climate action in 2023!

We'll see you on the road!
Jordan Heiden
Campaign Manager
Keep Vermont Cool
---
Keep Vermont Cool is a project of VPIRG
All rights reserved © 2022
VPIRG
141 Main Street
Ste. 6
Montpelier, VT 05602
United States
(802) 223-5221
---
FOLLOW US: