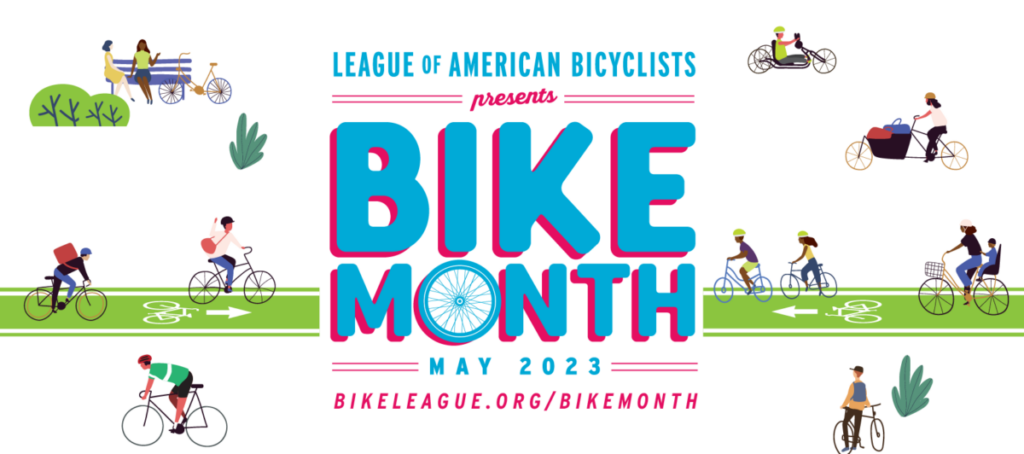 May is #BikeMonth. Let's celebrate bike joy: the physical and mental well-being biking brings us and the power of being on a bike that unites us all. Plus, it's an excuse to get outside and enjoy springtime in Vermont (even though it feels like winter today). Join Champlain Transportation in celebrating!:
On-Campus Events:
National Bike to Work Day: Friday May 19th, 8:30am @ Kieslich Park (311 North Avenue)
Celebrate National Bike to Work Day with a bike commute! If anyone wants to join, I'll lead a group bike commute from Burlington's North end. Bring your bike, helmet, and work bag and we will bike to campus on some low-stress roads. Meet at Kieslich Park, or join the ride at some point on the route. All ability and interest levels are welcome. Please send me an email if you think you might join the ride.
Want to start bike commuting on your own, but have concerns? Check out these tips from the League of American Bicyclists.
Free Bike Tune Ups: Thursday May 25th, 8:30am @ the Miller Center
Wheels on Wheels Mobile Bike Repair will be on-site all day. Drop your bike off, head to work, pick it up at the end of the day! The mechanic will contact you when your bike is ready to ride. Tune up includes: Cleaning the whole bike and drive train, as well as brake and shift adjustment. Please note that the cost of any small replacement parts (such as a chain or cables) will be covered by the employee.
Space is limited, please reserve your tune-up spot here.
Used Bike Sale: All Month – until they are all sold!
I've got a few bikes in storage that could use new homes! All proceeds will be reinvested to purchase supplies for ChampShop, our 24/7 self-service bicycle mechanic shop in Juniper Hall. See a bike that you want to check out or purchase? Schedule an appointment with me to check them out. All bikes are sold as is and on a first come, first serve basis.
Off-Campus Events
Park Your CARbon Week: May 15th-19th
You can reduce carbon pollution in Vermont and impact worldwide climate change. Park Your Carbon is an initiative to help change Vermonters' transportation and commuting habits by encouraging green ways of travel. Try it for a day, a week, or make it an ongoing habit. Bike. Walk. Share Your Ride. Bus. Work From Home. Every trip counts. Even small ones! Take the pledge to commute using sustainable transportation to be a part of this collective impact to reduce our carbon footprint.
National Bike to Work Day event @ Fletcher Free Library: Friday, May 19th 10:30am
Celebrate "Bike to Work Day" on Friday, May 19 from 10:30 – 2:30 at the Fletcher Free Library! Local Motion will be on site with e-bikes; You'll have the chance to test ride an e-bike, and learn about what makes these a great commuting option!
Burlington Electric Department will also be there with information about their e-bike rebates.
And at 12:30pm, Peter Burns will be giving an Everyday Biking Workshop that'll provide guidance on safe biking practices.
Local Motion's "Bikenger Hunt" Instagram photo contest: May 15th-19th
ENTER TO WIN PANNIERS OR A BIKE PUMP! Here are the rules: take a photo featuring yourself or your bike at the five places listed on Local Motion's Instagram post. Post all five places to your Instagram grid and include #bikengerhunt in the caption to be entered to win an Axiom Seymour Oceanweave Pannier OR a Topeak Joe Blow Sport III Floor pump. The Bikenger Hunt ends at midnight on Friday, May 19th.