Reposted from Peace & Justice Center

Join us October 27th for a conversation with artist Kia'Rae Hanron
-Noah Ampe, Communications and
Events Manager
In This Issue
Store Announcement
Fall Author & Artist Series
PJC Board Thank-You Statement
Burlington Benefit to Stop the Water Crisis in Jackson Mississippi
…and more!
Click here to visit our fair trade, local, and educational store!
October 19th, 2022
The Future of the Peace & Justice Store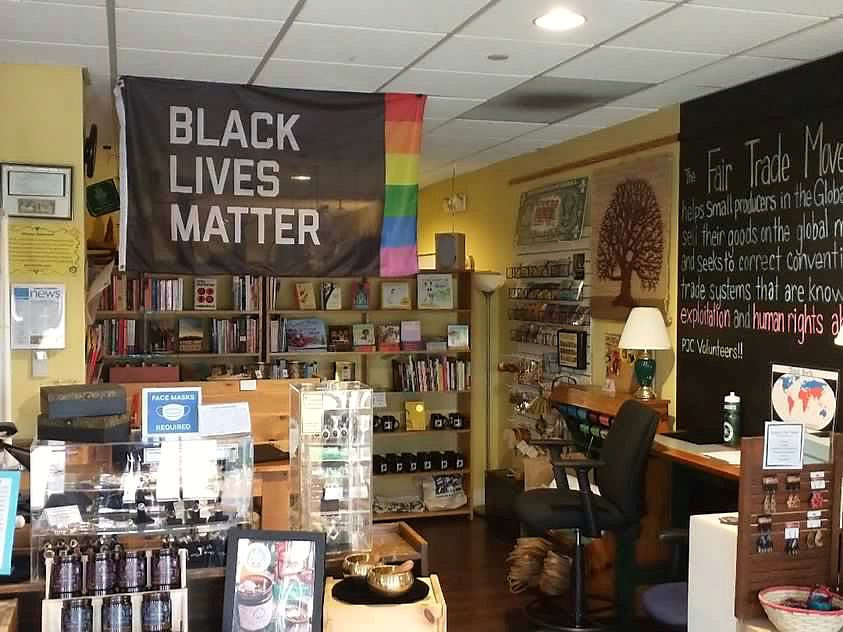 Dear friends,
With some sadness, we wanted to announce to the public that we will be closing the Peace & Justice Store at our current Lake Street location at the end of this year.
As both a board and staff, we concluded that the Peace & Justice Center and our mission will be better served by relocating to smaller space and refocusing our time, money, and effort on our educational programming and community advocacy work. The store will likely continue in a reduced capacity following the move, focused more on our activist materials. We are so grateful for the time we have spent with you all, and we want to recognize the importance of this space to so many in the community. Community groups have met here, activists have strategized here, and memories have been made for more than a decade. We are so honored that we have shared this space with you all, and we wanted to let you know that we plan to keep all those memories close to our hearts. On a personal level, the store in its current location was one of the first places I ever felt at home after moving to Burlington in 2017. As the current store manager, I mourn with all of you. But I also hold onto the hope that this move will only serve to benefit the Peace & Justice Center as we refocus and reinvent ourselves.
We plan to keep the store open until December 18th.
Please come and see us and enjoy our space!! We look forward to seeing you all.
Thank you,
Kason Hudman
Store Manager
Last PJC Fall Author & Artist Series!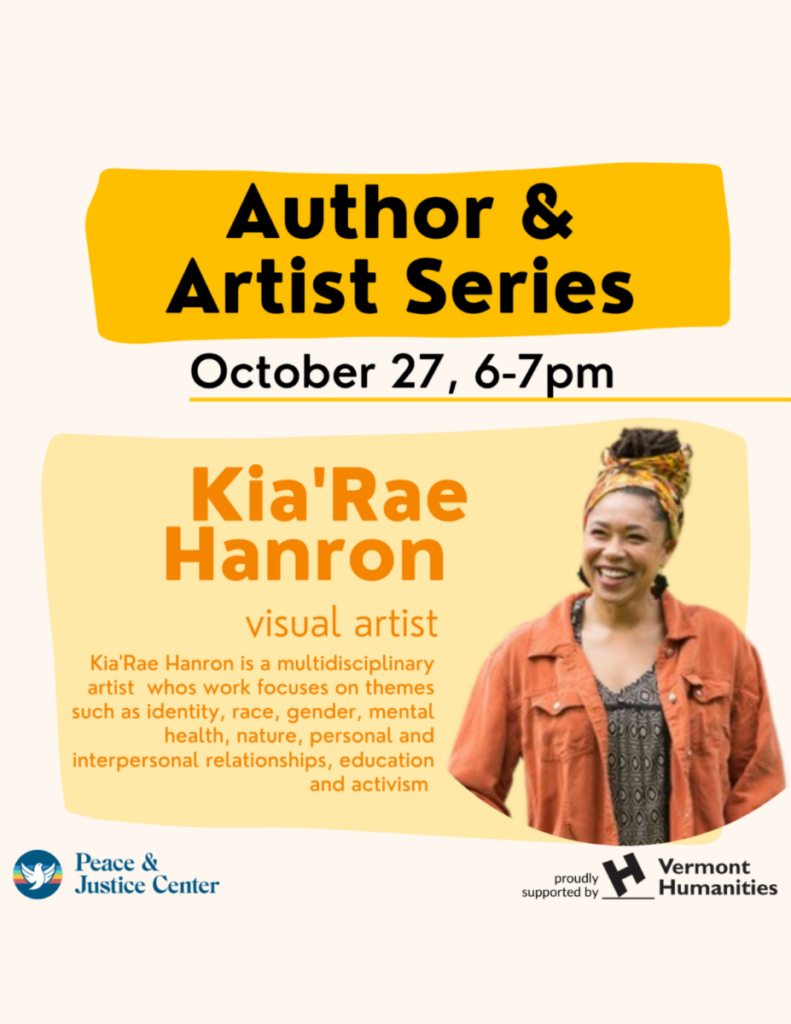 "With Muchness as My Muse"
Peace & Justice Author Series: Visual artist Kia'Rae Hanron
Join Peace & Justice Center for a conversation with educator, activist, and artist Kia'Rae Hanron. Kia'Rae is a multidisciplinary artist whose work focuses on themes such as identity, race, gender, mental health, nature, personal and interpersonal relationships, education, and activism.
Kia'Rae Hanron is a lifelong Vermonter currently residing in Burlington. She grew up in Montpelier with her mom, Karen, who is a visual artist and musician. Kia'Rae has a deep connection to art and learned at an early age how creative expression can help people move through difficult times.
As a super-sensitive, biracial African-American girl growing up in Montpelier, she often struggled with her identity and feeling a sense of belonging with her peers, and began to struggle with her mental health in high school. In college, she was gradually diagnosed with depression, ADHD, and OCD while pursuing her bachelor's degree. After 6 years of college, a semester off, a change in course of study, having overcome several personal, familial, and educational adversities, and being reintroduced to the concept of "identity," Kia'Rae graduated from the University of Vermont in 2020 with a Bachelor's Degree in Arts Education and a renewed love for herself, education, and life.
She currently works for Clemmons Family Farm, a Black-led arts, culture, and education non-profit organization in Charlotte, as the K12 Arts Learning Advisor. She spends most of her free time drawing on her iPad, writing, creating random things, and re-watching her favorite shows. Her favorite artistic mediums are paint, drawing, collage, digital art, and poetry/prose, but she always welcomes the challenge of learning something new!
You can find some of her work and connect with her on Instagram or via email.
Instagram: @sunnyraes_illestrationz
Email: krhanron@gmail.com
Thursday, October 27th, from 6-7 pm at the ONE Community Arts School, 294 N Winooski St, #111 Burlington, VT 05401.
Burlington Benefit to Stop the Water Crisis in Jackson, Mississippi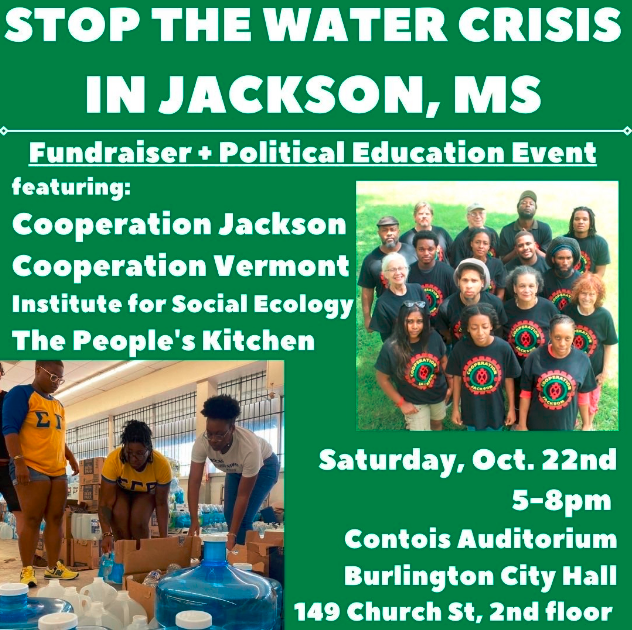 In August and September of this year, more than 160,000 people in the majority Black city of Jackson, MS, experienced a complete breakdown of their local water supply following a climate-driven flooding event. Today, many people's tap water is still unsafe to drink, and state officials continue to ignore residents' basic needs.
Cooperation Jackson, a world-renowned community renewal and mutual aid organization is still distributing bottled water to residents and also planning for the future. They are gathering resources to build a series of community water catchment systems to better meet the community's long-term needs.
Please come to Burlington City Hall's Contois Auditorium on Saturday, October 22nd, from 5-8 pm for food, music and special guest speakers to help support Cooperation Jackson's recovery from the water crisis!
There will be food served by the People's Kitchen and music by DJ Chia.
Speakers:
Kali Akuno, co-founder of Cooperation Jackson and co-editor of Jackson Rising: the Struggle for Economic Democracy and Black Self-Determination in Jackson, MS
Michelle Eddleman McCormick of Cooperation Vermont, which has raised support from Cooperation Jackson to save the beloved Marshfield Village Store and turn it into a worker cooperative
Brian Tokar of the Plainfield-based Institute for Social Ecology, author of Toward Climate Justice and co-editor of Climate Justice and Community Renewal: Resistance and Grassroots Solutions
When: Saturday, October 22nd, 5-8 pm
Where: Contois Auditorium at Burlington City Hall, 149 Church St in Burlington
Masks strongly recommend
PJC Board of Directors: Appreciation for Zoraya Hightower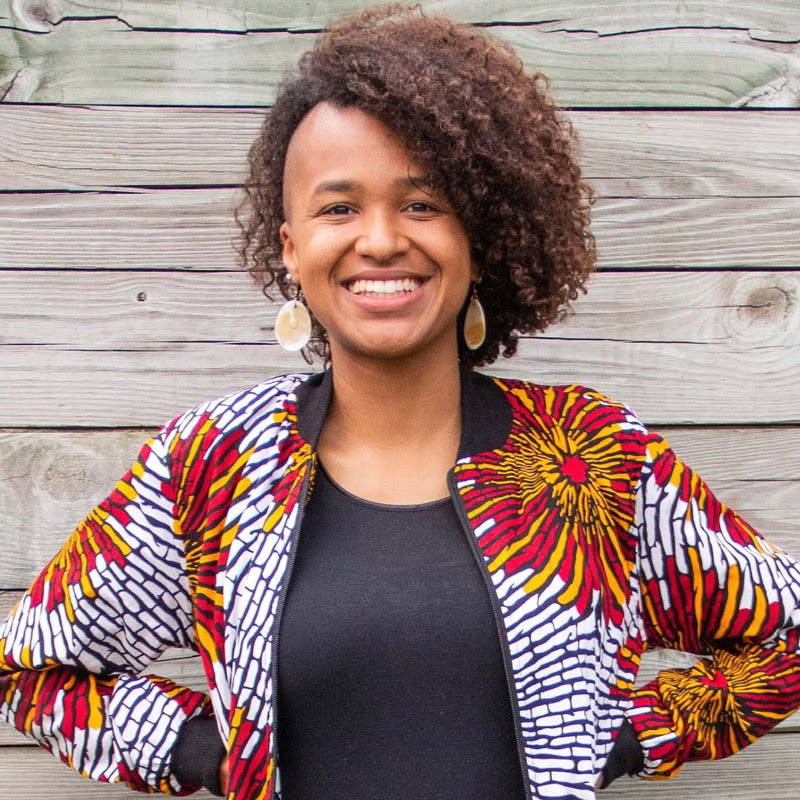 Zoraya Hightower has served as Executive Director of our Peace and Justice Center for only a short time. However, during her leadership we have strengthened our programs, committed ourselves more thoroughly to serving the BIPOC community, and sharpened our organizational structure so that we can more effectively achieve our mission goals. She has been a champion in the community for justice and human rights. A respected leader, Zoraya has attracted new membership and nurtured the enthusiasm of our staff. We wish her well and know she will continue to be active in the work of the Peace and Justice Center.
-The Peace & Justice Center Board
Vermont Racial Justice Housing Jam: Increasing Equity in Vermont Housing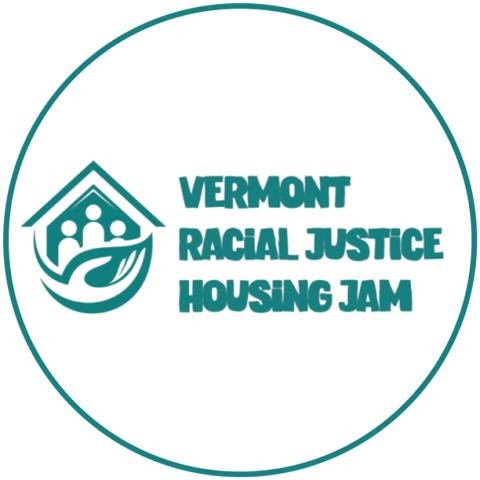 November 3rd will mark the start of a four-part series looking at the impact of racial inequities on housing in Vermont. Shanti Abedin, Vice President of Housing and Community Development at the National Fair Housing Alliance will be speaking!
This session will provide an overview of historic challenges and an examination of opportunities to increase racial equity in Vermont's affordable housing development system. The meaning of terms such as "equity" and "white supremacist culture" will be explored. How might language and culture in the housing field reinforce built-in assumptions and create barriers to housing access? Share your experience and engage in the discussion!
First Session: Thursday, November 3rd 4:30-6:30pm
Virtual
Want to submit something for a future edition of our e-news?
Youth Environmental Summit 2022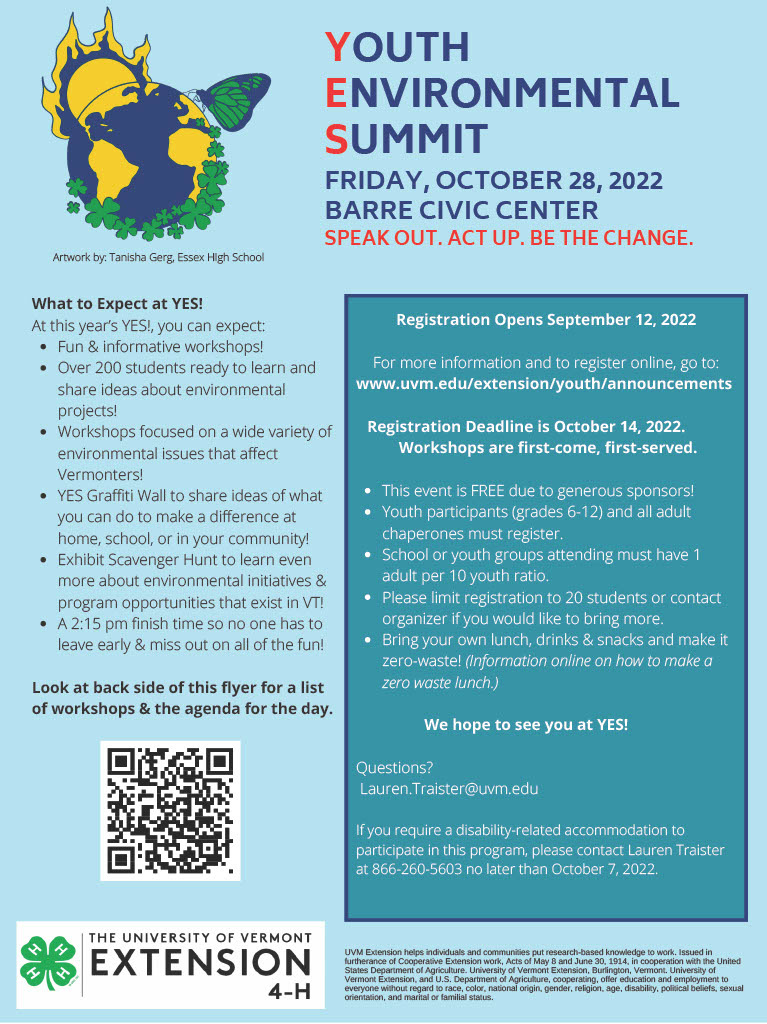 Friday, October 28th
3:00-5:00pm
Barre Civic Center, Barre
Calling all students, parents, and educators! The Youth Environmental Summit (YES) is happening on October 28th in Barre! It is an annual event for students in grades 6-12 who want to learn about environmental issues and find ways to take action. At YES participants engage in hands-on workshops, action-inspiring discussions, networking with environmental professionals and like-minded peers, and much, much more! You will even see the PJC there.
"We The People Music Video"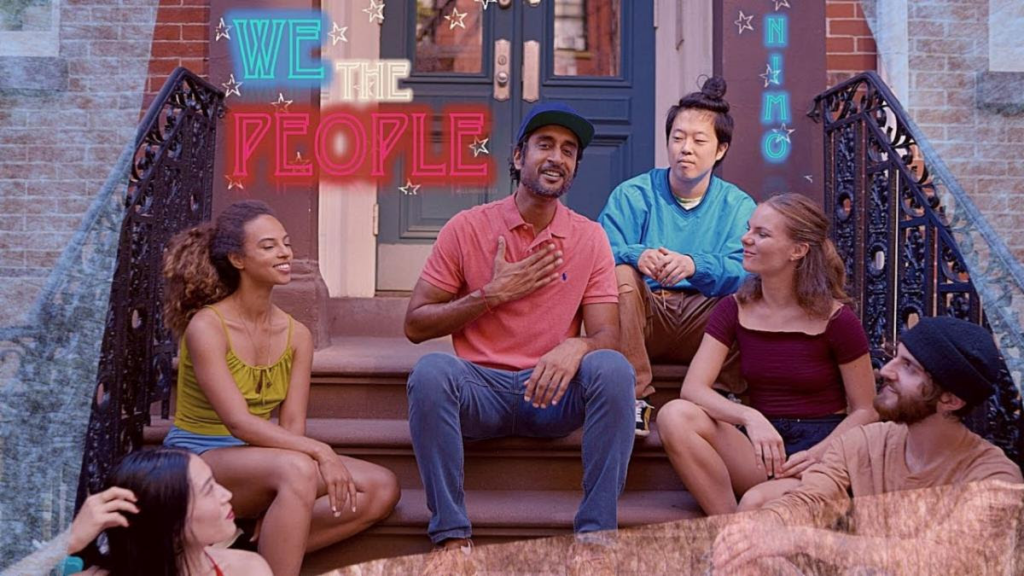 Nimo Patel and Empty Hands Music, a global non-profit organization are excited to announce their latest music video, which enkindles hope for peacebuilding in our communities: "We the People". From an Ivy League education to Wall street to fame and fortune as a MTV Rap star, at some point along Nimo's journey he realized that we was walking a path of suffering and that the only path to light was through selfless service to others and his own internal purification.
Most recently Nimo has reconnected to his roots of music and is offering this gift of love, peace and oneness through his songs: an offering he calls "Empty Hands Music. Empty Hands is a 501c3 US-based Non-Profit, 100% Gift offering with an intention to spread seeds of goodness through its music, events & sharings all across the world, as well as through its grassroots, arts-based service work.
The Poetry Experience at Fletcher Free Library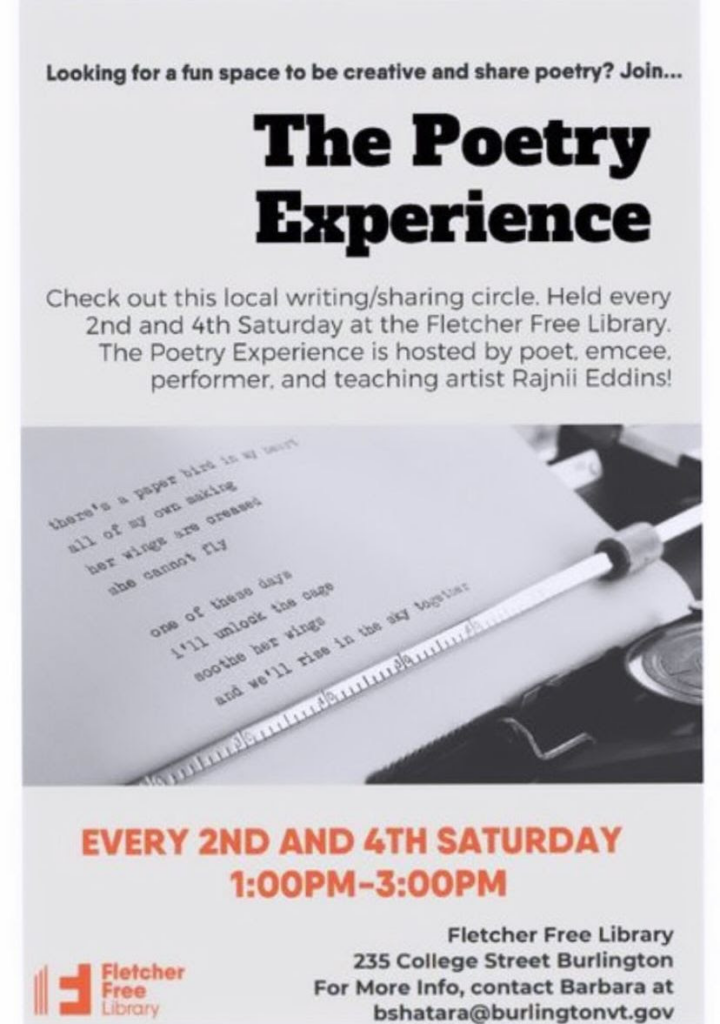 Saturday, October 22nd
1:00-3:00pm
Fletcher Free Library
Looking for a fun space to be creative and share poetry?
Check out this local writing/sharing circle (held every 2nd and 4th Saturday) hosted by Rajnii Eddins!
Please spread the word and feel free to invite poets, writers, teachers, emcees, creative people and arts enthusiasts of all ages!
This event will be held in the Fletcher room at the library. 
Community Cooking Nights for Food Not Cops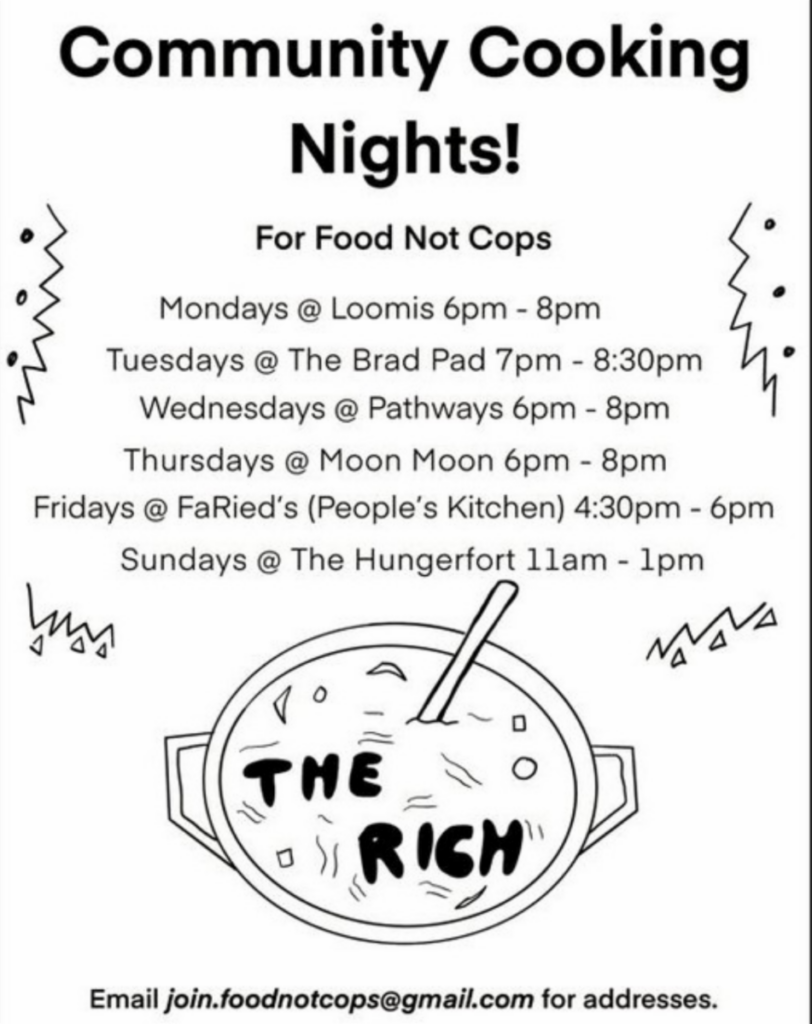 Do you want to get involved in Burlington mutual aid? It's easy! Stop by a community cooking event and help cook free meals for our unhoused & precarious neighbors with a group of friendly folks!
Almost every day of the week, they cooking for the Daily Distro – a free lunch served up every day 1-2pm at the Marketplace Garage.
No experience necessary — just show up with a mask, hair tie, and be ready to chop some onions. If you can only come late or stay for part of the time, it's all good! Any amount of time is super appreciated.
DM @foodbombsbvt on Instagram for addresses.
What is Food Not Cops?
Food Not Cops is a special project created from a partnership between BTV Copwatch and Food Not Bombs Burlington. They have been running for 800 days straight, serving meals and distributing supplies.
Food Not Bombs is a 40 year old, international (dis)organization that serves rescued food as a form of social protest against militarism, imperialism, and white supremacy, dominant society.
Center and Store Hours
Wednesday-Saturday:10am-5pm
Remote Work Hours
Tuesday – Friday: 9am-5pm
Location
60 Lake Street, Suite 1C
Burlington's Waterfront (Next to Skinny Pancake)