Reposted from CATMA
To see the full newsletter use this link: View this email in your browser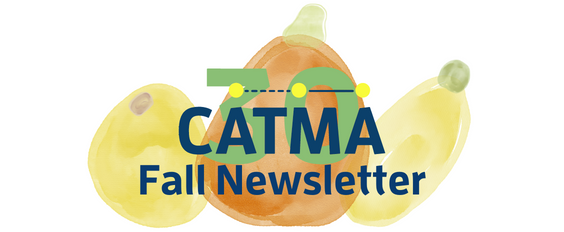 Transitioning weather means it's time to transition your commute! 
Events, Resources & Updates
What the CATMA Transportation Summit means for you
Helping all people move around Chittenden County safely and sustainably is important for everyone whether it's getting kids to school and parents to work or helping people of any age make necessary trips such as getting to the doctor and shopping for food.
Maintaining and improving sustainable transportation options is at the heart of CATMA's mission and was the focus of our inaugural Transportation Summit.
Over 100 attendees including politicians, state appointees, businesses, developers, consultants, planners, community advocates and community members gathered in-person. For many, it was the first time seeing each other in-person after a long period of only meeting on Zoom.

This year, our inaugural Summit focused on Equity and what that means for transportation. We began the day with a General Session for all attendees to create a shared definition of Equity. In the afternoon, breakout sessions focused on different facets of transportation and equity such as policy, climate action and community. At the end of the day, attendees listened to a closing session about options for the continuation of funding fare-free transit. In the coming weeks, we are releasing video of most of the talks. If you'd like to watch any of these session. Subscribe to our YouTube channel and click on the bell to receive notification when the talks are uploaded.
Sustainable Fall and Winter Commutes
Once again, it's time to plan for Fall and Winter Commuting. Here are some tips for handling those seasonal changes to our transportation routine:
Fall is a great time to re-visit Teleworking schedules. If you're an employee, talk to your boss about setting up a telework schedule. If you're an employer, offer more work from home days during the Winter. Find out more from our Telework Toolkit.
Buses in Chittenden County are still free! Fall is a great time to try getting to work on the bus before the days get too much darker and the roads get slushy. Riding the bus is a great way to relieve the stress of driving on icy roads. Hop on and give it a try. Use the CATMA trip planner to find your route or find your schedule at the GMT website.
Cycling to work or elsewhere *is* possible during the Winter, even in Vermont (we promise!). Watch this video from Local Motion, Vermont Clean Cities and the Vermont Research Institute to learn how to adapt and enjoy your Winter rides.
Walking in Winter is much more enjoyable and safe with the right equipment. Learn more about clothing and equipment that can help you stay safe and warm here.
More Middlebury – Burlington Commuter Transit Routes
MIDDLEBURY…Effective Tuesday, November 1, 2022, Tri-Valley Transit (TVT) will double frequency of service on the weekday Link to Burlington.  This commuter express route connects Middlebury to Burlington and points in between along the Route 7 corridor.  Key destinations include Vermont Teddy Bear, VT Day School, Shelburne Road (near Waldorf School), UVM Medical Center and the Burlington Downtown Transit Center.  There is no change at this time to the Saturday Link to Burlington schedule.  All TVT buses are fare-free.
Northbound buses will depart Middlebury Academy Street at 6:15am, 7:15am, 3:20pm and 4:00pm.  Southbound departures from the Burlington Downtown Transit Center will be at 7:45am, 8:45am, 4:50pm and 5:30pm.
Bikeshare Update
Following the surprise shut-down, this Summer, of Gotcha by Bolt, we have been working with area cities and universities to get the Bolt Bikes off of the street and into storage. Removing and storing the 150+ bikes left behind by Bolt is a continuing challenge, especially since they are e-bikes and have batteries that must be properly stored. If you see bikes that need to be removed please send an email to info@catmavt.org.
 
We are now working with the Cities of Burlington and South Burlington to select a new bikeshare partner for Spring of 2023. Bikeshare is a very important community resource and we are committed to providing a safe and functional bikeshare option. CATMA is currently preparing a public survey about bikeshare to be release in the next month. Follow us on social media to find out when this survey is available for public feedback.
Caring Commuters: Help Raise Money for the VT Foodbank
Take greener trips and help raise $1,000 for the Vermont Foodbank
Starting November 1st through November 20th record your greener trips in your Go! Vermont account and when a total of 2,500 trips have been recorded, we'll donate $1,000 to the Vermont Foodbank. Not a member yet? Join today! Together, we can help our neighbors and make a difference in Vermont! This event is generously supported by AECOM, Place Creative, Tri-Valley Transit, and Agile Mile.
Construction Updates & Alerts
It can be frustrating to get stuck while travelling because of construction projects. The Chittenden County Regional Planning Commission periodically sends out alerts and updates about construction projects that might affect your travel such as the new roundabout on US7/Shelburne Street in Burlington or the paving project on Route 7 in between Ridge Road and Swift Street in the South Burlington/Charlotte Area.
 
Signing up for CCRPC construction alerts saves you time and hassle.
Message from the CATMA Team
We want to continue connecting with you and support you in traveling safely as needed or in working remotely. Please visit our website for new resources and tools. If you have any transportation questions, please reach out to us at info@catmavt.org
Happy Commuting, 
Sandy, Josh, Marlena and Katie
Copyright © 2022 CATMA, All rights reserved.
Our mailing address is:
CATMA
20 West Canal St, C9
Winooski, VT 05404