Reposted From: COTS

Alert: *Our admin offices will close at 3pm on September 21st and September 29th.*
COTS Moments
Your support helps COTS end the cycle of homelessness for past clients like Emily. Emily is a single mom with two young children. She had been staying in the ESD hotel system and moved into the COTS family shelter in March 2022 for more stability for her children. Emily connected with a housing navigator and eventually received a section 8 voucher from BHA at the beginning of June. Her goal was to secure housing before her oldest son started Kindergarten. In September she worked incredibly hard, using every connection she had to search for a unit. Through a friend of her parent, she was able to secure an apartment outside of Chittenden County, and has registered her son for school next year. At the Back to School Bonanza she was picking out school supplies for his first day!
Are you interested in making a gift to COTS to help us continue to help people like Emily? Click the donate button below!
All names and identifying details have been change to protect the individuals mentioned.
Events
Back to School Success!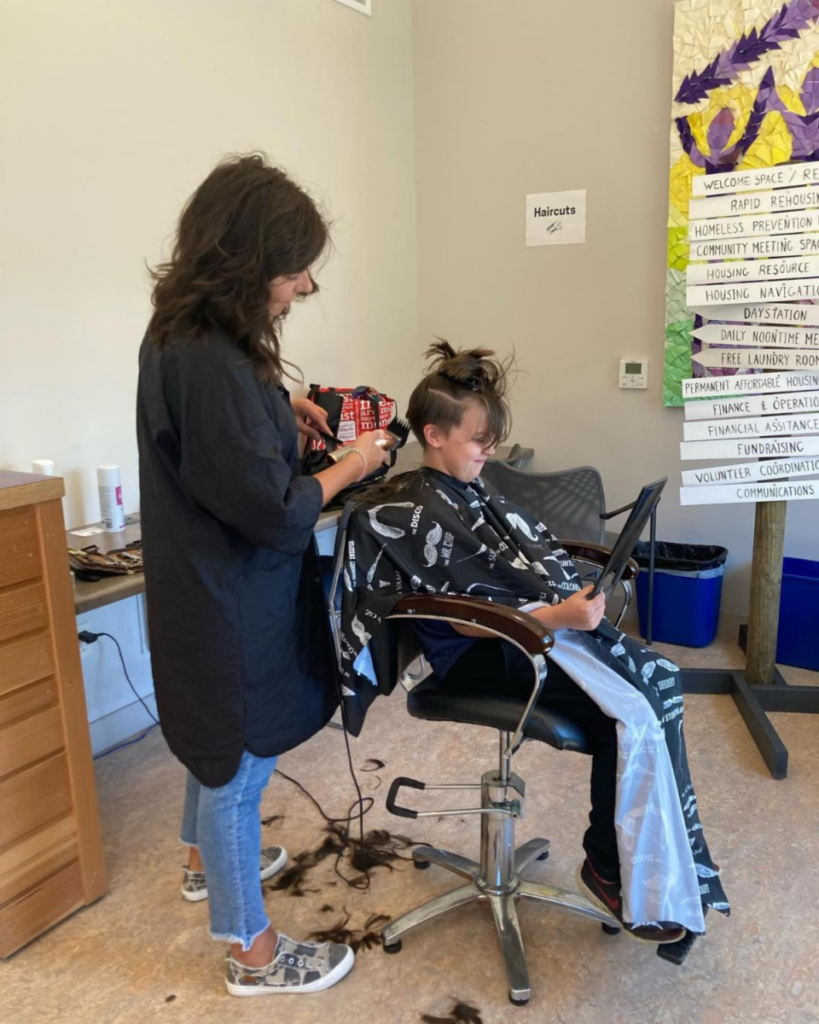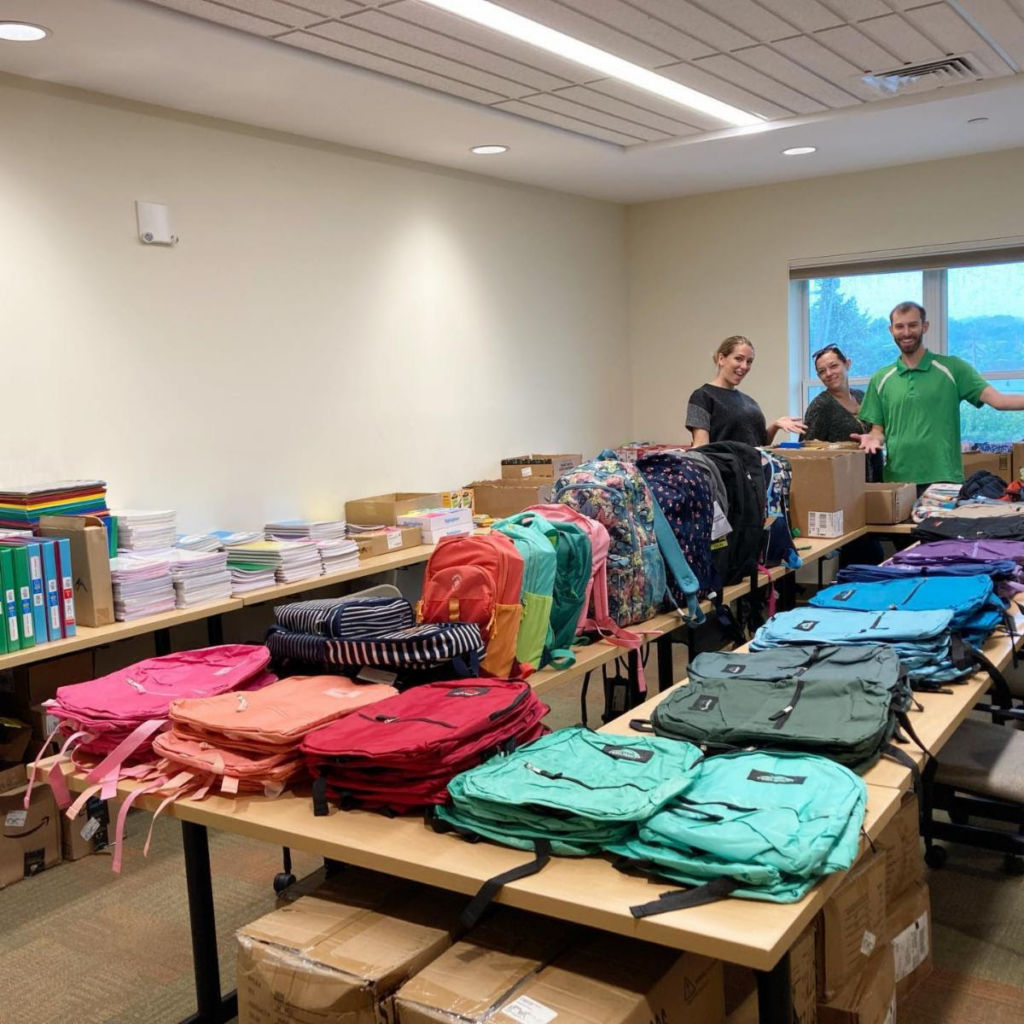 Thank you for making the school year easier for students in our community. With your help, we received hundreds of school supplies that we distributed to our community partners AND many other students in need in our community.
The Back to school Bonanza community event was located at our admin offices and open to any students K-12 in need. There you could get a hair cut, pick out a first day of school outfit, pick out a backpack and school supplies, as well as receive diapers and other hygiene/household items that you may need. Families were able to eat a healthy lunch and some fun foods like snow cones, popcorn, and cotton candy. The bouncy house and face painting was also a hit!
We had hundreds of families attend that were able to leave with a fuller belly, supplies, and fun to help make the school year a little bit easier.
"I overheard a teenage girl talking to her mom who was ecstatic to find out that we were giving away tampons. "They even give us tampons!" she said. Her mom looked relieved and happy."- Rebekah Mott
We couldn't put on such an event without our wonderful supporters, volunteers, sponsors, donors, friends, staff members- thank you for making a difference.
Thank you to our sponsors; Oh my DOG, SeaComm, Northfield Savings Bank, Vermont Lake Monsters, Homebridge Financial Services, Inc., and Star 92.9.
Thank you to the incredible volunteers who organized school supplies and prepared the entire event! You rock.
It was our first year and we are so excited to make next year's Back to School Bonanza even bigger and better!
News
Farewell to Tim Coleman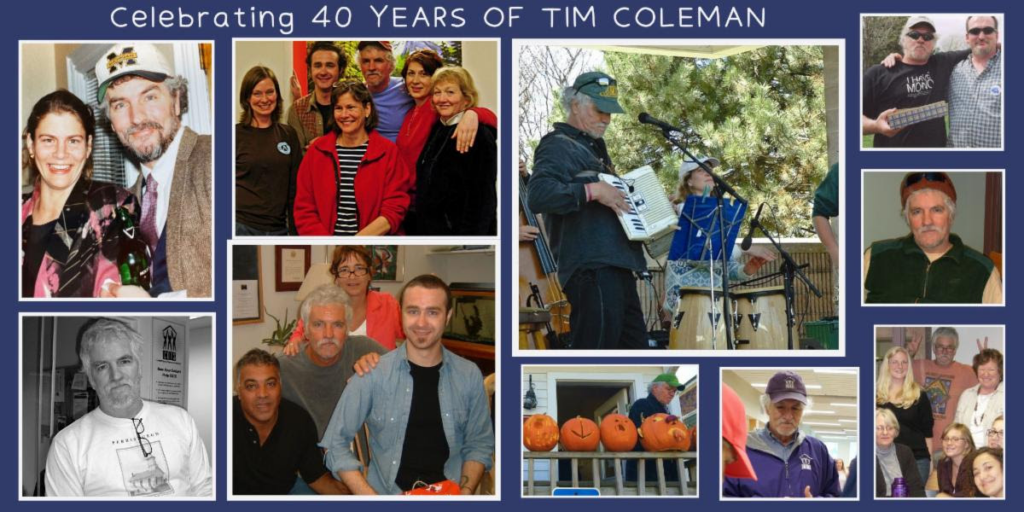 Tim was COTS first staff member in November 1983. COTS had only been in existence for 10 months before he joined us. We had no resources, no reputation, and no plan- just an abundance of faith that carried for the most vulnerable. He had all the freedom to help shape the programs and values that would shape our work for decades.
Tim has always listened closely to the people we serve, and since day one, he has advocated tirelessly for their needs. We have a Daystation, we have case management services- because Tim flagged the need and pressed hard for COTS to provide more than a bunkbed and a blanket at the Waystation. We have the Smith house because Tim pushed hard for a step up shelter that would allow people to create a housing track record in a market where you needed some kind of landlord reference.
Tim's advocacy wasn't just at COTS. Tim drove an RV in 1989 to bring folks from the Waystation and family shelter down to Washington D.C. to be part of the largest demonstration that there has ever been for the right for housing; The Housing Now March. Tim also extended this advocacy locally- every two years when Burlington has a race for Mayor, Tim would host a forum for all the candidates to come in and answer questions directly from the folks we serve.
Whenever there were threats to funding, the Daystation was the bustling center for making posters and signs, and gathering for City Hall or government buildings; in fact, so much so that the place would reek of poster paint and magic markers for days after. Tim hosted voter registration drives with pizza.
One of Tim's greatest gifts though is creating a setting where people feel easy and safe being whoever they are or want to be. Tim was not trained as a social worker, but he would give master level classes on how to see the fullness of every person, creating ways to reach the most forlorn or withdrawn, and understanding the difference between anger that's prompted by fear or depression, not rage.
Over the past 30 years I have seen Tim diffuse tense conversations or build an unexpected bridge by making someone laugh. Even when all hell was breaking loose, his quick wit never failed. There was a brand new employee at the Daystation who was trying very hard to engage and connect with clients, somehow she ended up with a full cup of coffee splashed across her front. She wasn't hurt but she was very, very, embarrassed. within seconds Tim was there to say, "hey, hey it's ok, it's ok, Coffee On The Staff, that's COTS , that's part of what we do." But beyond laughter, Tim brought music and warmth to COTS.
He MC'd talent shows where guests and staff could sing, juggle, read poems. He hosted costume contests and pumpkin carving at Halloween, karaoke nights. Tim always encouraged guests, staff, and volunteers to create activities that they were interested in pursuing. We had literary magazines, a play produced, and craft circles. All of this because Tim understood deep down how much people need to play, laugh, and connect. He knew that picking apples or practicing a song for karaoke gave our folks something to look forward to and a chance to lift up, beyond the daily strains of living in shelters or cramped in a tent outside.
How do you quantify the impact of someone like Tim Coleman, a man who used his many talents to create an entire world of warmth and music, welcome and connection- within the careening chaos of a harsher world around us? We can't. What we can do though is salute the man whos heart and humor have fueled this organization for nearly four decades.
-Paraphrased parts of Rita Markley's speech
Listen to Tim's band here!
Volunteer Opportunities
Help us re-stock our hygiene shelf!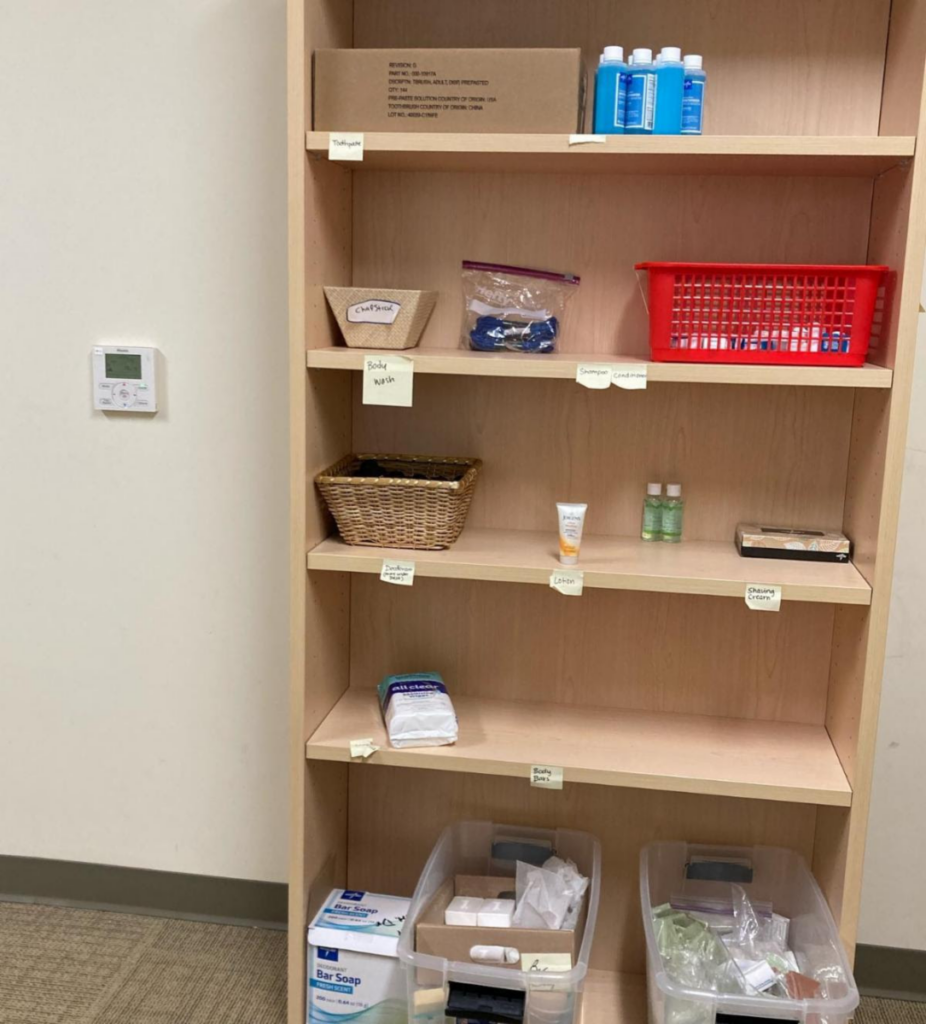 We distributed all of our hygiene supplies during our Back to School Bonanza and need help re-stocking.
You can help by running a donation drive at your school, church, club, gym, temple, class, wherever!
In order of importance, we need new and unused:
Shampoo
Conditioner
Body Wash
Deodorant
Razors
Shaving Cream
Lotion
Toothbrushes
Toothpaste
Floss
Bar soap
Combs/ Brushes
Mouthwash
You can bring these items in to 95 North Avenue M-F 9am-5pm. You can also order items off of our Amazon Wishlist. Thank you for your help.
Volunteers Needed to make Daystation Lunch
Stay in touch for all volunteer opportunities! Apply to volunteer here
After you apply, join our Volunteer Facebook Group to Stay Updated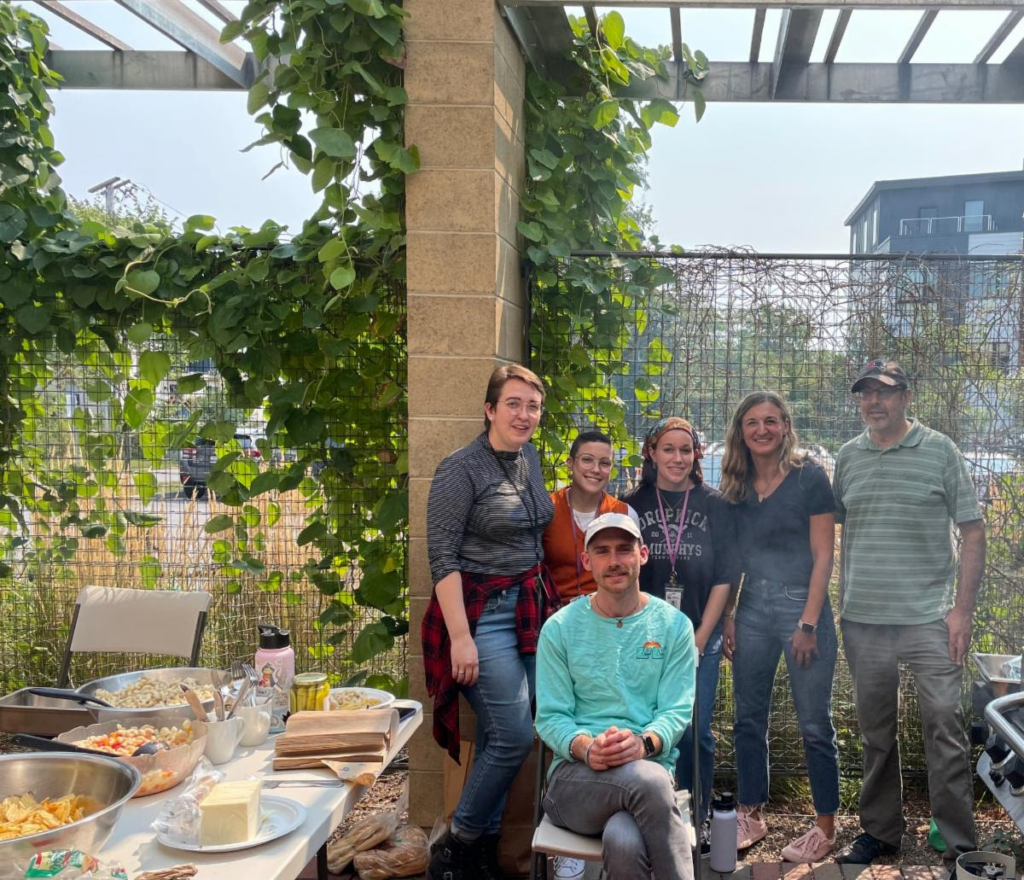 People are needed to prepare and serve meals at the Daystation, COTS's daytime shelter for adults, open 7 days a week, 365 days a year.
Plan on feeding up to 25 people- we request that meals be well balanced.
You can also treat the Daystation to lunch by ordering a pizza or some other food delivery- just be sure to sign up below.
View which days we need lunch for, and sign up here!
You must be 18 years or older to serve lunch.
Contact Romyt@cotsonline.org with any questions.
"In Times Like These" Postcard Campaign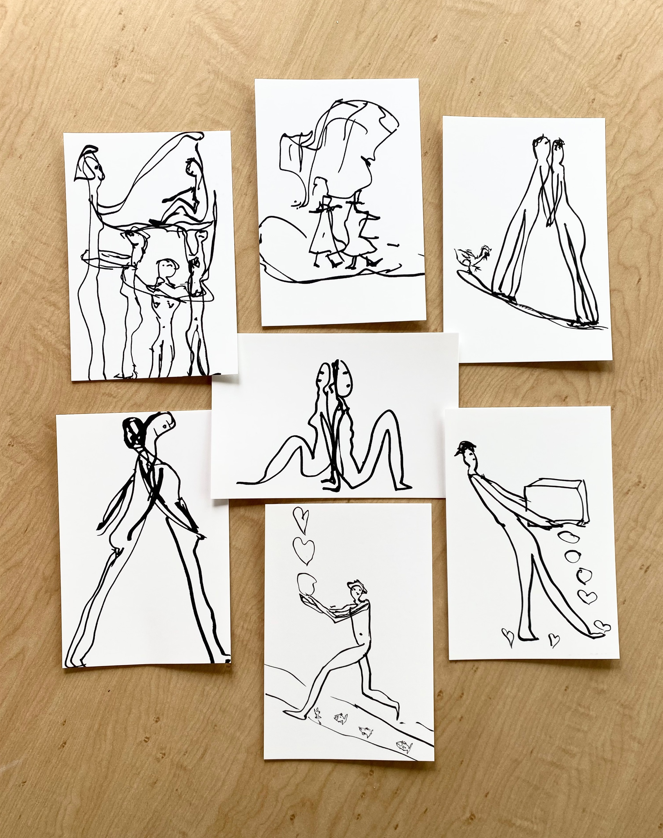 We have partnered with Erika Senft Miller who created the art on each postcard, with the series of artworks entitled "In Times Like These."
Each postcard stands as a reminder of something often taken for granted – the importance of an address. These postcards are reminders that you can't receive mail when you don't have an address. A permanent address is needed for most jobs and services, which is why COTS' work is so important. COTS clients can list COTS as an address and receive mail at the Daystation – COTS daytime drop-in shelter for single adults.
When you order a postcard, you can choose from one of 7 designs by Erika Senft Miller.
Postcards are a great way to let someone know you donated in honor of them.100% of your postcard purchase directly benefits COTS so that we can provide emergency shelter, services, and long-term housing for Vermonters who are experiencing homelessness or are marginally housed.
For each post card you order, there is a suggested $10 donation. If you give us the names and addresses of people you are donating in honor of, we will send them directly for you. If you would like to request a specific card design, you can do so when you fill out the postcard donation form. To order, click the button below!
If you have any special requests/instructions, please email laurah@cotsonline.org
Join our team!
Are you or someone you know looking to serve the community full or part-time with COTS? We are hiring! Please visit cotsonline.org/careers to view open positions. We are currently hiring for:
COTS Executive Director
Accounting Manager
Adult Shelter Support: Days, Overnight & Weekend Opportunities
Family Shelter Support
Motel Outreach Housing Navigator
Housing Retention Specialist
Community Mental Health Advocate
Children's Mental Health Advocate
Per Diem: Single Adult Shelter Staff
Per Diem: Family Shelter Staff
To apply, send your résumé and cover letter to jobs@cotsonline.org and state the position to which you are applying.
Purchase High-Need Items from Our Wishlist
We are currently in need of high-need items listed on our Amazon Wishlist. You can donate these items with the link below and they will ship directly to COTS!