April 28, 2021
News | Opportunities | Resources | Events | Jobs | Submit | Advertise
News of the Week
THE Releases 2021 Impact Rankings
The Times Higher Education (THE) University Impact Rankings assess universities on their contributions to the U.N. Sustainable Development Goals. The 2021 ranking includes 1,115 universities from 94 countries/regions. The overall ranking is led by the University of Manchester (U.K.), followed by three Australian universities–University of Sydney, RMIT University and La Trobe University, and then Queen's University in Canada.
More Coordination & Planning News | Coordination & Planning Resources
---
Smith College Pledges $200,000 to Community Resilience Hub
The university's $200,000 pledge towards the Community Resilience Hub aims to support residents who face chronic and acute stress due to natural and human-caused disasters, climate change and social and economic challenges.
More Public Engagement News | Public Engagement Resources
Academics
Belmont U Receives $3.5M for Environmental Science Endowment
Engagement
U Kentucky Launches 'WholeSum' Sustainability Vision
Operations
U Colorado Boulder Announces 2050 Climate Neutrality Goal
U Cincinnati College of Business Achieves LEED Gold
Temple U Library Attains LEED Gold
U Washington Life Sciences Building Earns 2021 AIA COTE Award
Six Universities Win 2021 OZZI Earth Day Contest
U Southern California Switches to Electric Landscape Equipment
Planning & Administration
U North Carolina Chapel Hill Releases Climate Action Plan
Yale U Adopts Ethical Investment Principles
U Cape Town Approves Responsible & Sustainable Investment Policy
Newnham College to Divest From Fossil Fuels by 2030
Furman U Unveils Statute of First African American Student
Submit sustainability news & information from your institution
Opportunities
AASHE Sustainability Awards: Call for Submissions
The AASHE Sustainability Awards provide global recognition to the individuals and organizations leading the higher education sustainability movement. There will be 12 awards given across five categories. Submissions and nominations are due on May 21. Interested parties may also express their interest in judging this year's applicants.
AASHE Member Discount: 10% Off Reusable To-Go Containers
AASHE members can receive a 10 percent discount on Preserve 2 Go reusable to-go containers.
COP26 Youth Delegation Leaders: Call for Applications
SustainUS is organizing a youth delegation for the 26th U.N. Climate Change Conference of the Parties (COP 26) in Glasgow, Scotland, happening Nov. 1-2. Delegation leaders will be responsible for coordinating the overall development, program design, and delegate selection process for SustainUS's participation at COP 26. Applications are due by April 9.
SustainUS StoryShapers Collective: Call for Interest
SustainUS is convening a cohort of eight young people (ages 18-30) for its StoryShapers program. StoryShapers is a 3-month circle of practice on how artists and storytellers can play a role in campaigns for systemic shifts in key political moments in 2021 by tying together new narratives on climate, economic and racial justice.
New Resources
Greenhouse Gas Emissions Calculation Tool
The World Resource Institute and the Greenhouse Gas Protocol are seeking beta testers for a free, Excel-based tool, the GHG Emissions Calculation Tool, that estimates greenhouse gas emissions.
Events
AASHE Webinar: Using Natural Aqueous Ozone As an Alternative to Traditional Cleaning Chemicals
April 28, 2021 (3:00 p.m. Eastern) – Online
Climate Justice Symposium for Transforming Education
April 28, 2021 – May 1, 2021 – Online
Examining US University Sustainability & Recycling Activities
April 29, 2021 (1:00 p.m. Eastern) – Online
Virtual AASHE Workshop: Facilitation for Organizational Change
May 6, 2021 (2:00 p.m. Eastern) – Online
Sustainable Menus: Plant-Based Meals Webinar
May 12, 2021 (2:30 p.m. Eastern) – Online
AASHE Webinar: Organic University Landcare Management with Sustainability Professionals
May 12, 2021 (3:00 p.m. Eastern) – Online
Climate Fiction Book Club for College Educators & Sustainability Advocates
June 3, 2021 (2:45 p.m. Eastern) – Online
2021 Engineering Education for Sustainable Development
June 14, 2021 – June 16, 2021 – Online
2021 Sustainability Change Leaders Retreat
June 21, 2021 – June 24, 2021 – Online
Visit the Sustainability Events Calendar
Jobs & Internships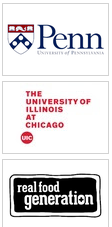 Sustainability Analyst
University of Pennsylvania
Student Sustainability Program Director
University of Illinois at Chicago
Interim Executive Director
Real Food Generation
---
The Bulletin is a weekly e-newsletter delivering the latest in campus sustainability news, resources, opportunities, events, and jobs and internships.
Association for the Advancement of Sustainability in Higher Education
2401 Walnut Street, Suite 102
Philadelphia, PA 19103
888-347-9997 | bulletin@aashe.org
View Online