Call Congress on Dec. 3; Volunteer with Environmental Voter Project for Georgia runoffs; Year-end fundraiser kicks off on Giving Tuesday 
CCL Newsletter, November 2020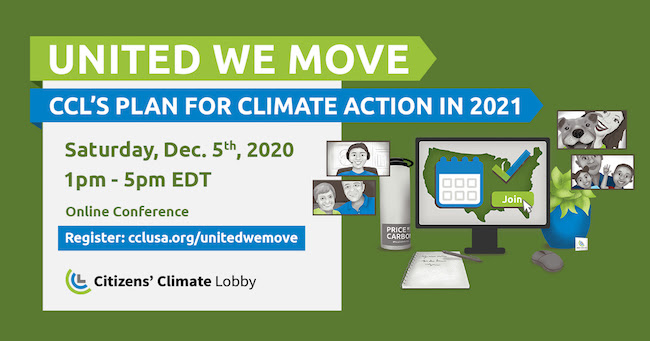 Intersection of race & climate among topics for virtual conference seminars
Climate change and racial justice were two of the biggest issues this year, and the intersection of those two concerns is the topic of one of four deep-dive seminars being offered with our December virtual conference (Dec. 5-6). Here's a quick rundown of the Sunday sessions being offered for "United We Move."
A Lens into Race and Climate: Looking for ways to make your chapter more inclusive for individuals who are Black, indigenous and people of color? This two-hour session offers tools and practices to counteract racial bias and microaggressions to create a more welcoming environment.
Bridging the Divide on Climate Solutions: This two-hour workshop with Braver Angels, designed in collaboration with CCL, teaches communication skills that will allow people with differing views to talk more constructively with each other about solutions to climate change.
Envisioning Climate Success and Your Next Steps: This two-hour seminar uses a mind-expanding time-travel exercise to free up your imagination and consider new solutions. Participants walk away with fresh ideas, feeling affirmed about what they care about most, and with a new sense of purpose. This session is currently full.
New Research on Carbon Pricing Benefits and CCL's June Analysis: This three-hour workshop covers the Household Impact Study on carbon dividends, the carbon price needed to reach net-zero emissions by 2050, health benefits of our preferred climate policy, and an analysis of our June lobby meetings.
All seminars start at 1 p.m. ET / 10 a.m. PT on Sunday, Dec. 6. If you haven't registered for the conference, you'll need to RSVP for both the Saturday and Sunday sessions. If you're already registered for the Saturday conference, you can register again just for the Sunday seminars. If you have questions about the seminars, email conference.inbox@citizensclimate.org.
In other news:
Landmark decision in Canada: A Canadian court has ruled that fundamental rights can be threatened by climate change, and citizens can challenge government action based on that threat. In other international news, CCL will be represented on the G7 Global Taskforce Working Group. Learn more in this Community post.
Call Congress Day Dec. 3: In the leadup to CCL's virtual conference and lobby days, volunteers are encouraged to call Congress to express support for the Energy Innovation and Carbon Dividend Act. Mark your calendar to make calls on Thursday, Dec. 3, using this action tool.
Jobs with Citizens' Climate Education: Applications are still being accepted for the positions of Donor Relations Officer, Conservative Outreach Coordinator and Diversity and Inclusion Program Coordinator. Also, CCL is accepting applications for spring and summer internships.
Catholic climate presentations in English or Spanish: Do you have connections with a Catholic church or university? Do you think they would like to learn more about climate change? CCL's Catholic Latino outreach team can provide climate presentations in either English or Spanish. If you'd like to request a presentation or send a tip to the team about potential speaking opportunities, please contact Tami Kellogg at tami@citizensclimate.org.

Take action this week
If you have a little time: Invite people you know to watch the recording of our November national call with guest speaker Tia Nelson (at left) from the Outrider Foundation. The daughter of Earth Day founder Sen. Gaylord Nelson, Tia talked about the lessons she learned from her father and offered perspective on the state of the climate movement based on her many years of working on that issue. Consider watching with others on Zoom so you can discuss these issues after the call.
If you have more time: Help get out the environmental vote in Georgia's Senate runoffs. The Environmental Voter Project deeply appreciates the CCL volunteers who phoned and texted during the general election, where a half million environmentalists voted for the first time! EVP is now seeking volunteers to phone and text 382,844 unlikely-to-vote environmentalists in Georgia, where two races are headed to runoffs in January that will decide which party controls the U.S. Senate. To claim a shift, sign up at environmentalvoter.org/events.
Connect with your nearest CCL chapter to take action in your community, or join one of CCL's national online Action Teams to take action on specific topics like agriculture, health, faith, and more.
Browse CCL Community's Event Calendar to find upcoming events, trainings, and calls you can join.
---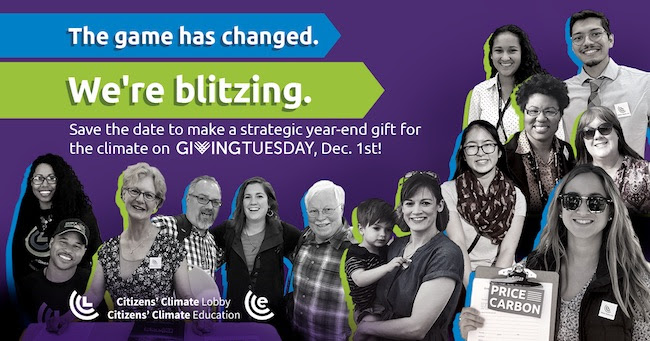 Save the date for Giving Tuesday
Tuesday, Dec. 1, is #GivingTuesday. It's also the official launch of our annual Year-End Fundraiser for Citizens' Climate Education, in which our goal is to raise a total of $1,000,000 by the new year and $200,000 on Giving Tuesday alone!
This year, our work is more critical than ever. With a climate-affirming president, we will be well-positioned to pass meaningful legislation. But a narrowly divided Congress will most certainly require bipartisan support to move any sort of climate solution forward. And that's where we come in!
As one of the few grassroots organizations committed to bipartisanship, Citizens' Climate has laid the groundwork to bring policymakers together on climate solutions. Now, to achieve significant gains in the coming year, we'll have to do even more. This means scaling our efforts and working all possible angles. Will you help us lead the way?
Save the date for December 1st to make a strategic year-end gift or donate early to have your gift applied to our tracking thermometer on #GivingTuesday.
Note: Citizens' Climate Education (CCE) is the tax-deductible, sister organization to Citizens' Climate Lobby (CCL).
---
Grasstops: 100 resolutions milestone 
Some of the most influential endorsements our chapters are generating for the Energy Innovation Act are municipal resolutions urging Congress to enact this legislation. CCL groups recently surpassed the milestone of 100 resolutions! We created a short video featuring elected officials like Sean Spiller, mayor of Montclair, N.J., who said, "I urge each and every member of Congress to support this bipartisan legislation, because the time to act is now." You can watch and share the video on Facebook.
CCL volunteers are regularly activating the "five levers" of political will in their communities. If you'd like to learn more about how to pull the grasstops outreach lever like these volunteers did, watch or read this training on engaging city and local governments for resolutions.
Upcoming trainings 
11/19: December Lobby Training # 2: Primary & Supporting Asks – CCL VP for Government Affairs Danny Richter will review our requests for the December meetings and provide guidance for lobby teams. Join us!
11/26: Citizens' Climate University off for Thanksgiving.
12/3: Lobbying 401: Leading a Lobby Team – Ready to step up and lead a lobby meeting? This training reviews the role and responsibilities of a lobby team leader. Join us!
Coming up: Climate Advocacy Methods Program (CAMP) – CCL is offering a free 15-week program for anyone interested in learning and applying CCL's methods of climate action. Academic credit is possible through arrangement with the student's academic institution. Deadline to sign up for Spring 2021 is Dec. 31.
Need training on the basics? Catch our next session of Core Volunteer Training, made for newer volunteers:
11/24: Q&A on December Conference and Lobby Days – Do you have questions about CCL's upcoming virtual conference and lobbying? CCL staffers have answers. Learn more.
12/1: Climate Change Science Ask Me Anything – Join Science Policy Network lead Dana Nuccitelli, who will answer your climate science questions. Learn more.
To see other topics and past trainings, visit the Training Topics page of CCL Community.
This week on the CCL blog 
EU border tax pressures U.S. to price carbon: Starting 2023, the European Union will impose a border carbon adjustment on imports from nations that don't have a similar ambition on climate change, putting pressure on America to price carbon so that U.S. manufacturers will be exempt from paying the European levy. Read more.
---
CCL Climate Advocate Training
Do you want to be a more effective volunteer? Start by joining our Informational Session, then register for our Climate Advocate Training, and wrap up with our Core Volunteer Training.
The Info Session is held weekly on Wednesdays at 8pm ET, 5pm PT.
Climate Advocate Training is held the first Wednesday of every month at 1 pm ET and the third Wednesday monthly at 8 pm ET (adjust for your local time zone).
Register for Climate Advocate Training
Core Volunteer Training is held weekly on Tuesdays at 8 pm ET, 5 pm PT.
RSVP for Core Volunteer Training
---
Sign up for CCL Text Messages
As we build political will for climate solutions, CCL can notify you of timely actions via text message. This will be critical once a bill is in congress. You can opt out at any time. Sign up today!
---
Sign up for CCL Community
Connect with other CCL volunteers! Our online volunteer portal is filled with amazing resources for education, outreach and taking action. Community's Weekly Bulletin will keep you current on all the latest CCL news.
Donate now to support our climate action work
Facebook | Twitter | YouTube | Google+ | Instagram | Forward to a Friend
www.citizensclimatelobby.org | ccl@citizensclimatelobby.org
eNewsletter Design & Development by evolv
Copyright © 2020 Citizens' Climate Lobby
Our address is 1330 Orange Ave #309, Coronado, CA 92118, USA