This year has been an absolute whirlwind! We hope that you and your families are staying healthy and feeling a little extra joy with the holidays right around the corner.
With the holidays also comes a hyper focus on food. That's why this month for Fair Fall we are putting our focus on food justice. Read on to learn about what food justice is and how you can help create a fairer food system! You'll also find related events, Fair Trade holiday gift guides, and an official introduction to the new Fair Trade Campaigns Fellows down below!
As always, please reach out with any questions and to join us on Slack!
Warm wishes,
Taryn
National Coordinating Fellow
Fair Trade Campaigns
---
Fair Fall: Food Justice
For the first month of Fair Fall we took a deep dive into self-care (check out our social justice centered yoga class) and October revolved around racial justice through the launch of our racial justice resource hub. This month, we are shifting focus to the related theme of food justice.
Food justice is a movement directed towards creating an equitable, just, and healthy food system for all. Some of the inequities recognized by food justice advocates include worker exploitation, lack of access to healthy food & clean water, food sovereignty and food apartheid neighborhoods. In fact, Fair Trade is widely considered part of the broader movement for food justice.
According to Feeding America, African-American households are twice as likely to be food insecure than white households, while 1 in 5 Latinos are food insecure compared to 1 in 10 whites across America. Our food system has created these extreme disparities through generations of systemic economic exploitation, racial disparities, and colonization.
While the history of our country and the resulting inequities may seem insurmountable, we can change the course of the future by speaking up for marginalized communities. 
---
Food Justice Resources & Upcoming Events
To help guide you in your fight towards a fairer food system, we've compiled a list of resources and upcoming virtual events that you can share amongst your campaigners and communities.
Resources:
Upcoming Events:
---
Fair Trade Your Holidays
Every year Americans spend hundreds of billions of dollars on retail and food during the holidays. Don't get us wrong, we at Fair Trade Campaigns also love gifting and receiving, but this year, we want to encourage you to spend your money mindfully.
When you give a Fair Trade gift or create a Fair Trade meal this holiday season, you're making a conscious choice to support the wellbeing and livelihoods of essential workers and producers across the globe.
Take a look at these resources to fill your celebrations with a little more compassion.
---
FAREWELLS & WELCOMES: FAIR TRADE CAMPAIGNS FELLOWS
Our 2019-20 Fellows finished their term on October 1, passing the baton to their successors. It's a bittersweet transition – we're lucky to have amazing individuals on board for the year ahead, and while we'll miss those who are leaving we can't wait to see the great things they'll go on to do. Check out our blog post to see how our 2019/2020 fellows reflected upon their time with Fair Trade Campaigns.
Meet our new fellows below!
Kenya Reeves, Great Lakes Regional Fellow
Kenya's first time being introduced to Fair Trade USA was at 2019 AASHE conference where she presented her partnered undergrad research. She is a proud alumni from Missouri State University who studied in Biology and minored in sustainability. Kenya's passion for sustainability stems from her early childhood where her parents were advocates themselves within the green movement. Kenya is outgoing, motivated, and ready to promote change within communities, universities, and global society. Her favorite motivation is her family mantra: "We will protect only what we love, We will love only what we understand, We will understand only what we are taught." kenya@fairtradecampaigns.org
Noah Gorovitz, Western Regional Fellow
Noah is a junior at Pitzer College, where he's studying the intersections of history and social justice. He took a year off of school and in that time interned with Fair Trade Campaigns in spring 2019 after years of involvement with Berkeley H.S. Fair Trade Club. Noah also used that time to do urban gun violence research at the Giffords Law Center to Prevent Gun Violence. Noah is passionate about social justice work in all its forms and spent summer 2020 working on youth social justice education with Camp Tawonga. He is excited to continue such important work through the Fair Trade Campaigns Fellowship. He also enjoys backpacking, beach days, and a well-balanced breakfast. noah@fairtradecampaigns.org
Holly Francis, Eastern Regional Fellow
Holly is a recent graduate from Champlain College with a B.S. in Environmental Studies & Policy. She is originally from Wisconsin, but Champlain College brought her to beautiful Vermont where she has now made residence. Using her passion for environmental advocacy, Holly has joined this zeal with her realization of the interconnectedness of environmental and social issues. This brought her to become one of the heads of Champlain College's Fair Trade campaign for two and a half years in which she led campus events and focused a lot of her work on education and empowerment on her campus. Now, she plans to utilize her experience to better support other campaigns in their endeavors through her 2020-2021 fellowship position. holly@fairtradecampaigns.org
Alexia Dolamakian, National Fellow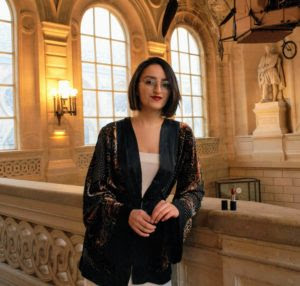 Alexia is a St. John's University Alum with a B.S. in business management and is learning to code. Her work in fair trade began in 2015 at SJU's CRS University campus chapter, where she became an ambassador and leader for the fair trade movement on campus. Eventually, she managed retail for a fair-trade pop-up shop on campus and produced baklava with fair trade sugar and pistachios to reach a different market and raise awareness through sweets! With the help of faculty, the campus newspaper, debate club and fair trade curriculum, Alexia helped raise awareness on campus. Each year, students were increasingly more informed on the topic of fair trade. Encouraged by the visible impact, she's become a fellow to continue the work towards humanizing trade, empowering consumers and sustainable development in the Age of AI and Technology. alexia@fairtradecampaigns.org
Taryn Lemmon, National Coordinating Fellow
Taryn is so excited to be working with Fair Trade Campaigns as this years' National Coordinating Fellow. Her love for Fair Trade started in 2017 when she worked as her university's Sustainability Coordinator and continued when she became a Fair Trade Campaigns Regional Fellow in 2018-2019. Taryn hopes to use this new role of National Coordinating Fellow to help expand the Fair Trade movement across the country even during a tumultuous time.  If you see Taryn outside of work you'll find her reading, advocating for social justice issues, and spending time in nature with her beloved dog, Elvis.  taryn@fairtradecampaigns.org
---
Pledge to Make a Difference after Graduation!
Like all life transitions, graduation is a time of both celebration and uncertainty. No matter the path you follow, you will have new opportunities before you to drive impact – whether as an increasingly independent consumer or through the career choices you make.
Take the Graduation Pledge for sustainability and we will keep you equipped to live your values as an individual, an employee and a member of your local and global community.
---
Join the Conversation on Social!
All month we'll be sharing more resources on food justice and Fair Trade holiday tips. Be sure to follow us on Facebook, Twitter and Instagram to join the conversation!
---
Fair Trade Campaigns
http://action.fairtradecertified.org/