Founded in 2011, the Community Garden originated by request of students, faculty, and staff and was approved by President Finney with support of the Physical Plant Grounds Staff.
The Community Garden is located beside Rowell Annex and has 27 plots available for individual use by Champlain College community members (faculty, staff, and students).  This garden runs similarly to the community gardens around Burlington. Use of the 4' x 8' plots costs $20 for faculty/staff, $10 for students, and there is no cost if all produce is donated to the Community Food Shelf. The plots fees are used for general garden supplies and equipment.  Community Gardeners will have access to tools and water and are asked to following garden rules and participate in at least two community garden work sessions. No experience is necessary; we will work to partner garden mentors and mentees and may even offer workshops if desired. See our full description of the garden here and our registration form here.
For more information, contact Christina Erickson at cerickson@champlain.edu.
Want to check the garden out? Join us on Wednesday, April 24th (raindate: Thursday, Apri. 25th) between 4:30-6:00pm in the garden. Come ready to dig, or just take a look around.
Also – we are looking for a Garden Manager for the 2019 season. This position is for ~2 hours/week to generally help oversee the garden, communicate with gardeners, and help organize a couple of community gatherings. Garden experience is very helpful, being able to work independently and within a small community a must. Contact cerickson@champlain.edu for more details.
Champlain College Community Garden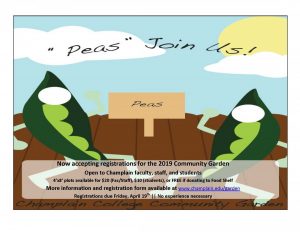 Description of the Garden – https://docs.google.com/document/d/1kOJ4UwBJLOQRNZtHI8iS4Xl-fBgu4HcHCXjAvX4N_GA/edit