Lake Champlain Committee
Winter's Wane 2019 E-news
Earlier this month, Lake Champlain completely iced over for the first time since 2015. In this issue of Enews we share some of the magic of winter on the lake with articles on snow kiting, Nordic skating and ice fishing. Read on to learn about how ice thaws, check out a series of upcoming events including a World Water Day presentation about plastics in Lake Champlain and a special international conference that draws on the past and looks to the future. You'll also find clean lake tips, nature notes and water news from near and far.
As winter wanes, we hope you have a chance to take in the special beauty of a frozen lake. We also hope that before the season changes, you'll take a moment to renew your membership which expired 2/19/2019. We greatly appreciate your last LCC membership renewal of $50 on2/19/2018 and hope you will make a donation at or above that level for 2019. Membership support keeps us vocal, active and effective in the work for clean water. You can renew online at our secure website, call our office at 802 658 1414 to make a credit card donation over the phone, or mail a check to us at LCC, 208 Flynn Avenue, Building 3, Studio 3F, Burlington, VT 05401. However you choose to contribute, your gift will make a difference for the lake we love.
Thanks for caring about water,


Lori Fisher, Executive Director
How Lake Ice Thaws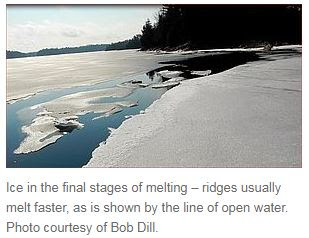 Nestled between the Adirondacks and the Green Mountains, Lake Champlain is no stranger to cold, snowy winters. Wild ice – ice which forms naturally on lakes and ponds – is a special attribute of northern climes. However, thaws can happen at any time during the ice season, and with climate change winter temperatures are becoming more unpredictable.
Show Us Your Photos!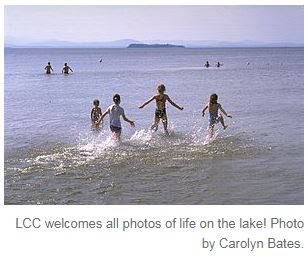 LCC is looking to expand our photo stock of pictures for our articles, slideshows, social media, and website, and we need your help to do it! Whether it's covered in ice or reflecting the summer sky, Lake Champlain is a stunning part of the natural landscape. From a beautiful vista, an unusual water phenomenon, or people exploring the lake, we welcome all of your photos.
NY's Buffer in a Bag Gives Free Trees to Protect Tributaries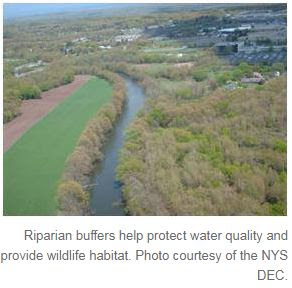 Do you own property along a waterway in New York? Through the "Buffer in a Bag" initiative, New York State Department of Environmental Conservation's (NYS DEC) Trees for Tribs Program and the NYS Tree Nursery will provide landowners with a free bag of 25 bare-root native trees and shrubs to enhance streamside areas of property.
Recreation
Snowkiting: Soaring on Lake Champlain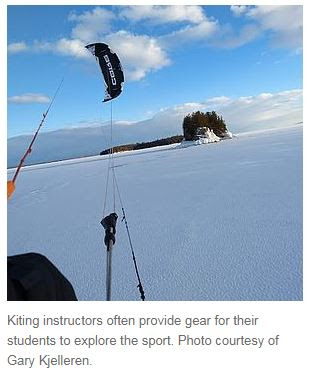 Throughout the winter, Lake Champlain's vast tracts of ice and snow provide the perfect conditions for snowkiters like Gary Kjelleren. A brand-new sport in the late 1990s, kitesailing (the summer version of snowkiting) quickly took off in popularity. A kitesailer uses a large sail-like kite to catch the wind, while they skim and jump over the water's surface on a finned water board. Anyone who has spent time on the shores of a large lake or ocean is likely familiar with the colorful, crescent-shaped kites that swoop jauntily through the air, a small human figure skipping along behind them.
On Wild Ice: Nordic Skating on Lake Champlain
On December 19, 2018, LCC member Elizabeth Lee and four friends donned their cross country ski boots even though there was no snow on the ground. There was, however, ice — wild ice that forms naturally on Lake Champlain. A cold few weeks had frozen some of the southern bays and the river-like strip of the South Lake, so Elizabeth and pals stepped onto Nordic skates and headed to Crown Point in the early morning light.
The Basics of Ice Fishing on Lake Champlain
Knight Point State Park in North Hero was buzzing with people on the day of Vermont's annual ice fishing festival, which was a particularly sunny Saturday in mid-January. The nice weather drew hundreds to the park in the first hours of the festival. Cars filled the parking lot and spilled out onto either side of the highway, several of them sporting out-of-state plates. People of all ages crowded around the registration table – groups of young college friends, parents dragging sleds full of equipment, toddlers so bundled against the cold that they waddled on the ice like penguins.
Nature Note
200 Years of Lake Champlain Ice Data – Climate Change in Action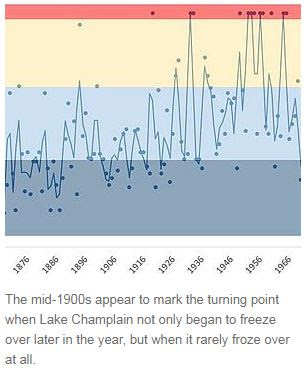 One of the best-understood facets of climate change is that global temperatures are rising overall. Since the turn of the 20th century we know that average temperatures have gradually risen every decade, and they will continue to rise more rapidly throughout the 21st century. Due to warming winter temperatures, Lake Champlain does not ice over as often as it did even 20 years ago. The freezeover that happened this month is now a rare and celebrated event.
Clean Lake Tip
Scoop the Poop, Don't Bury it in Snow!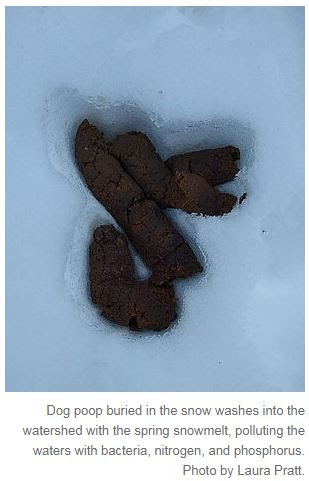 During winter, when the snow blankets the ground, dog owners may find it tempting to let sleeping dogs lie – and not clean up after them when they poop! After all, whether you're walking in town or deep in the woods, what's the harm in kicking a little snow over the stool and letting nature take its course?
As it turns out, dog droppings are not as innocent as the dogs they come from. They are full of bacteria – the Environmental Protection Agency (EPA) estimates that just 100 dogs over two or three days could contribute enough poop to temporarily close a waterbody. This doesn't just refer to dog dung on the beach – it's the residue that washes down the storm drain from streets, sidewalks, lawns and other land surface.
Upcoming Events
March 18-24, 2019 – Fix a Leak Week
If your faucet drips or your toilet runs it can waste over 10,000 gallons a year — the amount of water in a typical backyard swimming pool. More than one trillion gallons of water are lost annually in the U.S. due to easy-to-fix household leaks.
March 21, 2019 – Plastics in Lake Champlain – How You Can Help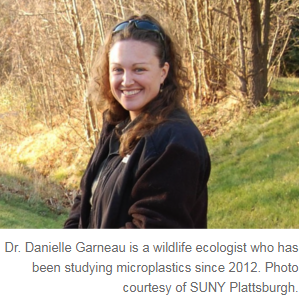 Plastics are everywhere. The stuff has made modern life possible, but more than 40% of plastics are designed for single use. Plastics are showing up in our waterways at an alarming rate, flushed down sinks and toilets in scrubbing agents, wet wipes and sanitary products; spun off as microfibers from clothes in the wash; and carried into waterways by wind and rain.
March 23-24, 2019 – Maple Fest NY & VT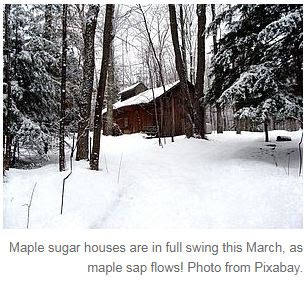 Maple sugar houses across the states of New York and Vermont are hosting open houses during the weekend of March 23-24 – and festivities will continue in New York the next weekend, March 30-31! Celebrate maple sugaring season in the Champlain watershed by sampling maple products, enjoying pancake breakfasts with fresh syrup, and touring the woods and facilities where the sweet brew is made.
March 27, 2019 – Spa Night Fundraiser at O'Briens Aveda Institute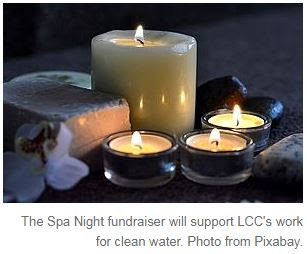 Need a little pampering? Treat yourself to Spa Night at O'Brien's Aveda Institute in Williston on March 27 and protect Lake Champlain at the same time. A $20 advance ticket buys you unlimited mini services including facials, manicures, paraffin dip, facial waxing, braiding, makeup application, and hand massages!
April 6, 2019 – "Together We Build Resilience" Educator Workshop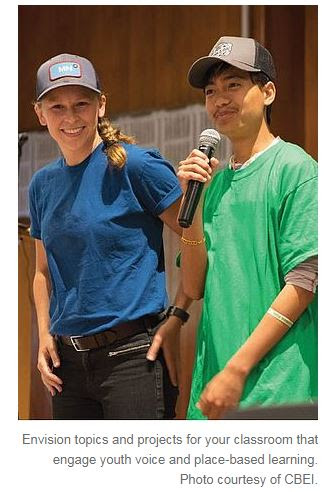 LCC and other Champlain Basin Education Initiative (CBEI) partners present "Together We Build Resilience", a grades 6-12 educator workshop on place-based learning that investigates human and ecological interactions in the Lake Champlain Basin.  Hear from students and their teachers about the rewards and challenges of engaging with complex issues in place-based learning projects. Envision what topics and projects you want to bring into your classroom, hear advice from our student presenters, and practice incorporating youth voice in your design.
April 8, 2019 – The Lake Between – International Conference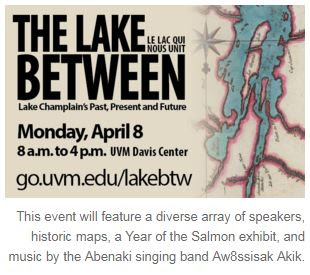 The Lake Between (Le lac qui nous unit) – is an International Conference designed to bring together academics, business leaders, policy-makers, outdoor enthusiasts, boaters and swimmers, musicians and artists to talk about Lake Champlain.
April 17, 2019 – Catwalks for Water Fundraiser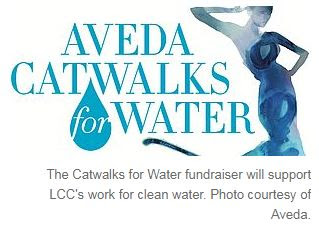 Watch students and stylists display their fashion, make-up and design skills and support the Lake Champlain Committee's work at the same time at the 4/17/19 Catwalk for Water!
Spring 2019 – April Stools' & Scoop the Poop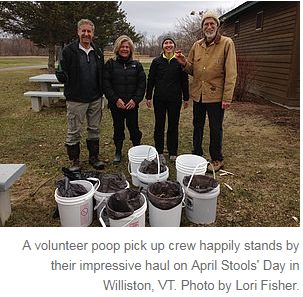 Yes, dog doo is gross! Especially if you step in it. What's worse is that pet poop left behind on trails and in our parks enters streams, rivers, and Lake Champlain – which nearly 200,000 people rely on for their drinking water.
Water News from Near and Far
Experts Talk Climate Change at Adirondack Park Agency Meeting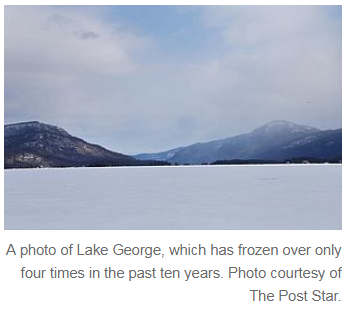 While the Adirondack region is in the temperate deciduous forest biome, it is also on the edge of several other biomes – the boreal forest, grassland, woodland, and shrubland biomes. A biome is a naturally occurring habitat for certain species. Being on the edge of several could cause the Adirondacks to see shifts in temperature and moisture sooner than the surrounding area.
As Feds Weaken Wetlands Rules, Locals Eye Greater Protections for Otter Creek Swamps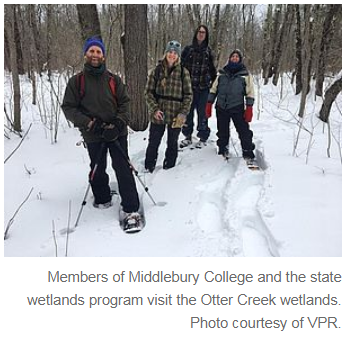 tter Creek is the largest wetland in the State of Vermont, stretching 15 miles through Addison and Rutland counties. As the current presidential administration rolls back national wetland protection rules, local groups seek stronger protections for the Otter Creek wetland. This wetland is a valuable resource, not only for its rare and diverse species, but also for its ability to absorb floodwaters.  
Vermont Fish Stocks Could Drop for Years Under Budget Plan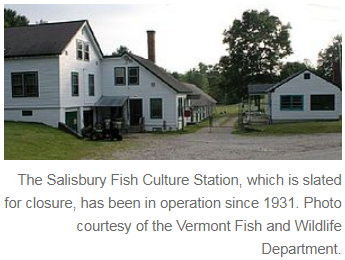 The Vermont angling community voiced concerns with Gov. Phil Scott's proposal to close the Salisbury Hatchery, one of the state's five fish hatcheries. This hatchery is the primary source of trout eggs for the state. The hatchery would soon need $13 million in upgrades to meet clean water standards, which figured into the decision to close it.  
VT's 'C' Grade for Infrastructure Shows Little Progress in 5 Years
In its 2019 report card, the Vermont section of the American Society of Civil Engineers (ASCE) gave the state's infrastructure a "C" – the same grade it earned in the last report card five years ago. The report was broken down into several areas of infrastructure, with stormwater and wastewater infrastructure both receiving a D+, the lowest grades of the report. 
Why Many in the Great Lakes Region Can't Afford Basic Drinking Water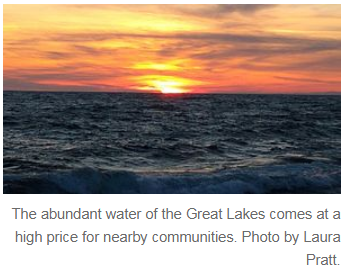 The Great Lakes are one of the world's largest fresh water sources, covering over 750 miles across eight states. However, a recent investigation by Great Lakes Today and American Public Media reveals that the cost of water has doubled, and even tripled, in cities surrounding the lakes. For the average individual, losing water service can be the beginning of a downward spiral.
A Water Crisis is Growing in a Place You'd Least Expect it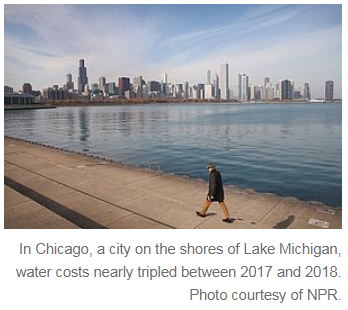 The growing water crisis in America has forced hundreds of thousands to endure weeks, and even months, without water. This crisis is especially dire where you would least expect it – in the Great Lakes region, the most abundant source of fresh water in the country. With the federal government cutting water infrastructure funding, cities have turned to raising water bills to cover the costs of aging infrastructure. 
The False Choice Between Economic Growth and Combating Climate Change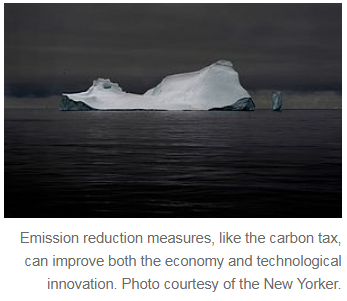 According to a report released by the Rhodium Group, a private climate-research firm, carbon dioxide emissions in the U.S. increased by roughly 3.4% in 2018. The report discusses how it is entirely possible to lower emissions while improving the economy. Climate change is a leading contributor to many expensive environmental issues, including water quality concerns.