I'd like to invite you to join members of the #ActOnClimateVT coalition on Wednesday, October 26th from 12:00-1:30pm for a can't miss webinar: Climate Progress in Vermont – Working Toward Cleaner Transportation, Heat, and Electricity!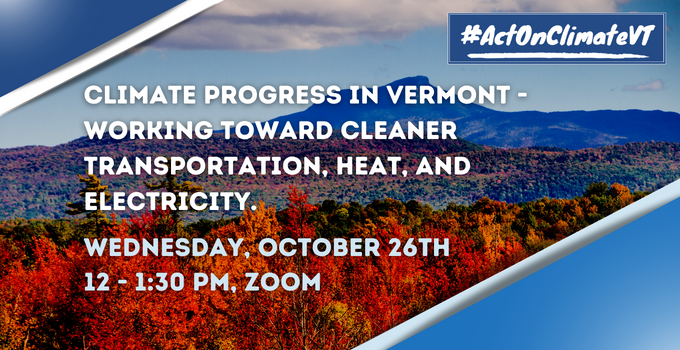 The webinar will be jam-packed with updates from experts and legislative leaders, overviewing the current state-of-the-state on climate, potential opportunities for action in our biggest energy sectors, and why and how to add your voice to this important conversation. There will also be plenty of time to get your questions answered.
There is a lot happening on climate action in Vermont. There is also far more work to do. As we gear up for the upcoming legislative session in January, this webinar is intended to provide a high-level lay of the land of climate action in Vermont, as well as an opportunity to offer your ideas, ask questions and help shape the work ahead in meeting Vermont's climate commitments.
>> Learn more and register to join us on Wednesday, October 26th from 12 to 1:30 PM!
I hope to see you on the 26th!

Sincerely,
Ben Edgerly Walsh
Climate & Energy Program Director, VPIRG
sjs
Vermont Public Interest Research Group
All rights reserved © 2021 VPIRG
VPIRG
141 Main Street
Ste. 6
Montpelier, VT 05602
United States
(802) 223-5221