Reposted from AASHE
As a reminder, Champlain holds an institutional membership with AASHE and therefore anyone with a champlain.edu email address can attend events for free. Check these out!

A Message from AASHE's Executive Director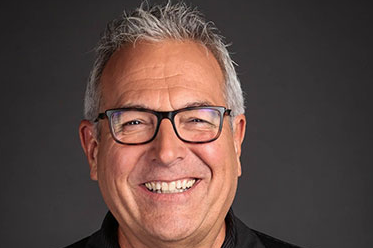 I'm very sorry to share the news that Gil Brown, AASHE board member since 2018, passed away last month after a brief illness. Gil was CFO at Millersville University in Lancaster, PA for the past several years and had just started his retirement in July. I've never met a kinder, more supportive CFO than Gil. He cared deeply about AASHE's mission and I, along with the board and staff, will really miss him. I feel very fortunate to have had Gil as a board member and supporter for so many years.
AASHE Names Top Performing Institutions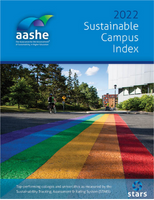 Last week, AASHE released the 2022 Sustainable Campus Index (SCI), a publication that recognizes top-performing colleges and universities in 17 sustainability impact areas and overall by institution type, as measured by the Sustainability Tracking, Assessment & Rating System (STARS).
This year's SCI introduces an International Top Performers List that recognizes the Number One scoring institution in every country with at least one STARS-rated institution.
Congratulations to all institutions included in this year's publication! We hope that the contents of this report will inspire and motivate students, administrators, faculty and staff at institutions to continue working together to implement innovative solutions to sustainability challenges. Read the full report to see which institutions have been recognized!
#GCSHE Keynote Speakers Announced!

Attend the Global Conference on Sustainability in Higher Education (#GCSHE) to hear from spectacular keynote speakers such as:
Dr. Peter Kalmus, Climate Scientist
Dr. Elizabeth Popp Berman, Professor of Organizational Studies at the University of Michigan
Kumi Naidoo, Special Advisor to the Green Economy Coalition
Dr. April Anson, Assistant Professor of Public Humanities at San Diego State University
Jessica Yinka Thomas, President, B Academics and Director of Business Sustainability Collaborative and Assistant Professor of Practice, North Carolina State University
And three more to be announced, stay tuned!
Themed "The Urgency of Now," this virtual event will take place across three dates: Oct. 18, Oct. 26 and Nov. 3. You won't want to miss this opportunity to find inspiration, motivation and new ideas to transform the sustainability movement from the comfort of your own home.
Trees Are Part of the Climate Solution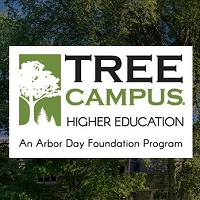 Are you a recognized Tree Campus? Chances are, you've heard about trees in the news lately… their connection to mental health, urban heat, filtering air pollution, and capturing carbon. Your campus trees are already working hard to solve some of the most pressing issues facing humanity. Has your campus committed protecting them and maximizing their benefits? Since 2008, the Arbor Day Foundation's Tree Campus Higher Education program has offered a simple framework for sound campus forest management, a peer network of sustainability leaders contributing to campus tree efforts, and recognition that captures the attention of your community and administration. Learn more, and submit your 2022 application by December 31.
October is Campus Sustainability Month!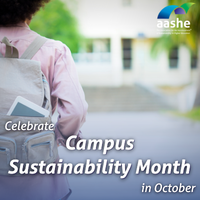 Every October, Campus Sustainability Month is an international celebration of sustainability in higher education. Join other colleges and universities by organizing events to engage and inspire incoming students and other campus stakeholders to become sustainability change agents.
View initiatives and the toolkit.
Upcoming Events
Webinar:
Imagining the Future of Campus Food Service and Measuring Success
9/14 | 2:00 – 3:00 p.m. ET
This webinar will explore strategies to advance climate resiliency through transformative university food systems. Register today.
Webinar:
Innovations in Teaching Sustainable Consumption in Higher Education
9/21 | 3:00 – 4:00 p.m. ET
This webinar showcases examples of innovative approaches in teaching sustainable consumption. Register today.
Workshop:
Diving into Scope 3 Emissions: Boundaries, Calculation Methodologies and Mitigation Strategies
9/22 | 2:00 – 5:00 p.m. ET
Featuring sustainability leaders from Stanford University's Scope 3 Emissions Program team, this workshop lays out the different categories of Scope 3 emissions, identifies which are most significant in a higher education setting, and explores mitigation tactics. Register today.
Partner Event:
Intentional Endowments Network's Institutional Investor Roundtable at the Nest Summit
9/22 | 1:30 – 6:30 p.m. | Javits Center, NY
IEN is hosting an in-person Roundtable event at the Javits Center in New York as part of Climate Week NYC. Join sustainability leaders and investment staff for thought-provoking learning that will inspire action. Engage in conversations around sustainable investing by endowments, DEI, climate justice, ESG in retirement plans and more. AASHE community members can attend for free with code AASHEcomp. Register today!
Webinar:
Assessing Sustainability Literacy & Culture: Innovations & Lessons Learned by Multiple Institutions
9/28 | 2:00 – 3:00 p.m. ET
This session shares varied approaches to and lessons learned from campus sustainability literacy and culture assessment. Register today.
Webinar:
Employing the SDGs to Enhance University Research and Education Sustainability Objectives
10/5 | 2:00 – 3:00 p.m. ET
This webinar will introduce different methodologies for mapping courses to the SDGs in order to enhance research and education sustainability objectives. Register today.
Partner Event:
Project Green Challenge
October 2022
Each October, Project Green Challenge (PGC) educates, empowers, and mobilizes students globally around climate action, public health, sustainability, social justice and advocacy. This powerful diverse 30-day call to action aims to touch lives, shift mindsets, and equip students with knowledge, resources and mentorship to lead change on campuses and communities worldwide. Register today.
Workshop:
Behavior-Centered Design for the Environment
11/17 | 2:00 – 5:00 p.m. ET
This virtual workshop introduces an approach and tools to designing behavior change solutions to environmental challenges. Register today.
Partner Event:
Right Here, Right Now Global Climate Summit
December 1 – 4, 2022
This Summit will gather some of the world's foremost human rights, scientific, political, educational, cultural and industry leaders to commit to outcomes that will address the adverse effects of climate change on human rights. Register today.
Partner Event:
Race to Zero
Race to Zero is a global campaign to rally leadership and action in the education sector. Pledge to reach net zero GHGs as soon as possible, plan what actions will be taken toward achieving both interim and longer-term pledges, take action toward your goal and publish your annual report! Register today
5 Ways to Demonstrate Your Commitment to Sustainability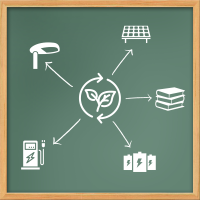 Looking for tangible ways to reduce energy costs and carbon emissions on your campus? Need to address today's climate-concerned students and faculty? Not sure how to finance the changes?
Download this resource to learn about 5 solutions that help reduce contributions to climate change and innovative funding models that can make them pencil.
From energy to education, these steps will reduce energy consumption and costs while engaging the next generation of clean energy leaders. Begin your journey to sustainability here.
Welcome New Members!
Please join us in welcoming our newest members:
Not a member? Join today to get access to invaluable resources, professional development opportunities and more! AASHE is the place for you to exchange ideas and connect with other like-minded sustainability leaders. Learn more!
Congratulations STARS Rated Institutions!
We are excited to announce the institutions who achieved a STARS rating last month!
STARS Gold
California State University, Fullerton
California State University, Los Angeles
University of Maryland, Baltimore County
University of Texas at Austin
Western Caspian University
STARS Silver
Indiana University Southeast
Radford University
Red River College Polytechnic
STARS Bronze
Georgia Southern University
University of Houston – Downtown