Each year as students move out, there is the opportunity to collect useful items for donation in the community as well as ensuring proper recycling protocol. Move out can be a hectic time as most people are just ready to ditch it and run. Help us make this a more thoughtful, mindful process that ensures useful things don't wind up in a big hole in the ground (the landfill).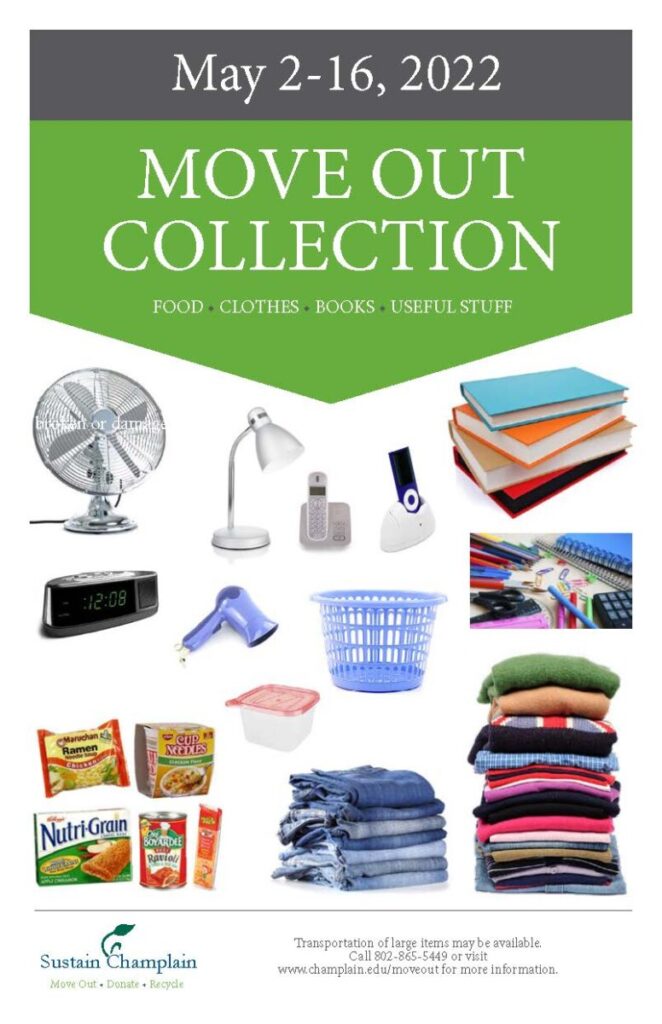 2021 Collection Statistics:
2 box trucks full of clothing & household items donated to ReSource
Food and books were donated to our Campus Food Shelf / Swap Shop and Feeding Chittenden
What you can do:
Do your best to be thoughtful and mindful in your moving out time. We all are ready for summer break and if we work together we can get there quickly, without trashing the campus (and planet) as well as help out those who can use the stuff we no longer want.
Educate yourself about what can be collected for donation. All of these can be donated within the local community and beyond (including ReSOURCE and the Feeding Chittenden). Collection bins will be out in the halls during finals week. Additionally, there will be a collection area on each floor of 194 St. Paul Street. If a bin is overflowing, please contact cerickson@champlain.edu. Transportation of large items may be available (call 865-5449 to arrange). You will receive posters to hang up in your halls as well. Eco-Reps are available to attend your final res hall meetings. Contact them with your meeting date.
Clothes, Bedding, Linens, Towels, Blankets, etc. – Anything without major stains, holes, etc.
Shoes & boots – ok as long as they come in pairs. Please tie shoelaces together, or put in a plastic bag together.
Food – Anything that has not been opened or is not perishable (no fresh fruits, veggies, bread, etc.)
Toiletries & Cleaning Supplies – Even if opened, these can be used by local organizations
Household items such as dishes, baskets, lamps, pots & pans, brooms, decorations, hangers, bathroom totes, shelving, storage boxes, etc. – Should be in general working order, not majorly damaged. Not ok: tupperware without lids; frying pans with teflon all scraped off, etc.
School & Arts supplies, including book bags & backpacks – half used notebooks? Half a package of envelopes? Sharpened pencils? All fine.
Books – we can take pretty much anything that still has a cover and isn't wet, ripped, etc. Recycle otherwise.
Plants – we'll find a home for them, if they are still living
Appliances & electronics – if in working or repairable order, we can take them. Should be generally clean (no moldy food in fridges, please)
Furniture – if not majorly stained, damaged, or with holes, (and known to be bed-bug free), we can take these.
What we cannot take: broken or damaged items, opened food, foam pads, bed pillows
Remember to recycle! All paper, cardboard, empty glass & plastic bottles and containers, cans, etc. can and should be recycled in the recycling dumpsters outside of each residence hall. Batteries and electronics SHOULD NOT GO in the trash, but into the e-waste collection bins found in each hall. If there is a lot of food waste, people can bring it to the compost bins behind the IDX center, by the loading dock. Need a refresher on what can be recycled? See the Sort it Out guidelines on the Sustain Champlain website www.champlain.edu/SortItOut .

Need to dispose of a totally gross couch? This is their responsibility. Residents who leave personal furniture in their rooms will be fined. There will be a large dumpster in Finney Courtyard and Brown's Court during finals & senior week where students can dispose of such items. Additionally, residents can go to the Chittenden Solid Waste District drop-off centers.
Check out their A-Z list http://cswd.net/recycling/a-z/
For a list of items banned from the landfill: http://cswd.net/trash/items-banned-from-landfills/
Want to learn more about where stuff will go?
Have any questions? Contact Christina Erickson cerickson@champlain.edu or 802-865-5449
Want to help with Move Out Collection? Sign up here: https://www.signupgenius.com/go/10c054baca92aa2fa7-campus2