SAVE THE DATE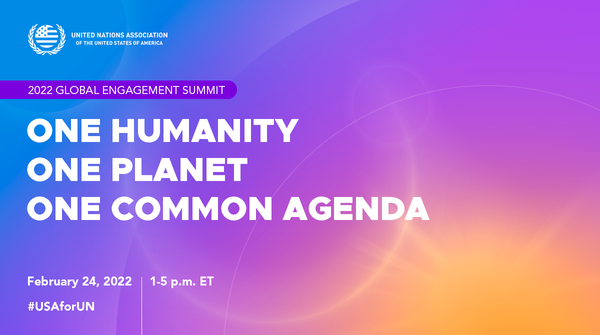 Join us for UNA-USA's virtual Global Engagement Summit!
Thursday, February 24, 2022 | 1-5 p.m. ET
---
UNA-USA's Global Engagement Summit, typically held at UN Headquarters in New York City, is the largest annual gathering of UN advocates in the country, bringing together UN and U.S. officials, young professionals, community leaders, and subject matter experts from across the country to delve into the mission and lifesaving work of the United Nations.
This year's theme—One Humanity, One Planet, One Common Agenda—highlights the importance of unity and that the only way to drive global progress to create a better world for us all is to do it together. With a mix of live and on-demand content, our sessions will align with the three tenets of our mission:
Last year, featured speakers included UN Secretary-General António Guterres, former UN Secretary-General Ban Ki-moon, U.S. Special Presidential Envoy for Climate John Kerry, UN Foundation President and CEO Elizabeth Cousens, numerous Members of Congress and local elected officials, musicians—and so many others! Trust us, the Global Engagement Summit is an event you don't want to miss!
I hope you'll join fellow advocates who want to learn, be inspired, and to take individual action to show collective support of a strong U.S. and UN partnership. Together, we will travel to the field to see the impact of UN agencies around the world, hear from changemakers who are using the SDGs to make a difference in their communities, and meet elected officials who seek to truly improve the life of people in our country and our world.
This Global Engagement Summit will truly be like no other because you can choose the level of engagement that's right for you to take action: digging deeper into facts and figures, signing petitions, joining others in real time to discuss next steps, and more. There's no limit to your engagement—including your takeaways AND your impact—at the 2022 Global Engagement Summit.
Registration is free and will open in early January.
I look forward to sharing more information with you soon!
Sincerely, Farah Eck Senior Director, Programs & Policies, UNA-USA