USCRI Vermont November 2021 Newsletter
USCRI Vermont is honored to announce that journalist and critically-acclaimed author Brad Kessler is donating sales royalties from his new book "North" to USCRI Vermont. USCRI alumni and staff advised the author as he was writing this book about the intertwining lives of a Vermont monk, a Somali refugee, and an Afghan war veteran. North traces Sahro Abdi Muse's epic journey from Somalia to South America and up through the United States. On her way to safety in Canada, she finds herself seeking refuge in Brother Christopher's Vermont monastery. The story gives voice to the invisible communities around us while investigating the idea of sanctuary and the hope of human connection in a time of displacement. We are deeply grateful to Brad for his generosity and support.

Welcome to the Team, Lilian Mute!

"Hello there, my name is Lilian Mute and I am the new Reach Up Case Manager here at USCRI Vermont. The Reach Up program is one that helps families to overcome barriers and explore available
opportunities, gain new skills, find employment, reach financial goals, and much more. I have always enjoyed being involved in various community settings, either as an educator in leadership or advocacy. One of my favorite parts of this job is promoting cross-cultural literacy by appreciating and valuing people from different cultures and belief systems that I interact with.
As a Swahili speaker and immigrant myself, I'm passionate about working with an organization that is striving to close social, educational, cultural, and employment gaps that exist among refugees and immigrants. I hope to play a fundamental role in the creation of equitable and thriving communities for refugees and immigrants!"
Help USCRI Vermont Welcome Refugee Families
Click on the link below to donate – Thank you!
https://refugees.org/donate-uscri-vermont/
Meet Jennie Gartner, Our New Community Partnership Coordinator

"Greetings, I'm Jennie Gartner, and I am the new Community Partnership Coordinator for Southwestern and Central Vermont. I am excited to be working with USCRI in Rutland and eager to welcome refugee arrivals to this part of Vermont. I first became involved in refugee resettlement in 2015 when then Mayor Chris Louras and USCRI Vermont announced that Rutland was going to become home to 100 Syrian and Iraqi refugees. While political realities became such that we were able to settle just three families, I am looking forward to restarting the program and providing an opportunity
for refugees and Afghan allies to live a life of their choosing, safely, in southern Vermont. A special thanks to Amila for believing that a veteran high school teacher could make the successful transition to work in refugee resettlement.
A maxim in my life is that I am only as well off as my least well-off neighbors. To be able to help others through our actions is the most meaningful part of the human experience. I am the granddaughter of German Jewish refugees, and my father-in-law was born in a displaced persons camp in Austria after World War II. The work that USCRI does is actually the reason my husband and I exist. Every human being deserves the chance for dignity, safety, and a life lived in security and peace. In a world where 1% of refugees ever find a new, permanent home, our goals may sound like dreams. But for every single person who is resettled, whether through USCRI or our friends in the world of refugee resettlement, the dream becomes reality. There is no more tangibly fulfilling work than this. Whatever I can do to contribute to the success of USCRI Vermont and in turn, help those we are here to welcome, that is why I am here."
Welcome to Vermont, Ethiopian Community Development Council

We'd like to congratulate the Ethiopian Community Development Council (ECDC) on their newly opened field office in Brattlelboro, Vermont as they begin to welcome refugee and Afghan allies to southern Vermont. The new ECDC facility in Brattleboro — to be known as the Multicultural Community Center — will help staff support the local arrivals as well as other refugees coming to the region. ECDC and USCRI Vermont will each resettle up to 100 Afghans in the state over the coming months (photo by Hannah Schroeder/Keene Sentinel).
USCRI Vermont is Hiring!

For a full job description and to apply, click on link below:
https://workforcenow.adp.com/mascsr/default/mdf/recruitment/recruitment.html?cid=95b1fb83-92bd-4515-841c-8cadfdb3dc44&jobId=418845&lang=en_US&source=CC4


For a full job description and to apply, click on link below:
https://workforcenow.adp.com/mascsr/default/mdf/recruitment/recruitment.html?cid=95b1fb83-92bd-4515-841c-8cadfdb3dc44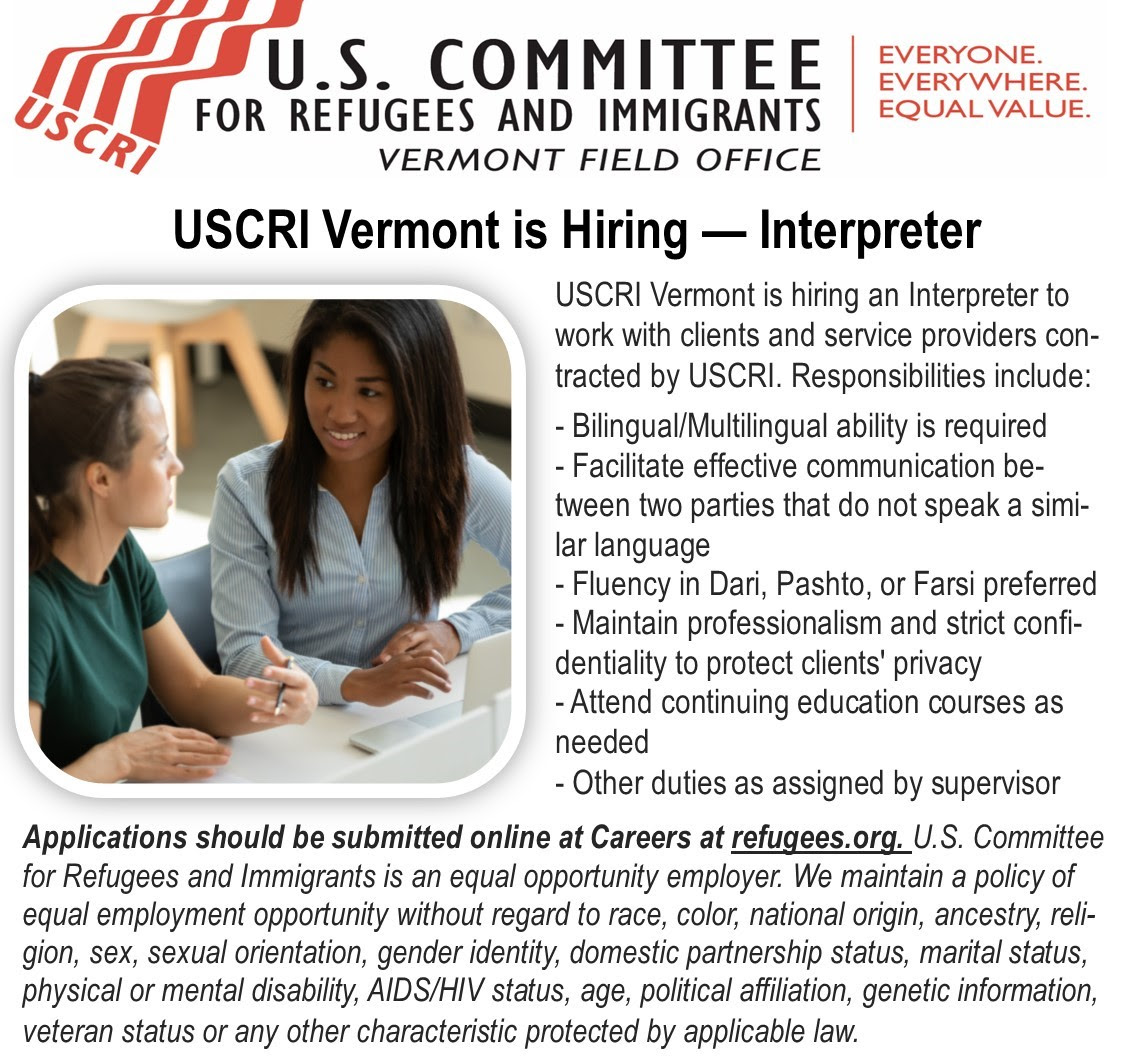 For a full job description and to apply, click on link below:
https://workforcenow.adp.com/mascsr/default/mdf/recruitment/recruitment.html?cid=95b1fb83-92bd-4515-841c-8cadfdb3dc44&jobId=30901&lang=en_US&source=CC4
Mosaic of Flavor Cooking Series
Catch the next Mosaic of Flavor Cooking Series on Wednesday, Nov 10th 5:30pm-7pm! This month, the series will feature Amin Shah from Afghanistan to teach viewers his Bangyan (eggplant curry) and Bamyan Kachalo (okra and potato stew). This livestream event will be held on the Microsoft Teams platform, and instructions for accessing the platform and a link to the event will be sent out to participants in advance. The Mosaic of Flavor cooking series is a collaboration between City Market and USCRI Vermont. Tickets are donation-based, with all ticket fees going to USCRI to aid in their mission.


To register:
https://www.citymarket.coop/calendar/2021-11-10/mosaic-flavor-livestream-afghanistan-bangyan-and-bamyan-kachalo
Free Citizenship Preparation Classes
Interpretation and Translation Services
USCRI Vermont Needs Volunteers!
We will be hosting a series of online Volunteer Orientations on Zoom on Wed, Nov 17th at 12:30pm and Thurs, Oct 18th at 5:30pm. To access the Zoom link, email: volunteer@uscrivt.org or lstavrand@uscrivt.org

Volunteer Opportunities include:
Family Friend
English Tutor
Youth Mentor
Administrative assistant
In-Kind Donations (pick up or organize)
Apartment Set Up
Transportation (client appointments)
Intern

Thank You to All Our Donors & Supporters!
A big Thank You to all of our donors and ongoing supporters who make the services and programs we offer possible, including Mary Pringle, an anonymous estate gift, United Church of Strafford, Warren United Church, Growald Climate Fund, Kay Jones, Rene Dall, Bar Hill and Caledonia Spirits, Burton Snowboard Company and the Estate of Jake Burton Carpenter, Jen Kravitz, Charles Bain, Rika Henderson, Peter and Susan Brink, Elise Guyette, Delta Dental, Thomas Panitz, Anne Sullivan, Julielyn Gibbons, and the numerous donors who have dropped off dozens of beds, furniture, and essential household items for our families and new arrivals.
Click on the
Donate Now
button below or click on the link to donate on our new webpage.
https://refugees.org/donate-uscri-vermont/
Thank You!
Donate Now