Donate Here
Thank you for supporting us this season!

On October 1st, we celebrated one year of officially being the SUSU commUNITY Farm.
We started as a healing collective, dedicated to serving our community with offerings of workshops, gatherings and hand-crafted herbal products. We had just opened our space and began holding community gatherings in February of 2020 when the effects of the Covid-19 pandemic led us to close our doors and pivot our work.
With a new focus on getting fresh, local food to BIPOC families in Windham County, we turned to our community for support.
And you showed up.
With your help, we provided 23 families with boxes of vegetables, eggs, meat, flowers and more in 2020. The success of that first year inspired us to continue moving in this direction with our work.
The CSA
And your donations have helped us grow!
As you may know, this year we expanded into farming and have been growing some of the vegetables for our Box of Resilience, as we call our community support(ed) agriculture shares, ourselves.
With the support of Retreat Farm, our fiscal sponsors, we have been growing food on a 4000 square foot plot in Wantastegok in what is known as the Retreat Meadows.
This endeavor has been one of reciprocity and mutual benefit.
We have been able to increase to 35 families this year and expanded our community partnerships to include Wingate Farm, Circle Mountain Farm, Bunker Farm, Heart Grown Wild, River Gallery Art School, Big Picture Farm, Tapalou Guilds, Planned Parenthood, Wild Carrot Farm, Rusty Plow Farm, Foxtrot Farm, The Brattleboro Co-op, Antidote Books, Duchess Coffee Co, Zpots, Real Pickles, The Brattleboro Food Co-op, and so many more. 
Our boxes were overflowing this year!

So far this season, we have harvested nearly 1,500 pounds of produce from our garden!
We went into this project without expectations, knowing and understanding that being in right relationship with the land means being open to and having gratitude for whatever is offered in the way of harvests. 
And in return, we have been blown away by the abundance we have been able to share with our CSA participants.
It's a beautiful reflection of the spirit of giving we have witnessed in our community
The Crops
We focused mostly on growing AfroIndigenous crops this season.
With support from the Windham County NAACP and other contributions and donations, we were able to purchase heirloom varieties of crops that are relevant to people of the African Diaspora.
These crops include 3 varieties of okra, Alabama Blue collards, mustard greens, callaloo (green Amaranth), heirloom watermelons, African varieties of basil, fish peppers, scotch bonnet peppers, Paul Robeson tomatoes and more.
We also grew staples like kale, cantaloupe and carrots.
We sourced most of our seeds from True Love Seeds, United Seed Savers and a small, Black woman-owned farm in the south called Melanated Organics.

The Volunteers
Tending the crops is a lot of work and we are so grateful our dedicated crew of volunteers who every week showed up to help weed, tend, harvest, wash, pack and deliver our produce to CSA participants. It is especially sweet when CSA members join us on work days and have the opportunity to be involved. 
Thank you to everyone who donated your time and energy to us this year. Every little bit of support has truly made an impact on our ability to do the work.
It has been a gift to spend time with you on the farm and deepen our community connections.


Some of our favorite volunteers this season are the littles and teens who came by with their caregivers, schools or on their own to lend a helping hand.
One of our main values is creating space for intergenerational commUNITY and opening up our gardens to the youth has been so rewarding. They take their work of caring for the plant kin seriously while reminding us all of the importance of play and being joyful: delighting in the beauty our surroundings have to offer.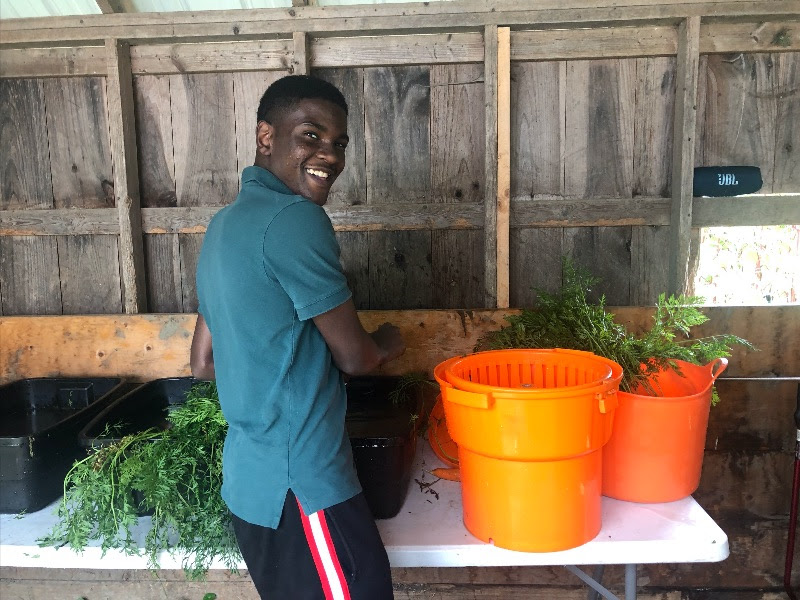 Having teens and young adults volunteer at our plot this summer has given us tremendous insight into the importance of the Youth to Liberation Pipeline program. Still in development, this program will connect youth in our community with mentors and educational programming that will help them build skills, strengthen their connection to land and place and learn more about themselves and each other. Rooted in trauma-conscious alternative healing modalities like yoga, meditation and somatics, our intention is for Y2LP to be a referral-based program that will support youth connected to social service like DCF.

The Programs
In the spring of 2021, we launched two year-long virtual educational programs.
Unbody-ing White Bodied Supremacy, facilitated by Amber Arnold, is a course that supports us in exploring the ways in which white supremacy harms us, the way it protects us, the ways we perpetuate it, and the ways that we can heal from it while beginning to align with the wisdom of collective liberation through somatic practices.
Seeds of Our Ancestors is a 9 month herbal educational program specifically designed for BIPOC that centers the ancestral wisdom of our ancestors as a path to healing with plants as our allies. This program, which evolved from Naomi Moody's earlier work with Seed, Root and Bloom and the Radicle Community Herbal Allyship, is complemented by Amber's somatic approach to connecting with plants.
Both programs are on going and will reopen in 2022.

Amber and Naomi also launched Tea For Two on IGTV.
Tea For Two is a 20 minute livestream on instagram that takes place at 2pm EST every Tuesday afternoon.
Amber and Naomi share a cup of tea and talk about a wide range of subjects from herbs growing in their gardens to political ideology.
This offering is open to everyone so if you find yourself with a free moment on a Tuesday afternoon, brew yourself a cup and join the conversation.

The Farm
So much of your support has gone towards bringing our vision of a BIPOC led and centered commUNITY farm to life. For over a year, we have been fundraising towards that goal and we are so close. We have raised over $250,000 towards the purchase of this farm and have $250,000 more to go.
With your support we can bring SUSU commUNITY Farm to life.
We even found a farm that meets all our needs.
Nestled in the West River Valley and situated along the banks of the West River, the farm we are hoping to purchase is 37 acres of sandy loam, just right for growing our crops.
Three separate fields spread out across the idyllic landscape. The updated 1800s farmhouse is surrounded by a stand of tall, old maple trees. A working sugar shack connects to hundreds of maples across the river on 800 acres of conserved land and a rambling old barn, painted classic red, completes the picture of a Vermont working farm. 
With your help, our organization can secure this land for BIPOC farmers, healers and the community we serve in perpetuity.
Donate Here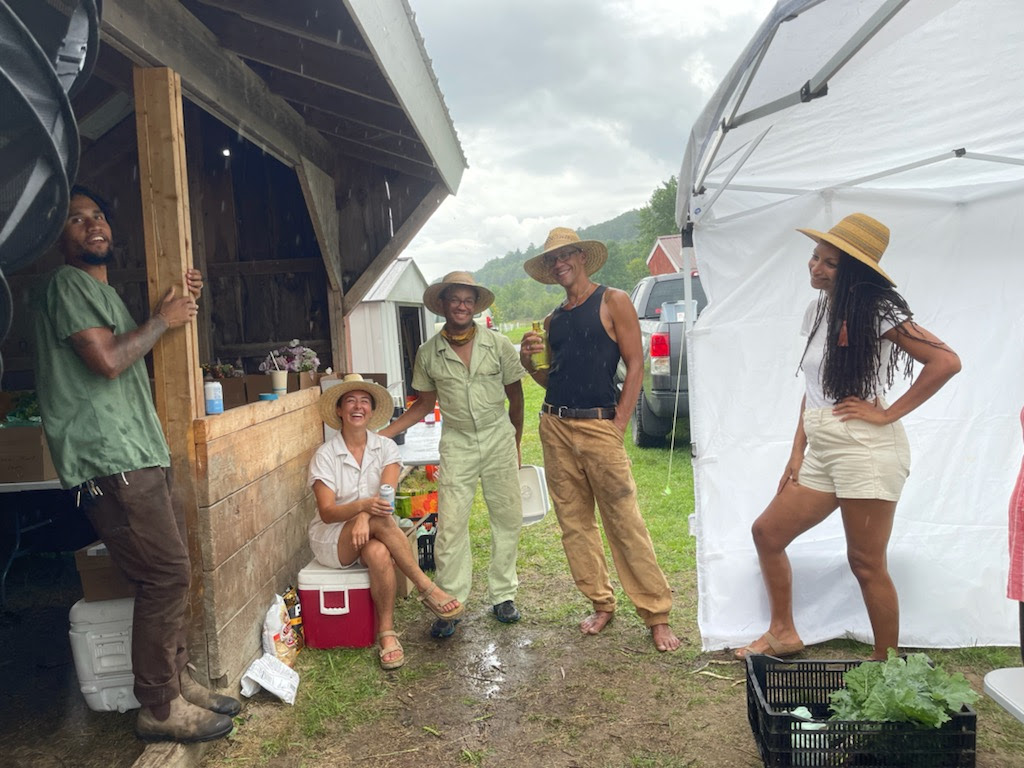 The Crew
With your help, we were able to expand our farmily beyond Amber and Naomi!
This season, we were able to hire a Farmer, a CSA Coordinator, a Volunteer Coordinator and a Development Director. We want to shout out Jabari, Jarmal, Hana and Jess for being the most amazing farm support crew we could have asked for.
We are excited to share that we will be expanding even further and hope to add a Farm Director and a Fundraising Director to our team to help continue to build out our vision.


SUSU is Hiring!
Know someone who would be a good fit for SUSU? Currently we are looking to hire a Farm Director, Fundraising Director, Administrative Coordinator, and a Botanica Manager. Check out the job descriptions and apply here. 
To Support us in having the security to sustainably fund these positions for years to come please donate here. Thank you for helping us build a culture of liberation in Vermont!

CSA Appreciation

To solidify a successful close to our CSA season we hosted a CSA appreciation dinner. It was filled with whimsically beautiful art created by the Circle Mountain Farm crew, Drumming with Adé, a potluck dinner featuring Dim Sum and Jabari's homemade Gumbo, laughter, love, and deep reverence for the earth.
The Support

It has been an amazing year AND this is just the beginning!
We are working on a strategic plan for the next four years that will lay the foundation for the future of SUSU and we need you hep to make it happen.
Your donations have a profound impact on our ability to move forward with our mission of creating intergenerational, multiracial healing spaces for our community. With your support, we can grow food AND sow seeds of liberation here in Southern Vermont. You can click here to donate.
Thank you for being a part of our farmily.

Amber and Naomi
Collaborative Directors, 
SUSU commUNITY Farm