John Brown's Vermont with Amy Godine
Oct. 16th, 1PM
ZOOM
On this anniversary of the radical abolitionist John Brown's nation-shaking raid on a federal arsenal in Harpers Ferry, Virginia, independent historian Amy Godine talks about John Brown's reverberative meaning in and for Vermont — both in his own time, and in antiquarian and modern memory.
Godine curated and wrote the traveling exhibition, Dreaming of Timbuctoo, about an abolitionist-founded Black farm settlement in New York's Adirondack mountains where Brown and his family settled in 1849. Dreaming of Timbuctoo is viewable at the John Brown Farm State Historic Site in North Elba, NY, and at the Town Hall Theater in Middlebury through October.
The Black Woods, Godine's narrative history of this abolitionist-founded colony, will be published by Cornell in 2023. She is a longtime contributor to Adirondack Life magazine, and has been researching and speaking about Black, ethnic, labor, and migratory history in northern New York for forty years.
Cost: $5
This event is supported by the Vermont Humanities Council
Register
ROKEBY IN THE NEWS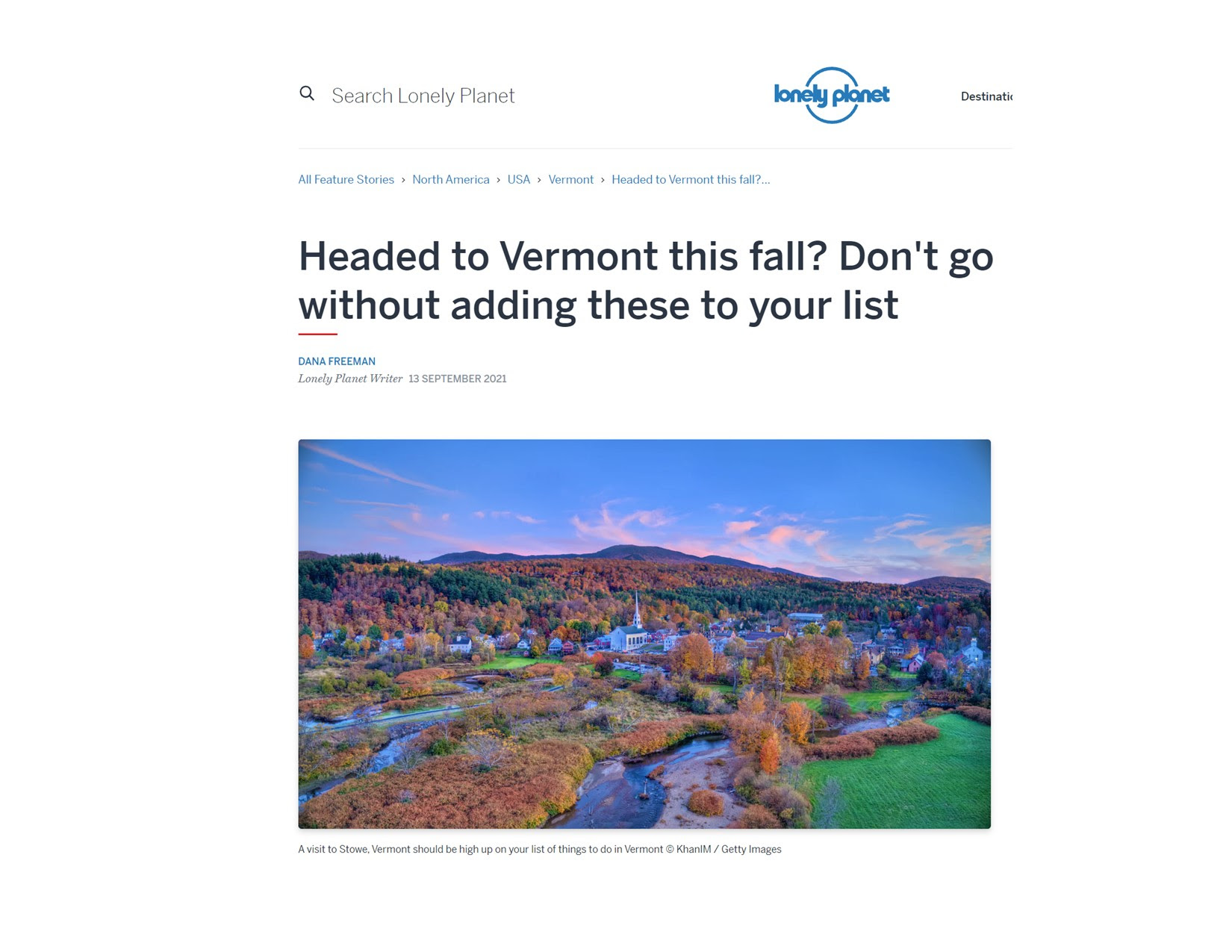 Travel guide, Lonely Planet listed Rokeby Museum as a must-see destination when visiting Vermont! You can read the full article by clicking the button below.
Read the Full Article
TRAIL WORK AT THE MUSEUM

On Sept. 26th, much-needed trail work happened at Rokeby Museum! A new bridge was built on the blue trail and puncheons were added on the red trail. This work is part of a grant from the Champlain Valley National Heritage Partnership, which is assisting Rokeby in adding interpretive signage on the site and upgrading our trail infrastructure.
Also, thank you to the United Way of Addison County and the Middlebury College Hockey Team for helping the museum with this work!
NEW STORYWALK ON THE GREEN TRAIL
If you missed Harvest Day at Rokeby, where local author, Eugenie Doyle read aloud her book, Sleep Tight Farm, have no fear! Sleep Tight Farmis installed on the Green Trail as our last storywalk of the year. Take a gander down the trails, searching for the pages, and enjoy the cooler weather! A handful of signed copies of the book are still available in our gift shop. Doyle and her family own Last Resort Farm in Monkton, VT. Visit them at their farm stand to check out their bountiful harvest!
ROKEBY LAUNCHES A STRATEGIC PLAN
At Rokeby Museum, staff and the Board of Trustees are committed to presenting an inclusive history that does not gloss over difficult or uncomfortable themes. The modern Education Center, opened in 2013, tells the story of the Underground Railroad from many perspectives. In 2021, as we approach ten years since the opening of our permanent exhibit,Free & Safe: The Underground Railroad in Vermont, we are reflecting on the important legacy of this addition and planning the next chapter of the Museum's story. Rokeby is a site that touches every public history engagement. We are a museum with numerous 3D objects; a preservation site with a historic house and farm outbuildings; an archive with letters, newspapers, pamphlets, ledgers; a natural space with ninety acres of fields and woods. Each of these pieces tells the Robinsons' story and this plan will enable us to think strategically and holistically about our future.

We are excited to share this plan and encourage you to work with the museum to reach communities across Vermont. There are many ways to get involved including volunteering or becoming an ambassador for the work at the museum. If you would like to learn more about ways to engage with the museum, or if you would like to discuss this plan please reach out to our director at director@rokeby.org.
Learn More
BECOME A MEMBER
Become a member today to enjoy free admission to the museum, tours, lectures, and events; a 10% discount on Museum purchases; subscription to the museum newsletter; and early notification of upcoming events.
Year in and year out, Rokeby Museum members are among the museum's most important supporters, helping to fund collections care, education, and preservation of historic buildings.
Don't miss this wonderful opportunity to learn from and share the legacy of Rokeby's remarkable Robinson family of authors, artists, abolitionists, naturalists, and farmers.
Join Today