May 2021
Garden Events
Get the network involved by submitting your next event directly to our submission page. Webinars, courses, conferences, one-time or reoccurring events, all apply!
See what's coming up on our Statewide Garden Calendar
---
Fund Your Garden
Visit our website for a regularly updated list of garden-related grants.
Find upcoming grants on our Garden Grants page
---
Connect with Fellow Garden Coordinators
Our closed Facebook group is a forum for your garden management questions, and a platform to swap resources and share stories.
---
This Week in the Garden
Sign up to receive weekly gardening emails, starting May 15th. These are lessons learned in our teaching garden as the season unfolds to help and inspire you in your own garden.
Visit our website (scroll to the bottom) to receive weekly gardening emails this season!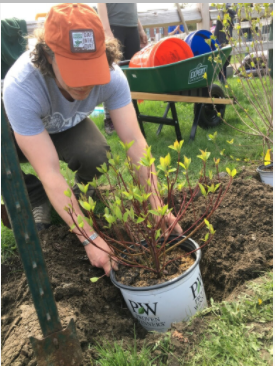 Thank you to all who supported our 9th Annual Day in the Dirt !
A HUGE thank you to the 178 volunteers who helped with projects at 18 gardens over the past two weekends for Day in the Dirt! Many of these volunteers also raised the $4,736.58 which will be shared with the gardens to help maintain them through the season. These gardens feed hundreds of families who are also grateful for the support!
Chris Sedic-Laton, a Special Educator at Allen Brook School shared these thoughts about the event: "It feels like we did something more than just put some wood together and move around some dirt. We may have started to acknowledge with our hands and words the reality that we work and live on the traditional land of the Abenaki people. We also prepared a space with good thoughts and efforts for plants (whose heritage is older than the name of Williston) to grow and possibly nourish folks in the coming year. Thank you for helping to create that space."
Our 9th Annual Day in the Dirt was proudly sponsored by Gardener's Supply, City Market, AARP, UVM Medical Center and Earth Breeze
---
Get Involved, Get Inspired
Vermont Victory Gardens
Is your community garden growing food for Vermonters in need – or would you like to? Then please consider joining Vermont Victory Gardens! VVG is a project of the UVM Master Gardeners, in partnership with the Vermont Community Garden Network, to inspire, connect and support those who are growing food to help combat hunger in our state.
Check us out and sign up here.
---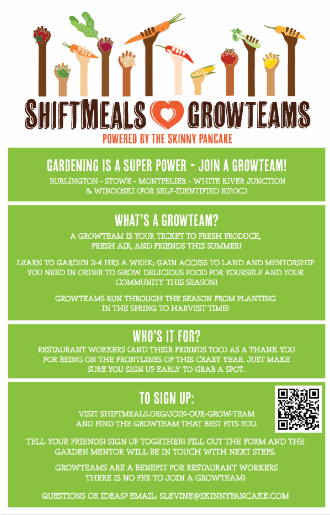 ShiftMeals GrowTeams:Join a Collective Community Garden!
ShiftMeals GrowTeams (a project of Skinny Pancake and local partners) invites you into the garden this summer–in one of five locations around the state! We believe that growing food for yourself is the ultimate way to empower our communities, but if you don't know how, or don't have access to land, it can be hard to start. Joining a GrowTeam sets you up with access to a garden and an incredible garden mentor to get you growing food for yourself and your community this summer. 
VCGN is hosting a GrowTeam at the Co-op Victory Garden, located at the Intervale in Burlington. We are welcoming up to 15 individuals to join us for the growing season.
Sign up or get more info here.
---
Toolshed Tips: Plan Your Garden's Volunteer Workday
This is the time of year when extra hands make all the difference to get gardens ready for the season. What role can volunteers play in your garden–now and throughout the season–to get special projects done, keep up with the harvest, and more?
Here are some tips to help you be prepared for these special events. This and more on recruiting and working with volunteers can be found in VCGN's Garden Organizer Toolkit.
Speaking of volunteering…Check out opportunities with VCGN!
This is the time of year when we're also seeking extra hands to help us prepare our teaching gardens for the growing season, extra minds to help us plan for upcoming events, and extra enthusiasm for the work of growing the gardening movement where we live, learn, work and play!
Check out our Volunteer page to learn more and contact us to receive regular updates on VCGN volunteer opportunities.
---
Network Asks & Opportunities
"HANDS in the Dirt" Workshops with Charlie Nardozzi
Helping and Nuturing Diverse Seniors (HANDS) is partnering this season with gardening expert Charlie Nardozzi and CCTV Town Meeting TV/Channel 17 to provide "HANDS in the Dirt" online programs. Workshops are Wednesdays at 10:00am via Zoom. Check out the schedule and topics on the HANDS website. If you'd like to participate, please email handsvt@gmail.com to receive the link. Workshop recordings will also be available on the HANDS website, at https://www.cctv.org, and on Town Meeting TV/Channel 17 shortly afterwards.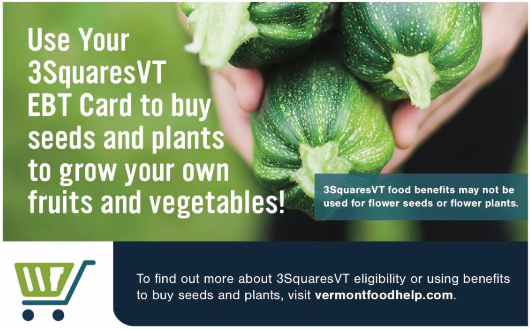 350VT Rewild Vermont Tree Plantings(at locations across Vermont)
Families and community members are invited to join 350VT in tree planting projects across Vermont as part of our statewide effort to plant thousands of trees across the state of Vermont by the end of 2022.
Find a location near you to help out with a spring planting!
Sharing a specific ask from our friends in Brownington: Tree planting,1pm on May 8th. Location: 961 Old Stone House Rd, Brownington, VT 05860. A shovel or hoe would be appreciated but not absolutely necessary. Sign up on the 350VT website. Questions? Call Ray: 720 822 3318.
Click here to sign-up to help plant!
Join the Movement!
Gardens for Hope & Health
In this uncertain time, gardens help heal by providing hope, resiliency and food! Many more Vermonters are seeking help to start gardens and we are working to provide resources for people at home and in the community. If you can, please make a donation today so more people can grow their own food and build healthier futures.
---
Since 2001, the Vermont Community Garden Network has worked with hundreds of communities and schools to start, sustain, and grow gardens, building strong local food systems and vibrant educational sites.   
Contact us – We'd love to hear from you!
Email us: first name (at) vcgn.org
Michelle Gates, Executive Director
Libby Weiland, Statewide Network Coordinator
Carolina Lukac, Garden Education Manager
Vermont Community Garden Network | www.vcgn.org | Facebook | Instagram
Vermont Community Garden Network | PO Box 713, Essex, VT 05453