Happy Spring! With the Equinox passed, and sugaring season at a wrap in most places, we are in the height of mud season, known to trap unsuspecting boots and cars in puddles.
We are seeing Vermont organizations remain resilient, offering gtreat programming in virtual spaces in-person programming to virtual spaces, and person educators continuing to keeping up with the changing restrictions to support their students throughout the school year.
We have a lot of exciting programming, events, jobs, and professional learning to share with you. We hope these resources bring you a renewed sense of hopefulness as we emerge out of the pandemic.
---
World Water Day Wrap-Up
This year marked the 17th anniversary of the United Nations International World Water Day and people found creative ways to join together virtually to acknowledge the value of water in all our communities!
We welcomed students, teachers, families, scientists and community partners to join our local, virtual celebration of the value of water to our community on March 23. Each year we host a student art show centered on the World Water Day theme. This year that theme was Valuing Water. What does water mean to you?

Our guest speaker, Neil Patterson Jr. of the Center for Native People in the Environment at SUNY's College of Environmental Science and Forestry spoke on this year's World Water Day theme–valuing water–through the lens of traditional ecological knowledge and multiple ways of knowing.

We featured our annual student art show and reception virtually this year! Classes that submitted works of art are featured in our virtual gallery that you can view here. We celebrated the winners in several recognition categories with fun prizes awared during our webinar.
If you missed the webinar, would like to watch it again, or share with colleagues, you can find it here on our YouTube Chanel.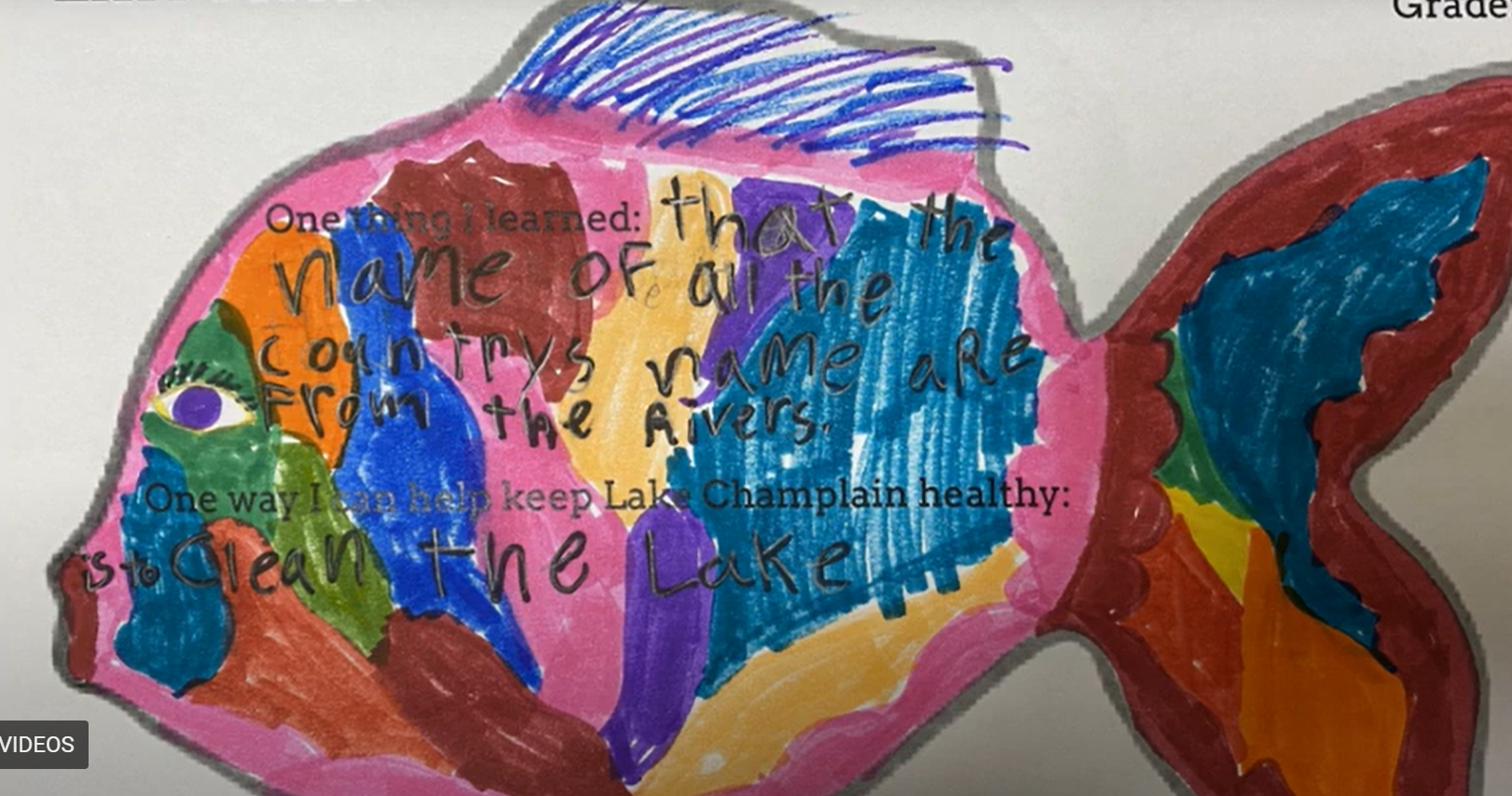 Thank you to all who joined us, and to the students, teachers, and schools who submitted creative work! We look forward to celebrating next year!
---
Webinars, Events, & Professional Learning
Next Webinar: Outdoor Teaching Resource Round-Up
Join the Vermont Education and Environment Network for a conversation based webinar. This webinar will be focused on comments and questions you as a formal or informal educator might have about teaching outdoors. Come excited to discuss and connect with fellow educators, or just to listen and learn tips, tricks, techniques for teaching outdoors! Wallflowers welcome!
Previously Recorded Webinars
World Water Day Webinar – March 2021
World Water Day Webinar with presenter Neil Patterson Jr, a citizen of the Tuscarora Nation, shared his perspective on the value of water. This webinar, geared for students and teachers, also highlights artworks celebrating the watershed.
Watch the Webinar Here
Watch the Webinar Here
Growing A Cultural Lens In School Gardens – February 2021
School gardens are a natural extension of the classroom and a common teaching space across schools in Vermont! Hear from educators who address a variety of cultural and curricular themes, topics, and standards while tending to and teaching in the garden with students of all ages!
Other Professional Development Offerings & Resources
Head to our website to see more events, and submit yours for us to share!
---
Webinars, Events, & Professional Learning
Members of Vermont Education & Environment Network receive exclusive benefits, discounts, and perks! We have updated our membership tiers to include price options for emerging professionals, individuals, and organizations! There's never been a more exciting time to join this network of individuals and organizations advancing environmental education in Vermont!
Join Or Renew Your Membership Today
Call For Board Members!
We are seeking to fill several vacancies on our volunteer Board of Directors from among our members! If you aren't a member yet, you can join anytime. You can learn more about who our current board members are, and the organizations they represent, on the Board of Directors page. 
Learn more about our Board positions!