March 24, 2021
AASHE Connect | Events | Resource Hub | STARS | Advertise
Three days remain to submit a proposal for the annual conference, or for a webinar, workshop or course. Formats other than these also may be submitted. Submit soon for an opportunity to share your experiences and insights with others working to advance higher education sustainability. The deadline is March 26.
News of the Week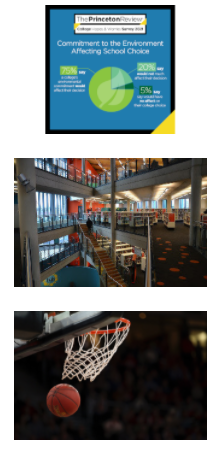 Prospective Students Show Increased Interest in Campus Environmental Commitment
In Princeton Review's latest survey of high school students, called Hopes & Worries, the percentage of students for whom a college's environmental commitment would impact their decision of where to attend jumped from 66 percent in past years to 75 percent.
U California Signs Open Access Deal
Under the new four-year agreement going into effect on April 1, all UC lead authors will be given the opportunity to publish accepted works in Elsevier journals openly so that anyone can read them without paying or subscribing.
NCAA Basketball Championship to Be Carbon Neutral
The NCAA and Indiana Sports Corp, in partnership with AES Indiana, Heritage Interactive Services, Keep Indianapolis Beautiful and IUPUI's Office of Sustainability, recently announced that venue operations of all practices and games during the NCAA Division I Men's Basketball Championship will be carbon neutral.
Engagement
Second Nature Awards Pro Bono Climate Consulting
Operations
Colorado State U Students Fund Installation of 80 KW Photovoltaic Array
Seminole State College Completes Photovoltaic Installation
Paul Smith's College Receives $100K for Sustainability & Athletics
U Albany Earns Fair Trade Designation
Georgia Southern U Opens Campus Thrift Store
Saint Mary's College Implements Hard-to-Recycle Item Bins
Planning & Administration
Merton College Commits to Oxford Living Wage
Virginia Tech Releases Climate Action Commitment
Swarthmore College Publishes Energy Plan to Reach Neutrality by 2035
Wheaton College Removes Offensive Plaque
Opportunities
2021 Climate Action Pursuit: Request for Proposals
Throughout 2021, Second Nature and Intentional Endowments Institute are leading a process of learning, acting and leading on climate and justice on higher education campuses and their communities. Live programming will take place online June 10 – 11, Oct. 7 – 8, and Dec. 9 – 10. Proposals for the June milestone are being accepted through April 2.
Call for Presentations: ISCN 2021: Accelerating Climate Action & Sustainability in Education
Organizers of the 4th International Sustainable Campus Network Conference are encouraging submissions of research, case studies and projects that focus on best practices for achieving sustainable campus operations and integrating sustainability in research and teaching. The deadline to submit is April 4.
New Resources
2020 Survey Results: Students, Sustainability and Education
The global student survey on sustainability administered by Students Organizing for Sustainability (U.K.) seeks to understand the opinions and attitudes of students around the world towards sustainability, and to use the findings to leverage action to transform education.
Advancing the UN Sustainable Development Goals Through Education Abroad
These guidelines serve to direct the education abroad sector toward social, economic and environmental sustainability by connecting the Standards of Good Practice for Education Abroad and the U.N. Sustainable Development Goals.
Dashboard for Rapid Vehicle Electrification (DRVE) Tool
The Dashboard for Rapid Vehicle Electrification Tool, developed by the Electric Coalition and Atlas Public Policy, provides users with the opportunity to upload their campus fleet information, and analyze and compare the current fleet of vehicles to electric vehicle fleets.
Events
AASHE Webinar: Behavioral Strategies To Ditch Desktop Printers
March 25; 3:00 p.m. Eastern; Online
America is All In: U.S. Climate Target Webinar
March 31; 1:00 p.m. Eastern; Online
Colloquium on the Environment: Dr. Robert Bullard Keynote Talk
April 1; 7:00 p.m. Eastern; Online
Equity in Teaching and Learning Institute
May 6 – 7; Online
Visit the Sustainability Events Calendar
Jobs & Internships
Education Intern
AASHE
Marketing Intern
AASHE
Visiting Faculty Position: Economics for Sustainability
Bard College
The AASHE Bulletin is a weekly e-newsletter that shares best practices and communicates innovative and high-impact achievements related to sustainability in higher education.
---
Association for the Advancement of Sustainability in Higher Education
2401 Walnut Street, Suite 102
Philadelphia, PA 19103
888-347-9997 | info@aashe.org