Greetings Everyone,
Welcome to the winter edition of the Vermont State Parks newsletter. Thank you to everyone who found joy and health in state parks in 2020. After last year's challenges, we hope you are finding peace and enjoying some winter fun.
Whether you're heading out on a short hike with your dog, an ice skating session, or a ski journey, Vermont State Parks are open for your enjoyment! Check out our Winter Use Guidelines to make sure you're prepared for your visit since parks in the off-season are not staffed, facilities including restrooms are closed, and access points can vary from the operating season. Take a peek at our favorite parks for cold weather adventures, winter access for your favorite parks, and plan a trip you're sure to remember!
With the cold air, it might be hard to believe that summer is just around the corner. We're actively recruiting, hiring, repairing, and planning to make sure we're ready for the adventures to come in the 2021 season.
While our operations plans for 2021 have not been finalized, we are hard at work determining how we can best serve our visitors and support each other during the COVID-19 pandemic. As our plans are formalized, we'll make sure to keep you updated on the Vermont State Parks COVID-19 updates page and on our social media pages.
As you dream up your next Vermont adventure, explore our new and improved reservation site for tent sites, lean-tos, pavilions, and more. Is your favorite site taken on the weekend? Take a peek mid-week as prime sites are often available!
Remember, everything has its season. Take advantage of winter for resting, playing, and looking out for each other. Spring will be here before you know it!
Stay safe and see you in the parks,
Kaitlin Alford, Editor & Parks Customer Service and Communications Asst.
Now Hiring for the 2021 Season
Work in the beautiful Vermont outdoors with some of the friendliest people you'll ever meet. Happy customers continuously tell us that our staff are the best around. Our staff tell us that working for the parks is some of the most rewarding and meaningful work they've ever done.
If you have an excellent work ethic, customer service and/or management experience, and a great attitude, we'd love for you to apply.
Click here to #WorkOutsideTheBox
Currently recruiting
Park managers
Park interpreters
Attendants
Deckhands
Maintenance staff
and more!
Part-time and full-time positions are available statewide.
Outdoor Observer: Signs of Spring
To the left: Two Great Horned owlets perch next to a parent in their nest.
As I write this, the famous groundhog, Punxsutawney Phil, is about to predict either an early spring or six more weeks of winter on Groundhog Day. No matter the groundhog decree, February brings the first phenology of spring to Vermont. We watch seasonal changes with eager eyes in the Northeast. Our woods and fields are full of thick snow, but days are growing longer. We reach ten hours of daylight this month. The earliest sign of spring is enough daylight leftover for evening cross-country ski adventures at Little River State Park after work. We have been enjoying these for the last couple weeks.
There are other signs of spring to watch for, to warm your heart on these chilly evenings. Great horned owls are nesting. Female owls are incubating eggs as you read this. Great horned owls reuse nests built by other birds—most often red-tailed hawk, crow, raven, or heron nests. They also sometimes use old squirrel nests. Owls line their nests with feathers from their chest, and fur from their prey. This makes a nice soft nest for the baby owls hatching in about a month. You can hear the male and female owls calling back and forth during this time. The rhythm of their call is "hoo-h-HOO-hoo-hoo." Female owls are larger, but male owls have larger voice boxes and a deeper call. Listen for the back and forth of higher and lower pitched calls, and you know you are listening to a conversation between a nesting pair of great horned owls. These owls prefer habitat with older trees, and some open areas nearby. Woodford, Gifford Woods, Underhill, and New Discovery State Parks all have great habitat for great horned owls.
To the right: A turkey vulture flies above Alburgh Dunes – R. Schwan-Noble
Not only do we have owls breeding, but migratory birds start returning to Vermont in February. The very first birds you see are large, black turkey vultures soaring high on warm thermals. These large scavengers are quickly followed by red-winged blackbirds. Many people in Vermont mark the start of spring with the first tumbling song of male red-winged blackbirds.
Many of our residential birds start singing, marking their territories, and seeking mates in February. Cardinals, house finches, downy, and hairy woodpeckers all start singing and drumming this time of year. Coyotes are also getting in on the excitement of spring. This is mating time for them and you can hear them howling at night.
Groundhog meteorology is often inaccurate. We watch carefully for signs of spring in Vermont, and we see it in longer days, and changing animal behavior. You can watch for signs of spring during your next walk in the woods at your favorite state park.
Rebecca Roy, Conservation Education Coordinator
Get Outside and Play!
Whether you love to hike, bike, or sunbathe, we've got your pass to a great summer. Get your 2021 season passes now!
Did you know…
Our new and improved reservations system allows you to change sites, dates, parks, and make other modifications 24/7 from the comfort of your own home?
Want to learn more? Read our latest Reservation FAQ blog!
Best In Snow Photo Contest
Left: A cross country skier glides across the snow as the sun sets in the background.
We are pleased to announce the 2021 Best In Snow – Vermont State Parks Photo Contest. Parks are great places to go for skiing, snowshoeing, ice skating, sledding, fat biking, snowmobiling and more. We are seeking your best winter shots in VT State Parks!
We are looking for high quality images in Vermont State Parks during the winter season from any year. There are two categories for the contest: scenic landscapes and action shots. Photos should feature portraits of people recreating in parks or scenic views from within the parks.
Prizes issued in each category:
$50 Vermont State Parks gift card
10-punch pass card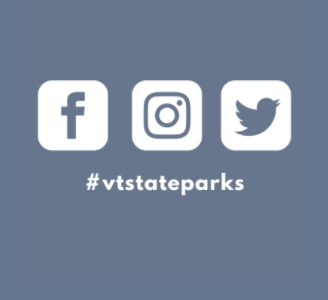 Share your pictures!
We love to see your Vermont State Parks adventures! Post them on our Facebook page or share them with #vtstateparks on Instagram or Twitter
Thank you to the many park users who gave to Vermont Parks Forever, the foundation for the state parks, during their online camping registration – you made a big impact!
With your help, Vermont Parks Forever will:
grant free passes to underserved communities to help everyone visit the parks
revitalize park nature centers to bring nature education to all
provide student internships to ensure the next generation of park stewards
expand our programs to serve even more visitors!
Interested in helping us continue this good work? www.vermontparksforever.org
Thank you for reading the official newsletter of Vermont State Parks!
Vermont State Parks | 1 (888) 409-7579 | anr.parks@vermont.gov | www.vtstateparks.com
"If we had no winter, the spring would not be so pleasant: if we did not sometimes taste of adversity, prosperity would not be so welcome." ― Anne Bradstreet