---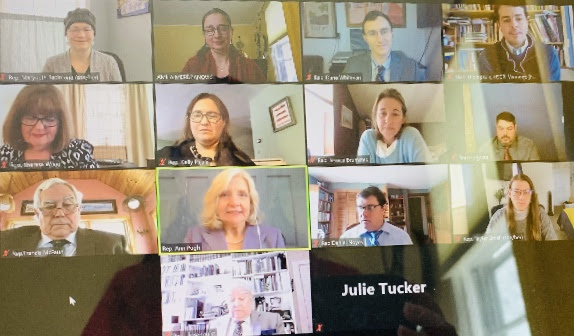 On February 3rd, Amila Merdzanovic, USCRI Vermont Director, and Matt Thompson, Coordinator of Programs, (top row) provided testimony to members of the Vermont State House Committee on Human Services on the impacts of COVID-19 and CARES Act grant funding in refugee and immigrant communities in Vermont. In coordination with partnering service agencies, USCRI Vermont provided critical housing assistance, food relief, employment support, clothing, care packages of household supplies, technology access, and intensive case management to 296 households from July 1 – December 30th, 2020. We'd like to thank members of the Committee, Representative Marybeth Redmond, and Chair Representative Ann Pugh for the emergency support during the pandemic. 
Crossroads Youth Mentoring – Assia & Alice
Assia Hamana and Alice Urban moved to Vermont at about the same time, but each came from very different worlds. Alice relocated from Washington, D.C. for a job in international development, and Assia arrived at the age of 13 from Chad as a refugee with her mother, father, brother, and sister. Since meeting through the Crossroads Youth Mentoring Program in early 2017, they've cultivated a meaningful Mentor/Mentee relationship that has evolved to become a deep and valuable friendship. Alice describes her inspiration for getting involved with Crossroads: "I moved to Vermont looking for community, and found a great connection to it as a volunteer Mentor with Crossroads." Assia joined Crossroads as a way to help her better understand "the strange, new culture of the U.S.," she said, and to find some comfort as she and her family settled into their new life in Winooski.

"One of the biggest challenges for me was the language barrier," she said. After being paired with Alice, Assia worked on and practiced her English in frequent conversations with Alice during program activities and outside the mentoring circle. Shy at first, Assia began to open up to her new community and American culture as they explored new places during their Crossroads excursions. Assia relates that her new community was "feeling more like home" after she and Alice introduced their families to each other and started
sharing more time together outside the program. "Our moms are friends now. Assia's mother taught me how to make a delicious peanut sauce called sauce d'arrachide," Alice recalled.
"I've learned so much about Assia and her family's journey and their resilience, and I have a real appreciation for the optimism they have. Our community benefits so much when we share our experiences with other cultures," Alice continued. Assia summed up her thoughts this way – "Vermont is a place where it feels like home, where I can I feel safe. This community has a big heart. And that's a big part of why my friendship with Alice and the connection we've made through USCRI's Crossroads Mentoring Program is so satisfying."
Restoring the US Refugee Admissions Program 
USCRI Vermont welcomes the Biden Administration's recent series of Executive Orders to restore and strengthen the US Refugee Admissions Program (USRAP). The EO signed by the President covers a lot of improvements to the program, including streamlining USRAP applications, taking actions to increase USRAP capacity, ramping up hiring at USRAP, creating a plan to build USRAP capacity by expanding community partnering models for resettlement agencies and more public-private partnerships, expanding referrals from international NGOs to the USRAP for particularly vulnerable individuals, instituting other policies to ensure the quality, integrity, fairness, and efficiency of the USRAP, and revoking orders by the prior administration which created more restrictive vetting procedures and required strict enforcement of inadmissibility grounds for refugees. 
Learn English with USCRI Vermont
In the early days of the pandemic, USCRI Vermont launched the Learn English with USCRI Vermont Facebook page with the goal of keeping students engaged on a familiar platform while navigating the shift to online learning and building digital literacy skills. There is no shortage of online English learning opportunities on the Internet, but USCRI wanted to maintain a connection with students by creating local content delivered by familiar faces. COVID-19 has presented us all with new challenges and has forced us to think in creative and flexible ways about how we deliver services and empower our clients to continue to excel. This challenge to re-invent ourselves has resulted in surprising new ways to engage with clients. We are grateful for the enthusiastic and courageous teachers who are at the heart of this successful addition to USCRI Vermont's education model.
Sherry Star, a USCRI English teacher since 2004, describes her motivation for getting involved as, "I want to do anything I can to help my students attain their goals." Sherry bravely leapt into the world of virtual teaching with cooking videos from her home kitchen. She's currently following-up that effort with a recently-launched collaboration with Kaitlan on a "Citizenship Test Prep" video series for new Americans studying to pass the Citizenship exam. Check out her weekly videos on the Learn English with USCRI Vermont Facebook page.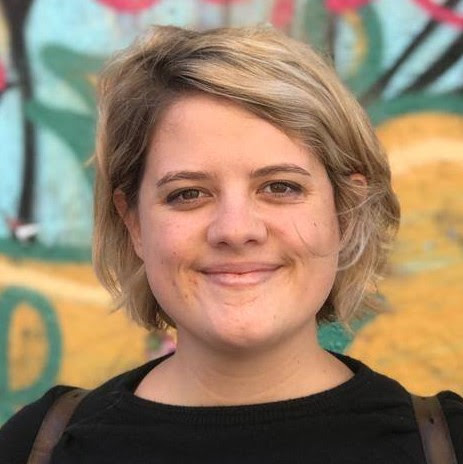 Kaitlan Spencer, who has been working with USCRI since 2019, brings her skills as a language educator and video producer and editor to our Facebook projects. She creates behind-the-scenes magic that turns raw content into engaging, visually-pleasing, educational episodes that keep students coming back for more. You can also catch Kaitlan on Facebook Live every Thursday afternoon providing English language lessons for newcomers.
Nancy Lindberg, a USCRI English teacher since 2015, was "thrilled that at this challenging moment, USCRI encouraged its English teachers to develop professionally and use (their) new-found solitude to find creative ways to reach students." Nancy jumped right in and created a video series called, "Today's Phrasal Verb." Filming from home, Nancy contextualized her mini-lessons in familiar surroundings that everyone stuck at home could relate to.
USCRI Alumni in the News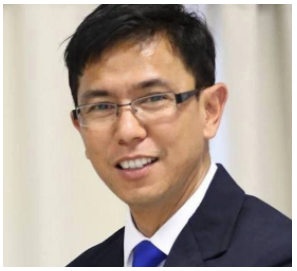 Hemant Ghising, USCRI Vermont Alum, is now an Education Counselor at Vermont Student Assistance Center (VSAC) where he will be "helping people to see American dream through higher education and trainings." He comes to the position well prepared, as this was his research at UVM for his Doctor of Education. We wish Hemant the best of luck in this exciting new endevour and look forward to working with VSAC and Hemant-Congratulations!
COVID-19 Vaccine Education Sessions
USCRI Vermont is sponsoring community education sessions on the COVID-19 vaccine in collaboration with Association of Africans Living in Vermont (AALV), Dr. Kristen Pierce, Dr Mercedes Avila – Director of UVM LEND, UVM Health Network, and the Vermont Health Department. Two sessions with interpretation in Nepali, Burmese, and Kirundi have been hosted this month. Coming sessions include French, Lingala, Maay Maay, Somali, Swahili, and Vietnamese. The goal is to bring facts about the COVID-19 vaccine to community members so they can understand the benefits of getting the vaccine and to provide answers to any questions.
Mosaic of Flavor Cooking Series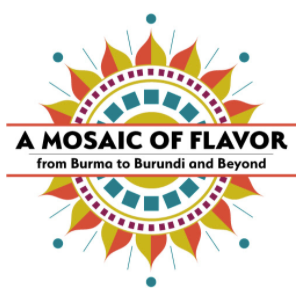 The Mosaic of Flavor Cooking Series is a culinary collaboration between City Market Co-op and USCRI Vermont. Held monthly, each virtual class is held on the Microsoft Teams platform.  In February, we will prepare a special meal from the Republic of the Congo that includes salt fish and steamed cassava, served with a red sauce and safou, the nutritious fruit of an evergreen tree native to Africa known as African plum, bush pear or butterfruit. Our instructor, Rodrick Kiesse, is originally from Congo-Brazzaville, and moved to Vermont with his family in 2010. An avid cook from a young age, Rodrick pursued his culinary studies at the Center for Technology in Essex and the New England Culinary Institute and has worked as a line cook at The Inn at Shelburne Farms and Waterworks in Winooski and participated in numerous cooking competitions. Rodrick is excited to teach us how to prepare three of his favorite Congolese recipes using culinary techniques he learned from his family in Congo as well as in culinary school. 
The class is free, but a $10 donation is requested. To register, click on the Mosaic of Flavor class information link:
https://www.citymarket.coop/category/event-categories/mosaic-flavor
USCRI Vermont is Hiring!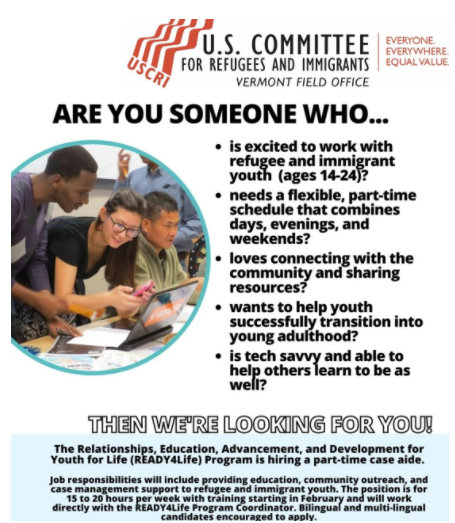 Are you someone who:
– is excited to work with refugee and immigrant youth (ages 14 to 24)?
– needs a flexible, part-time schedule that combines days, evenings, and weekends?
– loves connecting with the community and sharing resources?
– wants to help youth successfully transition into young-adulthood?
– is tech savvy and able to help others learn to be as well?

The Relationships, Education, Advancement, and Development for Youth for Life (READY4Life) Program is hiring a part-time Case Aide. Job responsibilities will include providing education, community outreach, and case management support to refugee and immigrant youth.
The position is for 15 to 20 hours per week with training starting in February. Bilingual and multi-lingual candidates encouraged to apply. For more information and application instructions, email: vrrp@uscrivt.org
Thank You to All Our Donors & Supporters
A big Thank You to all of our donors, partners, and ongoing supporters who make the services and programs we offer possible, including the Montpelier Vermont Stake of The Church of Jesus Christ of Latter-day Saints, Little River Holdings, Ilona Blanchard, Vermont Community Foundation, Jericho Management Company, Boy Scouts of America Troop 602, Jeremy Harris, and April McCullum.
Share the Love for Valentine's Day
We'd love to raise $1,000 before Valentine's Day (February 14!)
Your support enables USCRI Vermont to:
Welcome refugee families to Vermont and provide everything they need for a fresh start in their new home.
Help clients navigate the healthcare system and coordinate critical medical care for new arrivals.
Support individuals and families on their path to self-sufficiency through comprehensive employment services.
Provide emergency cash assistance to families in times of crisis.
And so much more!
To help us reach our goal, click on the Donate Now button below and choose "Refugees and Immigrants in Vermont" in the drop-down menu on the donation form.

Also follow us on Facebook at www.facebook.com/USCRIVT.
Thank You!
Copyright ©2020 U.S. Committee for Refugees and Immigrants. All rights reserved.

U.S. Committee for Refugees and Immigrants, Colchester Office
462 Hegeman Ave, Suite 101, Colchester, VT 05446
Phone: 802-655-1963
www.refugee.org/uscri-vermont/
info@uscrivt.org