twitter • facebook • website • instagram
---
The COVID-19 Tracking Project
The COVID-19 tracking project maps the number of COVID cases per million people in every state.  See also The UVM Health Network website dedicated to giving Vermonters the information they need to contain the spread of COVID-19. And the Vermont Department of Health for the latest numbers and what Vermonters and visitors should be doing.
Adverse Childhood Experiences and Long-term Health
Vermont was one of the four states which took part in a study on the relation between adverse childhood experiences (ACEs) and long-term health issues later in life.  The health issues studied were poor sleep quality, depression, BMI, and alcohol intake.  The study found significant relation between ACEs and these issues, indicating that screening for ACEs in the future may be of clinical value.
Education success
A new VSAC study finds that two-year programs are vital for low income and first-generation college students and that the Community College of Vermont provides a critical role in increasing the chances of graduation in students who came out of high school underprepared. The many findings in the report provide data on how to increase student retention and graduation rates.
Food Insecurity in Franklin County
Previous research has indicated that rurality may contribute to food insecurity, one of the biggest problems facing our country today.  A recent study surveyed food-secure and food-insecure people in rural Franklin County, Vermont.  The survey found that food-secure and food-insecure people accessed food differently, with food-secure people able to reliably obtain food from both local supermarkets and grocery stores outside the county, while those who are food-insecure access outside supermarkets far less. They are often forced to rely on community meals, church organizations, and the food shelf. See also Digger story with Food Bank CEO John Sayles.
Election Maps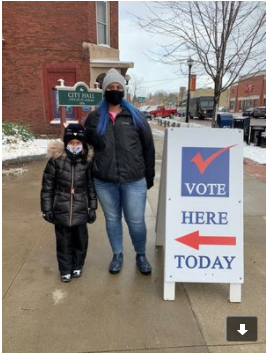 New election maps from students with the Community News Service illustrate the depth of Governor Phil Scott's support among Democrats. Scott increased his share of the vote over 2016 in several democratic towns and beat President Trump by more than 50% in towns like Shelburne, Stowe and Norwich. Middlesex appears to have had the highest rate of absentee balloting — at close to 80%. And a handful of small towns  increased their 2020 vote total for Trump. 
The Other Montpelier & the Barre Granite Strike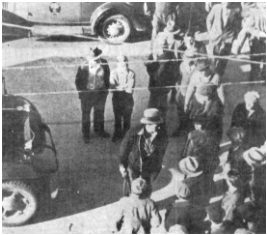 The history of  two central Vermont cities are examined in new two articles; "An All-American Town? Ethnicity and Memory in the Barre Granite Strike of 1922″ and "The Other Montpelier: Historical Glimpses and Memories of the City's Development along the River Valleys" can be found in Winter/Spring 2020 Vermont History, the Journal of the Vermont Historical Society.
Reducing Morbidity in Infants Born Prematurely
Infants born prematurely have a significantly increased risk of developing morbidities of the brain, eyes, intestinal tract, and lungs which can lead to long-term issues in brain development.  A recent study conducted by the Vermont Oxford Network seeks to develop solutions to reduce these types of morbidities in premature infants.  The study is ongoing, but it has led to better practices to prevent lung injuries, as well as better methods of providing nutrition to premature infants.
The Wild Burlington Newsletter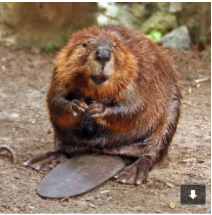 If you are looking to subscribe to a newsletter dedicated to natural history and fascinating facts about wildlife, look no further than the Wild Burlington Newsletter.  You will receive weekly emails, each on a specific topic of Vermont nature, written by professional naturalist Teage O'Connor.  Past topics include raccoons, rainbows, leaves, and more.  Their most recent newsletter talks about what beavers eat. 
Plastic Surgery
Vermont may be the place to move to if you're a plastic surgeon. While Vermont has among the smallest concentrations of plastic surgeons per ten-thousand people, Vermonters rank 6th in the Surgical Demand Index, according to a recent report. This Index is calculated by dividing the Google Relative Search Volume by the concentration of plastic surgeons in any individual state.
Pharmaceuticals in the watershed
Pharmaceuticals most used in anesthesiology at The University of Vermont Medical Center are making their way into the wastewater stream and hurting wildlife, according to a recent article. The research finds that the amount of damage caused by these pharmaceutical excretions varies depending on the medication, the species, and the amount, citing the need for further research into the impacts of chronic low dose exposures to these medications on wildlife.
Snowmobilers are concerned about climate change
Vermont's local snowmobiling markets are more vulnerable than non-local snowmobiling markets to future climate change scenarios, according to a recent study. which finds that local snowmobilers are more sensitive than non-local snowmobilers to the declining snowmobiling conditions in Vermont due to climate change. Additionally, non-local snowmobilers have higher desirability for the diversity of trail features than local snowmobilers, but local snowmobilers are also more likely than non-local snowmobilers to notice the decreasing extent of snowmobile trails throughout Vermont.
Have an opinion on any of this? Post it here!
Vermont Dept of Health
Weekly Data Summaries
COVID Testing
---
Copyright © 2019 Center for Research on Vermont, All rights reserved.
The Vermont Research News is a bi-monthly curated collection of Vermont research — focused on research in the Vermont "laboratory" — research that provides original knowledge to the world and research that adds to an understanding of the state's social, economic, cultural and physical environment. Thanks to support from the Office of Engagement at UVM. 
Send your news items to Newsletter Editors Martha Hrdy or Richard Watts. In a collaboration with VT Digger, the newsletter is now published online. CRVT is responsible for the content. The newsletter is published on the 1st and 15th of each month.