BTV Conservation News
The Pulse of Burlington's Wild Green Heart
December 2020
Issue No. 15
Happy Holidays from Dan & Alicia 
Winter is a time to reflect and appreciate stillness and some slowing down, and it also presents us with unique and expansive ways to enjoy the natural world.
For the times you are cozying up and slowing down, its also a great time to read and listen to stories. We would like to invite you to share your favorite books, podcasts, articles, or movies so that we can share them with others.  Themes of special interest to the BPRW Conservation Team include nature, gardening, cooking and social justice.  We welcome a wide range of entertaining, though-provoking, eye-opening submissions and will pick the top choices to share in our January issue of the BTV Conservation News.  Please share a brief description of your choice including what you like about the book or podcast by January 1, 2021.  Please use this form to submit your selection. 
Also in this short issue – we will link you to a resource that breaks down all the places you can enjoy winter outdoor activity at in Burlington.  One of the beauties of winter is that it opens up all kinds of new areas to explore that aren't accessible other times of the year.  Places like Arthur Park (The Sea Caves) and The Burlington Country Club for example. 
We hope to see you (from a safe distance) in the outdoors and in the woods, 
Alicia Daniel
Field Naturalist, BPRW
Dan Cahill,
Land Steward, BPRW
Winter Tracking Events
Winter Tracking Events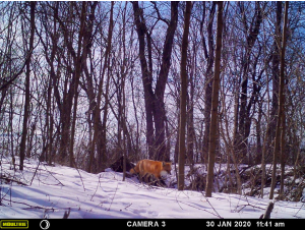 If public health guidelines allow us to gather, BPRW will host winter tracking events on the following two Saturdays:   February 27 and Saturday March 20 from 9:30 to 12:30.  The place will be chosen based on snow conditions.  The animals we might see tracks and signs of include everything from foxes to mice.  If you want more details sent to you the week before the event please click here and save the date!
Tracking Burlington Wildlife Using Game Cameras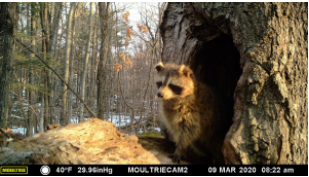 Game cameras set up around Burlington have created a window into the world of wildlife. We recently saw a fisher on our wildlife camera at Burlington's new natural area behind 311 North Avenue. See the fisher and some of other amazing wildlife photos taken in the wildways of Burlington. Find out who is hunting, playing, and finding mates and shelter in our wild places. The answers may surprise you!
Click here to view BPRW's wildlife camera photos
Click here to see wildlife photos taken by the Lower Winooski Valley Project in the Intervale
Outdoor Activities 
Explore Burlington
Outdoor Opportunities for Keeping Your Body Moving and Your Soul Nurtured this Winter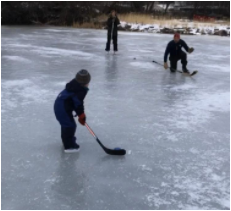 Studies show that just 2 hours of time spent outside in nature per week provide noticeable health benefits! To help you get out and enjoy nature while staying local, we've compiled a list of things to do right here in Burlington.  
Click here to learn about all the places and ways you can explore Burlington this Winter.
Conservation News Archive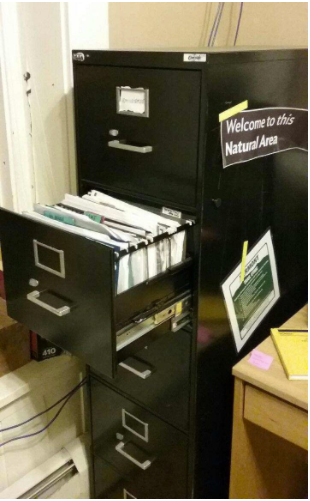 Read Past Conservation News:
Fall 2020
May/June 2020
Spring 2020
Fall/Winter 2019/2020
Spring 2019
Winter 2018
Fall 2018
May/June/July2018
February/March/April 2018
December 2017/January 2018
September/October/November 2017
July/August 2017
May/June 2017
March/April 2017