Garden Events
Get the network involved by submitting your next event directly to our submission page. Webinars, courses, conferences, one-time or reoccurring events, all apply!
See what's coming up on our Statewide Garden Calendar
Fund Your Garden
Need funding for your garden project? Visit our website for a regularly updated list of garden-related grants.
Find upcoming grants on our Garden Grants page
Connect with Fellow Garden Coordinators
Our closed Facebook group serves as a forum for your garden management questions, a platform to swap resources, and a place to share your story.
Buy cute gifts & support VCGN statewide programs
Check out Deep Seeded! This group of UVM students created a Redbubble store with lots of fun products, and all proceeds support our hunger prevention programs. 
---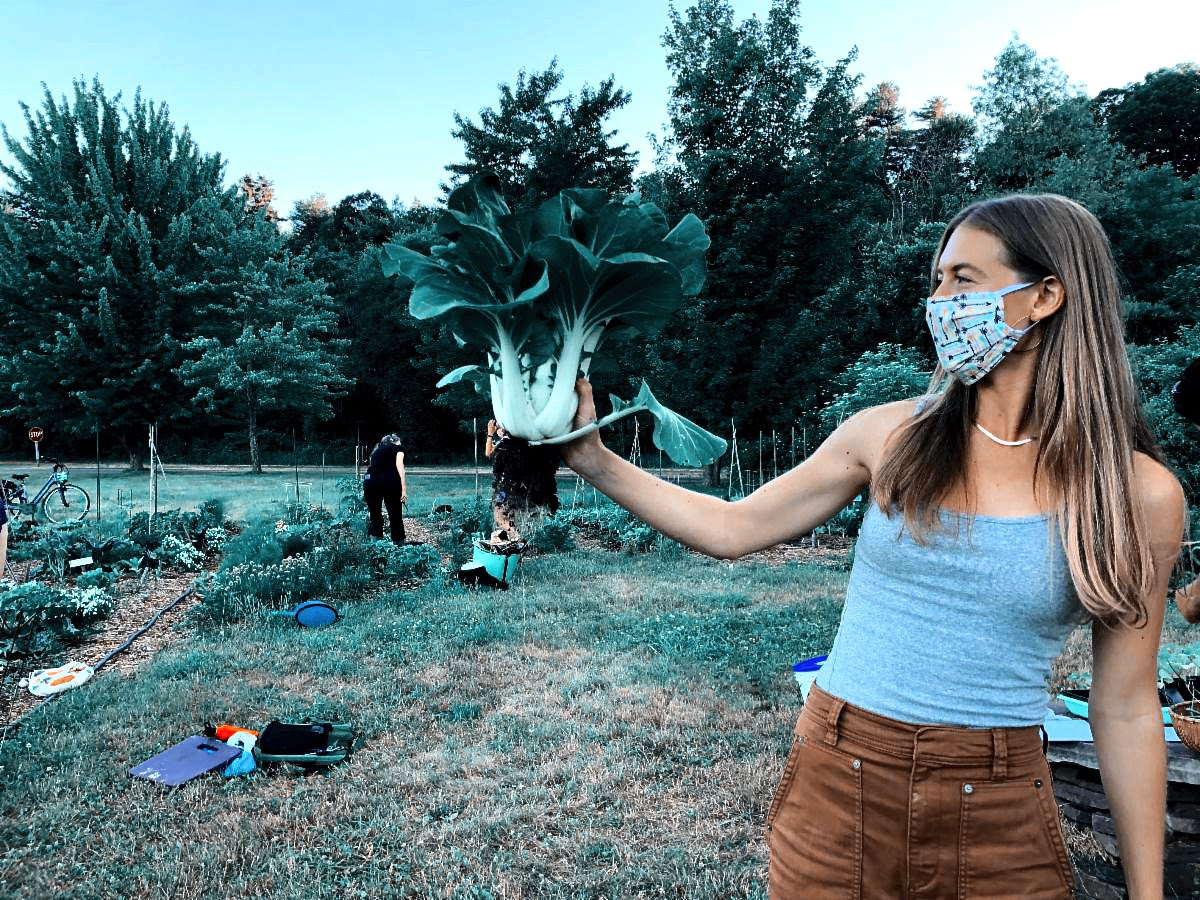 What Inspires Us
We know 2020 has been anything but normal; it's actually been downright sad and scary at times. Could you use some garden inspiration to lift your spirits? Here are some things folks have shared with us over the past several months. Let these positive thoughts be the silver lining on this difficult year.
Resiliency through garden education
"I didn't know how much I would need to feel that I had skills in cultivation at the beginning of this Pandemic. With the uncertainty and anger rampant all around us, I have neverfelt more grateful to be equipped witha set of life-nurturing skills."
Sharing food when so many are in need
"I'm throwing vegetables at all my friends, can afford cooking with fresh produce all summer long, and feel significantly more self-assured in my other garden spaces(even my house plants don't look as sad)." 
Improving health and feeling better
"The ability to grow my own food was so liberating. Plus, with my excess of veggies, I've had no choice but to eat more of them! Which has made me feel great!!" 
One activity with so many benefits
"I was reminded again about how wholesome and good for my mental, physical, and spiritual health gardening is."
We are ever grateful to help and promote the collective good in health, environment, food security, and human connections through gardening. Thank you for being a part of Vermont's gardening movement. 
Follow us on Facebook and Instagram this month as we share our gratitude for those who helped make this season possible!
---
Get Involved, Get Inspired
10 Garden-Inspired Books for Your Winter Reading List
Carolina Lukac, VCGN Garden Education Manager
Narrowing down a reading list oddly reminds me of thinning out carrots… it's tedious to choose which to keep, but satisfying to savor the ones that made it through the culling. This list includes books that I keep going back to for inspiration and technical guidance. 
BIPOC Authored…
Farming While Black: Soul Fire Farm's Practical Guide To Liberation on the Land, by Leah Penniman
Braiding Sweetgrass: Indigenous Wisdom, Scientific Knowledge, and the Teachings of Plants, by Robin Wall Kimmerer
Memoirs for the localvore and homesteader….
Farming on the Wild Side: The Evolution of a Regenerative Organic Farm and Nursery, by Nancy and John Hayden
The Dirty Life: A Memoir of Farming, Food, and Love, by Kristin Kimball
Paradise Lot: Two Plant Geeks, One-Tenth of an Acre, and the Making of an Edible Garden Oasis in the City, by Eric Toensmeier
Food production at the garden, farm, orchard, and backyard scale…
The Week-by-Week Vegetable Gardener's Handbook: Make the Most of Your Growing Season, by Jennifer and John Kujawski
The Market Gardener: A Successful Grower's Handbook for Small-Scale Organic Farming, by Jean-Martin Fortier
The Holistic Orchard: Fruit Trees and Berries the Biological Way, by Michael Phillips
Gaia's Garden: A Guide to Home-Scale Permaculture, by Toby Hemenway
Coming out in December!
The Complete Guide to No-Dig Gardening, by Charlie Nardozzi
Community Connections: Join us for the film "Gather"
Community Connections is a new program to expand VCGN membership and to encourage connections, storytelling and discussion of garden and related topics with people throughout Vermont. We will send thought provoking articles, stories, documentaries and other resources, then virtually gather to talk about them.
Community connections conversations will happen on the 3rd Thursday of each month, from 6-7pm via Zoom. This month's topic is Indigenous Food Ways and we will watch the film Gather to discuss on November 19th. Please reach out to Phoebe if you have any questions (scroll below for email)!
Click here for details & registration
---
Network Asks & Opportunities
How to Start a Community Garden: Share a Tip
Do you have experience starting a garden in your town, neighborhood, school, housing community, workplace or other community setting? Others are looking to follow in your footsteps. What should they know as they start out? Are there pitfalls they should avoid? Are there discoveries your gardening group has come across along the way that would be useful for others?
Help VCGN out by sharing tips from your own experience. We plan on incorporating these collected ideas and examples into our future support for groups looking to start a community garden. Thank you for your contributions to this pool of knowledge!
Please complete by December 6th for your input be included in upcoming resources!
Soil Builders Survey
Compost Association of Vermont (CAV), in partnership with the Lake Champlain Basin Program is developing "Soil Builders – Education in Action" workshops that will provide compost-related eco-literacy for Lake Champlain Basin decision-makers, professionals and advocates. The workshops will initially be held online, followed up with a small-group in-person supplemental opportunity that will be more hands-on.
We want to hear from you about workshop topics you would value. To give your input please complete this 3-5 minute survey.
---
Join the Movement!
Gardens for Hope & Health
In this uncertain time, gardens help heal by providing hope, resiliency and food! Many more Vermonters are seeking help to start gardens and we are working to provide resources for people at home and in the community. If you can, please make a donation today so more people can grow their own food and build healthier futures.
---
Since 2001, the Vermont Community Garden Network has worked with hundreds of community and school groups to start, sustain, and grow gardens, building strong local food systems and vibrant educational sites.   
Contact us – We'd love to hear from you!
Email us: first name (at) vcgn.org
Michelle Gates, Executive Director
Libby Weiland, Statewide Network Coordinator
Carolina Lukac, Garden Education Manager
Phoebe Paron, Membership Coordinator
(AmeriCorps VISTA)
---
Vermont Community Garden Network | www.vcgn.org
Facebook | Instagram
Vermont Community Garden Network | PO Box 713, Essex, VT 05453