Department of Health Projections
The Vermont Department of Health released COVID-19 projections showing the expected rate of growth of cases. The state provides daily updates here. Which includes data on cases by age and a map on cases by county. For more details and background on COVID-19 in Vermont, see the Department of Health overview here.
Workplace travel drops sharply
Google mobility provides data on commuting trends by state. The most recent Vermont report finds a 42 percent drop in workplace travel, a 58 percent decline in the retail & recreation, a 34 percent drop in the grocery & pharmacy category and a slight decline for parks (-1 percent). Residential travel increased by 11 percent.
Social Distancing Scoreboard
Vermont ranks 6th in the country when it comes to social distancing, according to a report by Unacast. The report finds that Vermonters have reduced non-essential travel by 70 percent. Recent polling data by Gallup shows almost two-thirds of Americans are now working remotely.
Telecommuting could increase
With more than half of Vermonters now telecommuting to their jobs, what is the chance this behaviour may continue when (and if) the public health crisis starts to decline? Transportation planner Jon Slason of RSG projected the range of potential shift from between 9 to 37 percent, depending on the type of jobs, employers willingness to allow employees to continue to WFH and other factors. See Slason's talk and presentation here and other related postings at STVT.org.
The Vermont Legislature is now live-streaming and archiving on YouTube committee meetings, legislative testimony and other key legislative debates.
Pandemic books and movies fly off the shelves
Fictional books about plagues and pandemics are becoming top sellers. A 1981 novel about a virus called the Wuhan-400 has jumped to number three on Amazon. Sales of Maine writer Stephen King's The Stand were up 163% according to its publisher. We sat down with Stephen King scholar Tony Magistrale to dive into The Stand and why people are turning to it now.
Researchers invent the "Vermontilator"
A team of researchers and scientists at the University of Vermont's College of Medicine has invented a low-cost approach to building a ventilator. The team estimates they can be built for several hundred dollars apiece. See the story here.
Healthcare workers at risk
A recent evaluation of healthcare worker demographics for understanding the vulnerability of healthcare workers to the COVID-19 pandemic finds that North Dakota and Vermont have the lowest proportion of physicians 60 years of age or older. The study finds that the median proportion of physicians aged 60 years and older in the United States is 28.9%.
Women fill most of the front line jobs in Vermont
While many Vermonters are staying home, essential workers continue to go to work. Data from Public Assets finds that more than 72,000 Vermonters continue to go to work, providing essential services from health care food to staffing grocery stores and pharmacies. Nearly two-thirds of these workers are women and almost one-third have children living at home.
School bus drivers deliver food
Bus drivers for some Vermont schools are still driving their routes, but are dropping off meals where they would normally pick up students, VPR reports. Putney Central School district drivers drove buses with milk and bagged lunches that custodial staff had helped to put together.
Neighbors helping neighbors
Williston began an online fundraiser for the janitorial staff sanitizing Williston's public schools that raised over $7,000. The crowdsourced facebook page initially had the goal of raising $200. Additionally, volunteers from the MINT MakerSpace in Rutland, VT will be producing 10,000 face shields to be donated to the Rutland Regional Medical Center, reports the Mountain Times. MINT is sharing the design for the face shields with anyone who needs it.  The Goggles For Docs movement collected more than 12,400 goggles by April 5th to be donated as protective eyewear for healthcare workers, writes VT Ski + Ride. Additionally, Burton Snowboards is utilizing its supply chains in China to donate half a million respirator masks to healthcare facilities in Vermont and New Hampshire, and half of the masks will be delivered to Boston and New York City. 
ExpertsLive Noon Thursdays
Economist Stephanie Seguino talks about the impacts of the crisis on some of the most vulnerable in society and the winners and losers in the $2 trillion dollar stimulus package. Thursday professor Lisa Holmes examines the limits of state and federal power in the crisis. For more info see Experts/Live.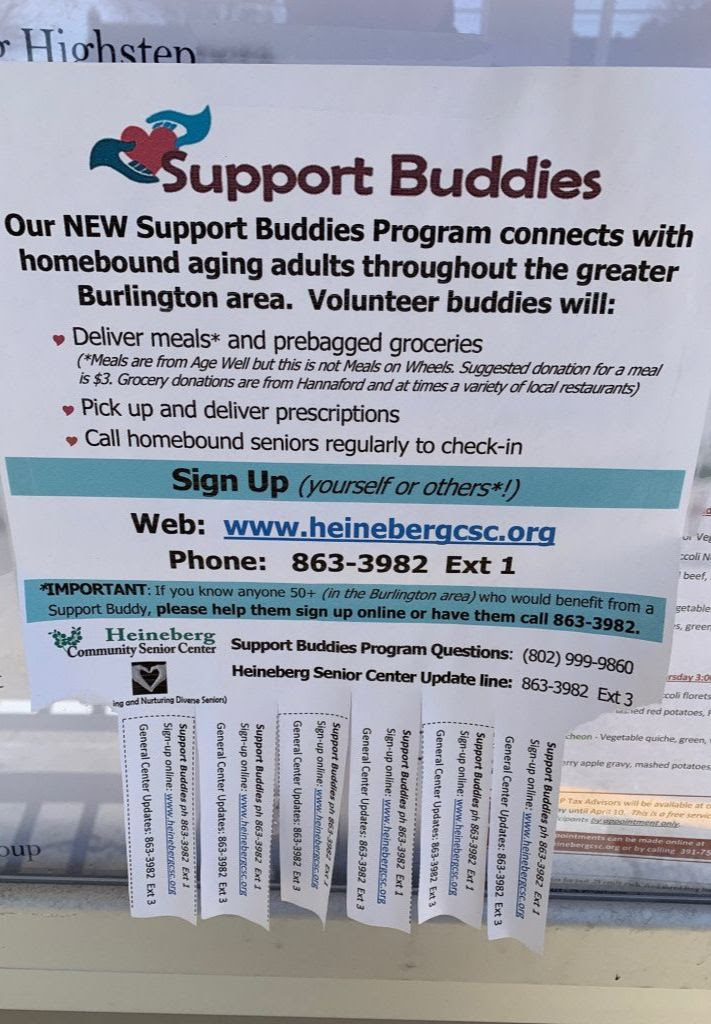 Groceries for seniors
Seniors in Bennington and Rutland can take advantage of a new grocery shopping service, according to the Bennington Banner. The service is available to anyone over the age of 60 and includes safeguards for the health of the volunteers and seniors. A new program, Support Buddies, is also offering support to seniors in Vermont who may be isolated as a result of the coronavirus restrictions, WPTZ reports. The program pairs community volunteers with older community members to deliver meals, run errands, and make check-in calls.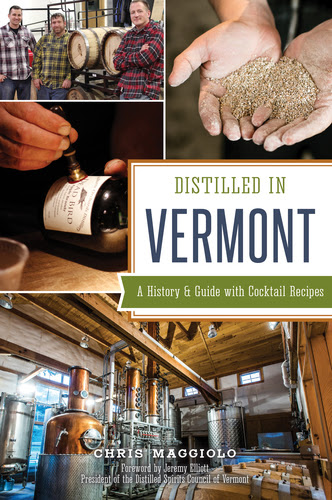 New book on Vermont distilleries
Distilled in Vermont: A History & Guide with Cocktail Recipes is a new book by Vermont distiller Chris Maggiolo. Described as, "a field guide of sorts", the book explores Vermont's long history of distilleries and outlines the processes involved in the distillation of alcohol. The book also includes a curated selection of craft cocktail recipes from bartenders and distilleries across Vermont. Available for pre-order here.
Coping with Covid
Introducing Coping with Covid, a new podcast from MudSeason, telling stories of students during the COVID-19 crisis. Our first two episodes were produced by student podcaster Leah Kelleher and feature students Sam LeCompte and Elena Tall. Listen to them and our other podcast episodes here.
---

Facebook | Twitter| Website| Instagram| YouTube
---
Copyright © 2019 Center for Research on Vermont, All rights reserved.
The Vermont Research News is a bi-monthly curated collection of Vermont research — focused on research in the Vermont "laboratory" — research that provides original knowledge to the world and research that adds to an understanding of the state's social, economic, cultural and physical environment
Send your news items to Newsletter Editors Eliza Giles or Richard Watts. (This edition prepared with help from Hannah Kirkpatrick). In a collaboration with VT Digger, the newsletter is now published online. CRVT is responsible for the content. The newsletter is published on the 1st and 15th of each month.
Check Out Our Website!