I am reaching out to announce our interactive virtual webinar series all about the Lake Champlain region! Regardless of your age or where you live, we hope you will join us! Please share this opportunity widely (on other networks and front porch forum)! 
Over the next few weeks the Lake Champlain Sea Grant team will be hosting "Zoom a Scientist," focused on watershed and aquatic science. This virtual webinar series features scientists from the University of Vermont Rubenstein Ecosystem Science Laboratory, SUNY Plattsburgh, the Lake Champlain Research Institute, and our partner organizations. Sessions are open to all participants from school age to adults, some sessions that are more technical may be marked as more suitable for middle and high school students.
Our first session is on Tuesday, March 31, 12pm – 1pm. This session will cover Basin Basics: Watersheds and the "State" of Lake Champlain with Lake Champlain Basin Program's Director Eric Howe!
Attached is a flyer with additional dates. We plan to run this webinar every Tuesday and Friday for the remainder of this school year of long distance learning!
To Register for this weeks webinar click here. Registration links for this weeks webinar and those that follow will be posted on the Virtual Learning page on our website. Look for the Zoom a Scientist series!
Excited to learn with you!
Ashley and Caroline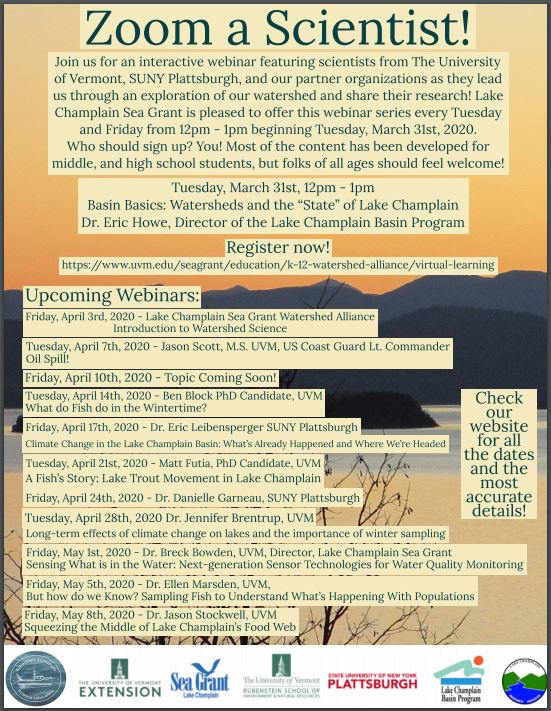 —
Ashley Eaton, MS (she/her/hers)
Watershed and Lake Education Coordinator
Lake Champlain Sea Grant – UVM Extension
.
Rubenstein Ecosystem Science Laboratory
3 College St. Rm 114
Burlington, VT 05401
802-391-4410
.
Follow us on: Instagram – Facebook