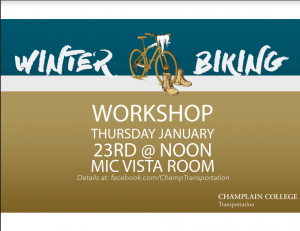 Discover the joy of winter biking for commuting to work, the store, and for fun! In this FREE workshop, you'll learn from our very own Sarah Camille Wilson, a year-round bike commuter, who will share tips on:
– Gear (you can probably just use the bike you own)
– Staying warm (but not too warm)
– Dealing with ice and snow
– Staying safe
Bring your own lunch and eat while you learn. We will raffle off a couple of awesome winter cycling accessories too!
Date: Thursday January 23rd
Time: Noon-1pm
Location: Vista Room, Miller Information Commons

Employees AND Students all welcome
Nic Anderson
Director of Transportation 
Interim Director of Auxiliary Services
Champlain College
Office: 375 Maple St, Room 102 (Ground Floor)
M: PO Box 670, Burlington, VT 05402 or Campus Mailbox 30
P: (802) 865-8464