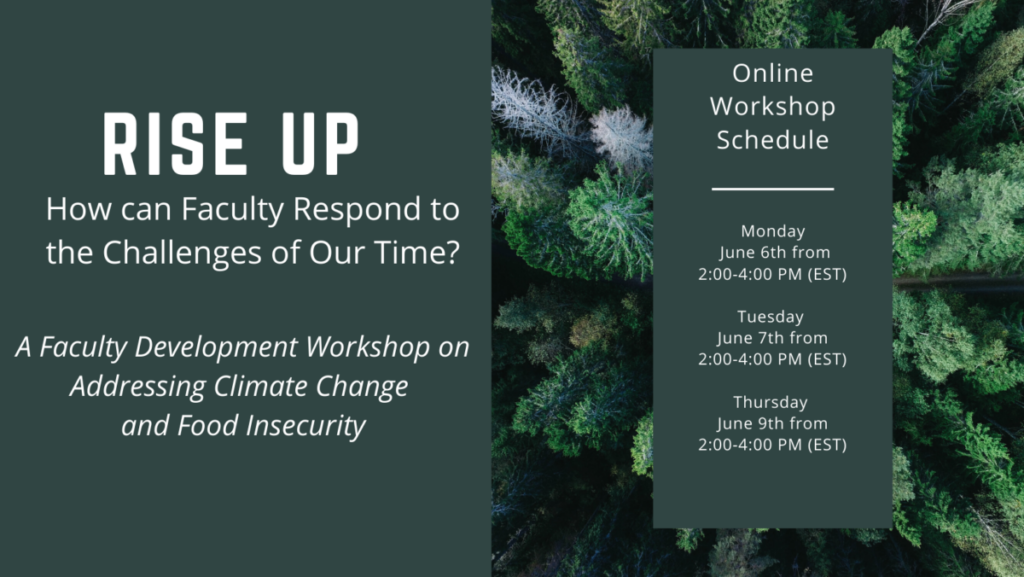 Join Us for a Free Faculty Development Training!
With our planet in crisis and communities being impacted by growing challenges, higher education is called to action to take the lead in addressing two of the world's most pressing social issues: Climate Change and Food Insecurity. In service to the highest ideals of democracy, faculty are well positioned to help prepare students to address complex global problems. To help prepare faculty for this vital role, we are offering a timely one-week virtual course with three live sessions stemming from Maine Campus Compact's Campuses for Environmental Stewardship (CES) program. This course will bring together faculty participants to consider ways to implement community-engaged teaching/learning while addressing many critical topics.
Register

One Week Virtual Course with Three Live Sessions: 
Monday, June 6th from 2:00 – 4:00 PM (EST) 
Tuesday, June 7th from 2:00 – 4:00 PM (EST) 
Thursday, June 9th from 2:00 – 4:00 PM (EST) 

Topics covered in sessions:
Solving critical social challenges through civic engagement
Climate Change and Food insecurity: Tackling timely and urgent challenges through Civic Engagement (CE) /Community-Based Learning (CBL) projects
Advancing 21st Century skill building for students to address critical social problems
Interdisciplinary work; equity and promoting institutional support for CE/CBL 
Register


 Facilitated by Jon Isham
Jon Isham has been on the Middlebury faculty since 1999. He co-founded the Middlebury Center for Social Entrepreneurship in January 2012, serving as its director until 2016. He was the director of Environmental Studies from 2011-2014 and was a Fulbright Scholar at Ashesi University in 2016-17.  Jon currently teaches classes at Middlebury College about environmental policy, environmental economics, microeconomics, and social change. 

Jon's research encompasses a broad range of questions about institutional determinants of well-being and sustainability.  He co-edited (Island Press, 2007) Ignition: What You Can Do to Fight Global Warming and Spark a Movement and Social Capital and Economic Development: Well-Being in Developing Countries (Edward Elgar Publications, 2002); has published articles in Economic Development and Cultural Change, The Journal of African Economies, The Nonprofit and Voluntary Sector Quarterly, The Quarterly Journal of Economics, Rural Sociology, Society and Natural Resources, The Southern Economic Journal, The Vermont Law Review, World Bank Economic Review and other journals; and book chapters in volumes from Ashgate Press, The New England University Press, Oxford University Press, and Cambridge University Press. 

Jon has an AB in Anthropology from Harvard College, an MA in International Studies from Johns Hopkins University, and a Ph.D. in Economics from the University of Maryland. He and his wife Tracy Himmel Isham and their three daughters live in Cornwall VT.  His webpage can be found here.

Register

Faculty Benefits
Receive training and support on how to design and implement a Community-Based Learning course, focusing on two of the most pressing global issues: climate change and food insecurity 

Student Benefits
Learn how service-learning helps students develop critical 21st Century Skills

Campus and Community Benefits
Strengthen community organizations by developing lasting collaborative relationships and develop ways to leverage support from institutions of higher education.
 
About Campuses for Environmental Stewardship
Campuses for Environmental Stewardship, a project of Maine Campus Compact, is a New England-wide initiative that supports interdisciplinary faculty teams committed to addressing environmental stewardship and food insecurity through the integration of community-engaged teaching and learning in higher education courses.

 Questions? Contact sally@mainecompact.org Campuses for Environmental Stewardship (CES is funded with generous support to Maine Campus Compact by the Davis Educational Foundation established by Stanton and Elizabeth Davis after Mr. Davis' retirement as chairman of Shaw's Supermarkets, Inc.