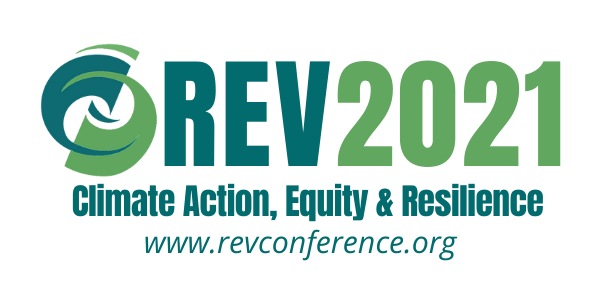 Join us for Part One of REV's two-part virtual conference! Policy experts, planners, entrepreneurs, and advocates invite you to explore the strategies and approaches we need to preserve a livable planet. You're sure to leave inspired!
Keynote Speaker
Dr. Saul Griffith
Co-Founder & Chief Scientist at Rewiring America

Monday, October 18 @ 5:00 pm – 6:45 pm
Saul Griffith will share the investment, infrastructure, and production strategies to get us from where we are now to the low-carbon economy we need to mitigate climate change. The nonprofit he co-founded, Rewiring America, is working to launch a movement that electrifies everything, starting with America's 122 million households. Through accurate, accessible, and actionable data and storytelling tools that power smart, inclusive advocacy and market-transforming partnerships, Rewiring America aims to achieve national emissions goals, improve our health, lower monthly bills, and create millions of clean energy jobs. U.S. Congressman Peter Welch will offer remarks and updates on federal energy issues. Vermont Senate Pro Tem Becca Balint will offer a preview of climate action in the upcoming legislative session.
---
Tuesday, October 19 @ 9:00 am – 2:00 pm
U.S. Senator Patrick Leahy welcomes attendees to examine the wide variety of innovation, policy, and climate action happening in Vermont and across the Northeast region. Get an inside look at state and national climate and energy planning initiatives. Be inspired by innovators who bring a climate action mindset to their work in agriculture, transportation, weatherization, and electrification. Hear from cutting edge policy makers how their work is expanding renewable energy and creating energy equity across our region.
 9:00 am: Looking Ahead: Energy & Climate Planning in Vermont and Beyond
Adam Necrason of The Necrason Group , Jane Lazorchek of Vermont Climate Council, TJ Poor of Department of Public Service, Rob Sargent of Local Solar for All, Ben Edgerly Walsh of VPIRG (moderator) 
10:40 am: Mobilizing Innovation for Climate Action
Lexie Hain of American Solar Grazers Association, Sue Minter of Capstone Community Action, Will Raap of Nordic Farms & Gardner's Supply, Christopher Ralph of Lion Electric, Darren Springer of Burlington Electric Department, Representative Sarah Copeland-Hanzas (moderator)
12:40 pm: Advancing Climate Action and Equity with Innovative Regulatory Approaches
Celina Cunningham of Governor's Energy Office for the State of Maine, Marissa Paslick Gillett of Connecticut Public Utility Regulatory Authority, Matt Nelson of Massachusetts Department of Public Utilities, June Tierney of Vermont Department of Public Service, Richard Sedano of Regulatory Assistance Project (moderator)
Help us spread the word!
Use the hashtag #REV2021 on social media
Click here to let your networks know you're attending REV2021!