Greetings from the Sara Holbrook Community Center. We are just around the corner from campus! We have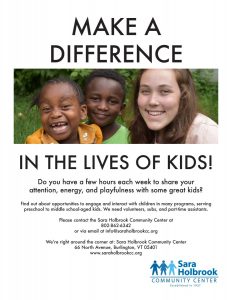 really enjoyed and felt very fortunate to have the help of Champlain College students within our children's programs at the Sara Holbrook Center, where we serve 1100 kids a year!
Do you currently have students you think would love to work with children in educational and recreational settings? We've made a few simple posters (attached) that we are hoping you have space to post somewhere in your department / office or get into the hands of students looking to volunteer or part-time work and play with kids. We have many children's programs from which to choose, from preschool, to elementary and middle school afterschool programs, to summer camps.
I would be happy to print some of these posters for you and send them if that is the most helpful way to let your qualified students know we are seeking strong and healthy connections for our kids within our many programs. I have also attached our brochure, and I can mail some to you, as well.
Thank you kindly,
Kathy
Kathy FitzGerald

Development Associate

Sara Holbrook Community Center

66 North Ave., Burlington, VT 05401

CELEBRATING 80 YEARS!
Educating Children | Supporting Families | Instilling Hope
Follow us on Facebook to see kids doing great things.