Volunteers still needed for several garden projects
Join us this Saturday or next, to help a school or community garden prepare for the growing season!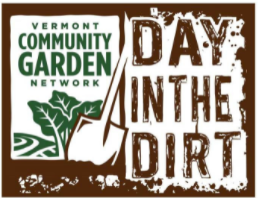 This annual event brings volunteer power to gardens across Vermont. On April 24th and May 1st more than 200 volunteers will participate in 18 projects. Will you help?
Experience not required and tools are provided.  Registration is free and you earn prizes for fundraising, which supports the participating gardens and Gardens for Learning, teaching and feeding children and families at risk of hunger. 
These gardens in particular are still in need of helping hands:
April 24 (9am-12pm)
East Branch Farms in Manchester Center
Swanton Recreation and Elementary School in Swanton 
May 1 (9am-12pm)
Allen Brook School in Williston
Brookside Garden in Colchester
Ethan Allen Residence "Dirt Huggers" in Burlington
Family Room Garden in Burlington
Neck of the Woods Pre-school in Waitsfield
Waterbury Food Shelf in Waterbury
Vermont Community Garden Network | VCGN | Facebook | Twitter
Vermont Community Garden Network | PO Box 713, Essex, VT 05453