Join the Community Teaching Garden!
There is still time to register for the Community Teaching Garden Courses! This growing season we are running a beginner course for new (or relatively new) gardeners who are interested in learning how to tend to an individual garden bed as well as an advanced course for individuals with more gardening experience and an interest in collectively managing a mini market garden.  Both courses follow the rhythm of the growing season through weekly lessons and hands-on garden work.
You can find course details, FAQs, online registration, payment plans,
and scholarship information 
here!
We're Hiring!
Are you ready to dig your hands into the soil? We are hiring! The following positions are open:
Day in the Dirt 2019
Saturday, April 27th is the 7th annual Day in the Dirt across the state of Vermont! Hundreds of volunteers join forces to raise funds for VCGN and lend a hand in a shared garden at a school, neighborhood, housing facility, hospital, workplace, library or childcare center – working together to build a happier, healthier Vermont!
Register as a Day in the Dirt site 
VCGN's 9th Annual Seed Swap
Join us on 
Saturday, March 2nd between 11am-2pm 
at the
 Fletcher Free Library 
for our
 9th Annual Seed Swap! 
This event is open to the public and we invite you to bring well labeled seeds (variety, year harvested, and planting instructions) or a small monetary donation and participate in a community seed swap. Presentations will be given throughout the event on "Seeds for Herbalism" by Sophie of Birdseed Gardens and "DIY Seed Saving Gardeners" by Anne Miller.
The following community partners will be there to help you get involved in the garden community: Burlington Area Community Gardens, Burlington Permaculture, Food Fight VT…and more!
Thanks to the generosity of our friends at 
High Mowing Organic Seeds
, 
Gardener's Supply
 and 
American Meadows
, we have seeds to share with Vermont community and school gardens. Each garden will receive a bundle of 25-40 vegetable, herb and flower seed packs, along with seed starting resources, planting instructions, a seed viability chart and other materials from VCGN.
Click here to learn more and request your seeds today! 
Support VCGN with your Garden Shopping!
Donate $45 to VCGN this month and receive a $50 gift card to Red Wagon Plants. Thanks to 
Red Wagon
, you can help your garden and provide essential garden programming for a happy and healthy Vermont. Donate 
here!
February Toolshed Tip:
Authentic Volunteer Engagement
Have you ever volunteered before? Picture your least favorite volunteering memory. What was it about the experience that didn't work for you? What would you have changed or wanted more of? Now, picture your most favorite volunteering memory. What was it about the experience that worked so well for you? What kept you coming back? This month, Libby takes us deep into recruiting and keeping volunteers. Learn more 
here!
Register for Your 2019 Garden Plot 
register for your new garden plot February 4 – March 14th!
Submit an Event to our Calendar
Get the network involved by submitting your next event directly to our
See you at the 37th Annual NOFA-VT Winter Conference!
"What Happens When You Compost in Community? Managing Food Waste and Garden Debris for Community Benefit" a panel discussion with Libby Weiland, our Statewide Network Coordinator
"Growing and Dyeing: Our Favorite Plants for a Dye Garden" with Carolina Lukac, Garden Education Manager and Ehrin Lingeman, Programs Assistant
Register for the conference 
here!
Need funding for next season's garden projects? Now's the time to keep your eye out for grants – Go to 
VCGN's Garden Grants
 page for a regularly updated list. Here are some, visit our website for details, links and rolling deadline grants.
VCGN's Thriving Gardens Grant Program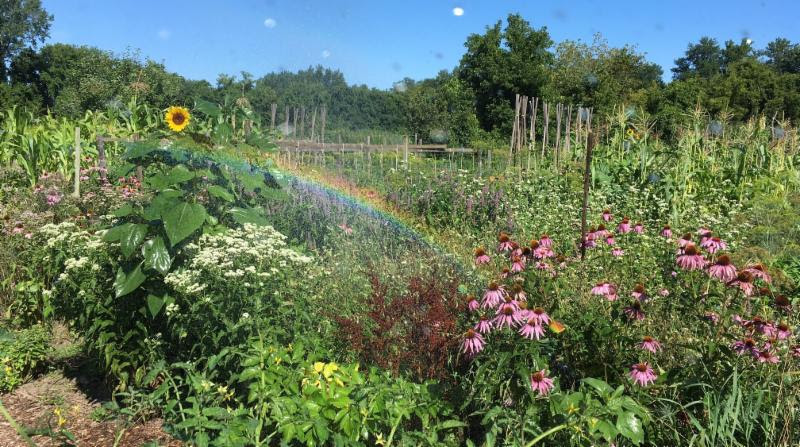 We are now accepting proposals from existing and newly forming garden groups for projects that support the growth of thriving gardens. Support will be available in the form of small grants, training, and planning assistance. Click 
here
 for more information on this new grant program.
Other Grants for Community Garden Projects
Connect with other Garden Leaders
Our closed Facebook group serves as a forum for your garden management questions, and as a place to post and request resources: 
Join the group!
Grow With Us!

The Vermont Community Garden Network is growing a healthier Vermont by helping people of all ages access the space and resources to grow their own food and connect with each other. We need your help now more than ever –
please make a donation today!
Since 2001, the Vermont Community Garden Network has worked with hundreds of community and school groups to start, sustain, and grow gardens, building strong local food systems and vibrant educational sites.
Contact us – we'd love to hear from you!
Michelle Gates, Executive Director