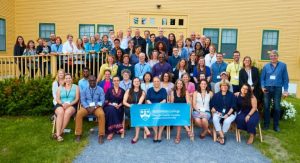 June Forum On Social ENTREPRENEURSHIP 
The eighth Annual June Forum on Social Entrepreneurship, hosted at Middlebury's beautiful Bread Loaf campus is from June 10–12, 2019. This event convenes practitioners of social innovation education, newcomers to the field, and other professionals working to develop social impact programs at their home institutions. 
Our 2019 theme is "The Art of Connecting across Social Impact Experiences". Social impact educators and practitioners will learn ways to identify educational communities, reflect upon learning moments, and connect diverse experiences to identify steps for meaningful engagement. Forum participants will be exposed to ways that various institutions connect across learning experiences in academia. 
This year, we will be co-hosting Ashoka's Change Leader Retreat concurrently with June Forum which will provide attendees with the opportunity to exchange ideas and experiences with an even broader network than in years past. 
The registration cost is $475 until April 1.* Registration covers mountain retreat lodging, locally-sourced food for breakfast, lunch and dinner, and thoughtfully curated programming. If you have any questions, please feel free to reach out to me. We hope you can join us! Register here.
*Early bird registration (till April 1 , 2019) is $475 while registration after 4/1 is $600. The price for local educators/practitioners is $275 which includes all of the above except lodging.

 
Contact For More Information…
Charlotte X.C. Sullivan  
Social Entrepreneurship Program Associate
cxsullivan@middlebury.edu | 802-443-3267