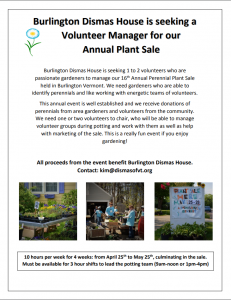 Dismas House is seeking 1-2 volunteers who are passionate gardeners to manage our 16th Annual Perennial Plant Sale held in Burlington Vermont.   We need gardeners who are able to identify perennials and like working with energetic teams of volunteers.
This annual event is well established- we receive donations of perennials from area gardeners and volunteers from the community help out year after year.   We need one or two volunteers to chair who will be able to manage volunteer groups during potting and work with them as well as help with marketing of the sale.  This is a really fun event if you enjoy gardening!
We are looking for 10 hours per week for 4 weeks: from April 25th to May 25th, culminating in the sale.  Must be available for 3 hour shifts to lead the potting team (9am-noon or 1pm-4pm)
Thank you so much for your help with this and for your support of Dismas House!
Zoe Bishop
Assistant House Director
Buell Street Dismas House
96 Buell Street
Burlington, VT  05401
Please note my new email addr: zoe@dismasofvt.org