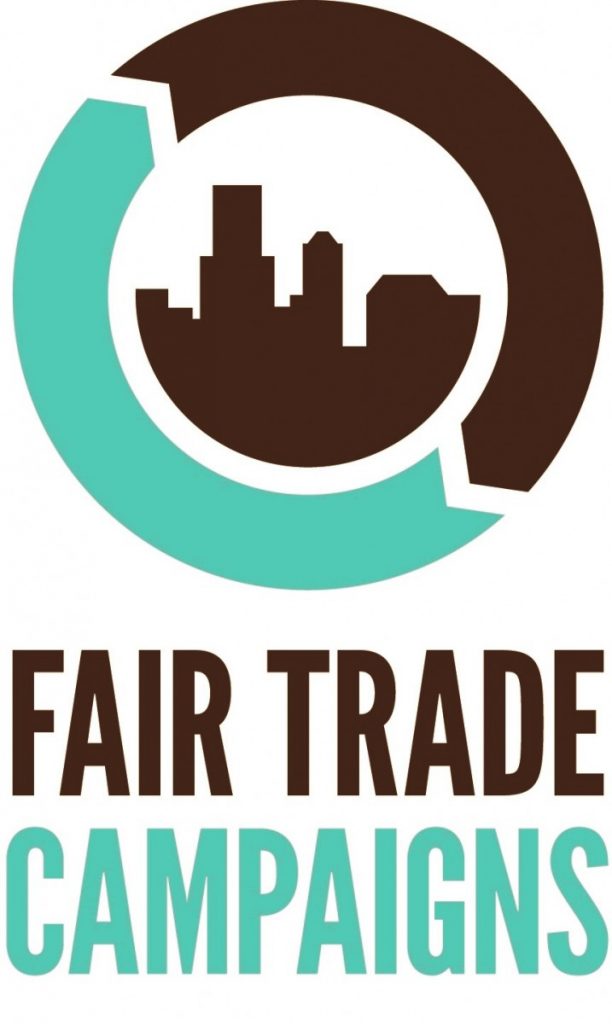 Fair Trade Month is over and the weather is cooling down, but our organizers and partners aren't letting that stop them from turning up the heat on their Fair Trade activities and events!    
Read on to celebrate the designation of the University of Wisconsin – Madison, to join the International Fair Trade Towns Conference, and for a recap of the People vs Fossil Fuels action on Washington DC.
As always, please reach out if you have any questions or would like to be featured.
Warmly,
Taryn Lemmon
Campaigns and Communications Coordinator
Fair Trade Campaigns
Congratulations University of Wisconsin – Madison!
UW-Madison becomes the 72nd Fair Trade designated campaign in the United States.


Congrats to the University of Wisconsin – Madison on reaching Fair Trade designation! As the third Big Ten and second UW System school to attain Fair Trade status, Madison is setting an important precedent for other large prestigious institutions. Read about UW-Madison's Fair Trade journey in this article written by their tireless leader, Jake McCulloch. Well done!
Upcoming Events & Opportunities
International Fair Trade Towns Conference


November 18-20, 2021
For the first time EVER, the International Fair Trade Town Conference is going virtual! If you've ever wanted to attend the conference, but couldn't make your way across the sea, this is your chance to join from home for FREE. Learn through the thematic workflows including; impact, opportunities of COVID-19, public procurement, innovation, and youth engagement. Join Fair Trade Campaigns during the youth engagement portion to learn how to engage and inspire young people for Fair Trade. 
REGISTER TODAY
Fair Trade Philly Event: Is Cotton Really the Fabric of Our Lives?


Fair Trade Philadelphia is proud to welcome Bena Burda, founder of Maggie's Organics, to share her story of building an organic, fair trade apparel company.
Fair Trade Philadelphia will also be hosting the next round of the Fair Trade Buying Club to offer participants and members a 30% discount off of almost all Maggie's Organics products!
Register and learn more here! 
Recap: People vs. Fossil Fuels Action


On October 11-15, our friends from Power Shift Network joined People vs. Fossils Fuels in Washington DC for the largest civil disobedience action in decades, demanding President Biden use his executive authority to hasten the end of the era of fossil fuels. Fair Trade and climate justice go hand in hand as the global farmers putting food on our tables are the most heavily impacted by climate change despite their small footprints on the environment. PSN's Political Education and Trainings Coordinator, Saren was on the ground in DC and provided a quote on why this action was so important to them:
"I joined this action to march in Washington because one of the quickest harm reduction tactics that Our President Jo Biden could do is declare this country in a climate emergency. I'm a black, autistic, gulf coast southerner, My community and I don't have the time or luxury of lying to ourselves about the future of our homes and communities on the gulf. I acted in civil disobedience outside the white house because I wanted them to know we aren't going anywhere no matter what we are put through."
Take action and learn how you can be part of the change by visiting powershift.org and peoplevsfossilfuels.org.
You can also hear more from Saren at our upcoming Network Call in early December focused on climate advocacy for students! Stay tuned!
Fair Trade Campaigns
http://action.fairtradecertified.org/