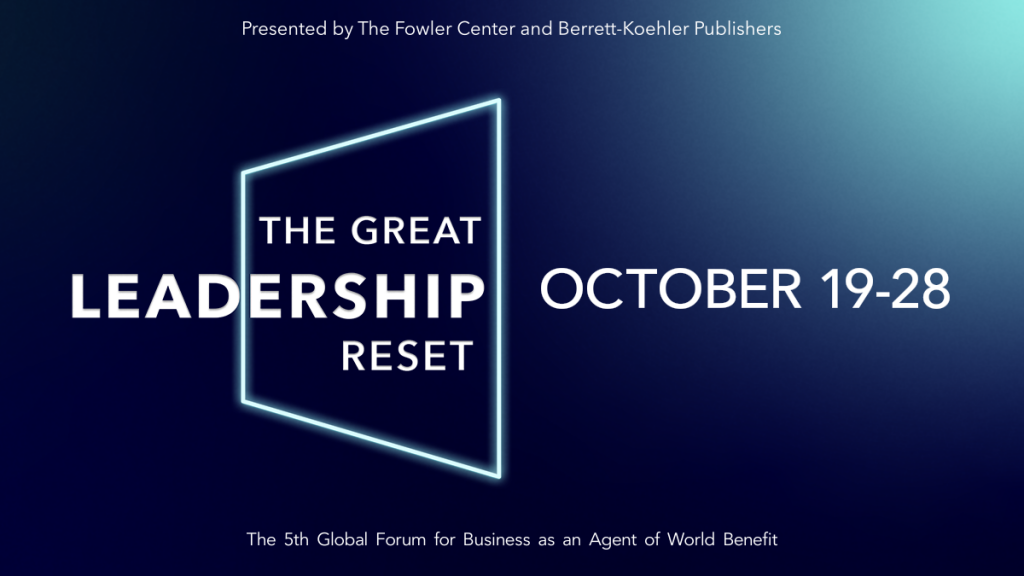 Imagine waking up in the year 2040… Can you envision a future where we've solved our climate crisis, poverty, and our most pressing social and racial justice problems?
Imagine a world where we've ended global poverty, where we've made the shift to 100% renewable energy, where our economy is organized around justice and equity and the wellbeing of all.
It's not a utopian dream. In fact, it's happening right now. SIGN UP NOW!
The Cooperrider Center is proud to partner with this groundbreaking virtual forum exploring how business leaders around the world are coming together to create a better future for all. Would you like to join?
Sign up for The Great Leadership Reset, a virtual reimagining of the Fowler Center's Global Forum for Business as an Agent of World Benefit.
Some of the speakers we admire most will be presenting at this 10-day FREE virtual event. Join us October 19 – 28 to hear from speakers like…
Jodi L. Berg, PhD – President and Chief Executive Officer, Vitamix, Cooperrider Center Advisory Board Member
David L. Cooperrider, PhD – Founder and Faculty Chair of The Fowler Center for Business as an Agent of World Benefit, Cooperrider Center Honorary Chair
Ronald Fry, PhD – Professor of Organizational Behavior, Case Western Reserve University, Cooperrider Center Visiting Professor and Advisory Board Member
Michele Marie Hunt – Transformation Catalyst, Strategic Advisor, Author, Cooperrider Center Advisory Board Member
We have an unprecedented opportunity to upend the traditional theory of business and unleash the power of industry for long term global benefit.
Learn how your company can do the same by joining The Great Leadership Reset.
Imagine becoming the first generation in all of human history to eradicate extreme poverty, to transform from a fossil fuel economy to a 100% renewable energy economy, and to give every child access to school. Together, we can make the future happen.
Join us, and you'll begin to see how.

With Gratitude,
The Cooperrider Center

P.S. — If you see how the world is shifting and you want to prepare yourself and your organization for new challenges, we invite you to join us as we create a new vision for leadership.