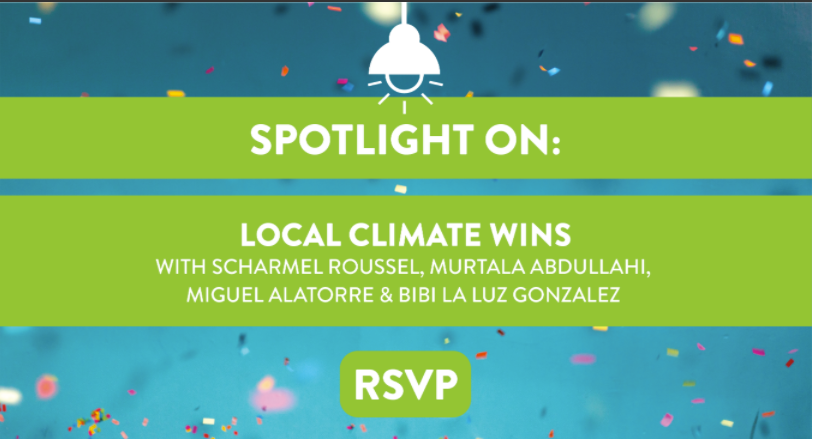 To say that 2020 was rough would be an understatement.
We experienced a global pandemic, a long overdue reckoning on racial justice, political unrest, and more – all against the backdrop of the climate crisis. And yet, around the world, meaningful climate action persisted.
Join us on February 16 at 1 PM ET for Spotlight On: Local Climate Wins. Together, we'll hear from three amazing speakers from the US and Nigeria on how they persevered in the face of adversity and made local climate action a reality at this challenging time.
Webinar speakers include:
Scharmel Roussel, Interfaith Power and Light Arkansas
Murtala Abdullahi, Global Shapers Abuja
Miguel Alatorre, Greenaction
The panel will be moderated by Bibi la Luz Gonzalez, international political economist and founder of the non-profit organization Eat Better Wa'ik.
Together, this talented panel will share stories and insight to hopefully inspire climate action in your own community.
We hope you'll join us! RSVP today.
-Your friends at Climate Reality
---
Facebook | Twitter | YouTube | Instagram | LinkedIn
Contact Us | Join Reality | Privacy Policy
© 2021 The Climate Reality Project