Dear Friend,
Thanks for your interest in People, Places, and Transportation, the new iteration of the blog formerly hosted at Sustainable Transportation Vermont (STVT). If you haven't checked out the blog yet, learn more about it in our introductory post from December.
We're pleased to share two new entries from January 2021:
In COVID-19 and Commuting: Making it Work, Kim Furtado, Transportation Analyst at the Chittenden Area Transportation Management Association (CATMA), explores the benefits of telework—but cautions that employers will need to implement fair policies, or risk exacerbating existing inequities. Read it here.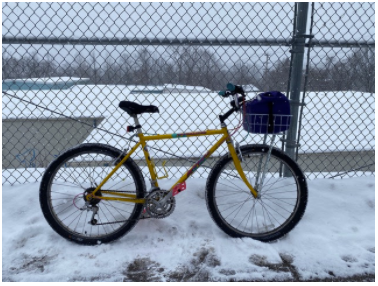 In Winter Biking Can Be Fun, Kelly Duggan from Old Spokes Home in Burlington dishes on gear, maintenance, technique, and other know-how when it comes to sharing Vermont's wintry roads. If you're an aspiring cold-weather biker looking for some tips, or want to better accommodate your neighbors who rely on their two wheels, take a read.
Thanks for joining us on this journey to reimagine transportation in Vermont!
Kate McCarthy
Sustainable Communities Program Director
Vermont Natural Resources Council
---
Photo of snow-ready bike by Kelly Duggan
Facebook | Twitter
Vermont Natural Resources Council, 9 Bailey Ave, Montpelier, VT 05602
Copyright © 2020 Vermont Natural Resources Council. All rights reserved.