Please join us for two more amazing food system events before the winter holidays set in!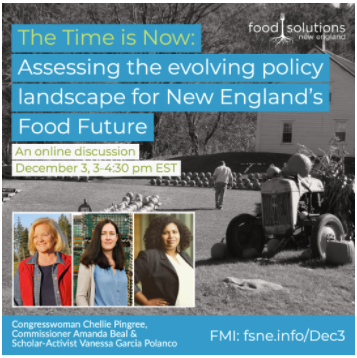 The Time is Now: Assessing the evolving policy landscape for New England's Food Future
Join special guests Congresswoman Chellie Pingree, Maine Commissioner of Agriculture, Conservation and Forestry, Amanda Beal, and scholar-activist and National Young Farmers Coalition Policy Associate Vanessa García Polanco to hear about the opportunities ahead of us to leverage the policy landscape in support of a sustained food system transformation in our region.
More information and registration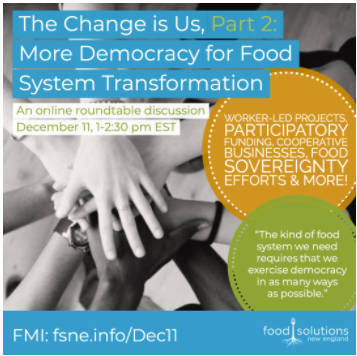 The Change is Us, Part 2: More Democracy for Food System Transformation
Building on the November "The Change is Us" event on democratic empowerment, we invite you to join us for the next round, in which we go deeper into democratic and participatory models for transforming our regional food systems.
This time around we are hearing from Migrant Justice (worker-led initiatives), New England Grassroots Environment Fund (participatory funding models), Cooperative Development Institute (cooperative businesses and enterprises), Why Hunger (food sovereignty connections), and with special guest Ceasar McDowell, Professor of Civic Design at MIT.
More information and registration
Also, please save the dates for A Gathering of the FSNE Network happening as a series of virtual sessions every Friday morning in February 2021!
Job openings from around the network…
---
Don't forget to follow us on all your social media platforms, catch up on the latest food systems news, submit events for our calendar and social media feeds, and spread the word as we build and strengthen our network together!
Facebook | Twitter | Instagram |LinkedIn
Food Solutions New England (FSNE) is a six-state regional network creating a healthy, just and resilient food system that works for everyone. The FSNE network is coordinated by the UNH Sustainability Institute in Durham, NH. The University of New Hampshire ranks #2 in the country among public higher education institutions for its sustainability efforts.
---
Our mailing address is:
Food Solutions New England at the UNH Sustainability Institute
107 Nesmith Hall
131 Main Street
Durham, New Hampshire 03824