We witnessed historic turnout for youth voters ages 18–29 in the 2020 election, and it wouldn't have been possible without all the tremendous work that each of you — our campuses and partners — did. While the college student vote and the youth vote are not the same thing, this is a great indicator. Thank you for helping to make voter participation a norm on college campuses!
— The ALL IN Team
---
We've Grown!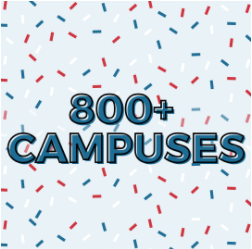 This election cycle was also record breaking for ALL IN — we've now grown to more than 800 participating campuses! Thank you for your commitment to civic learning and democratic engagement in this election year and every year!
---
GA Election Runoff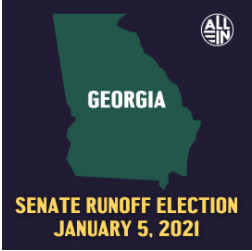 Georgia will host its general election runoff for two senate seats on January 5, 2021. If a GA student turns 18 on or before January 5, they are eligible to vote in this election. Register to vote, verify your voter registration, request your absentee ballot and get informed, at allintovote.org.
---
Share Your Updated NSLVE One-Pager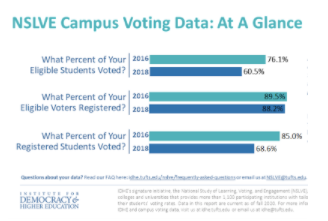 Please send us your updated one-pager (sent to you by IDHE this fall in early October) and previous reports from the National Study of Learning, Voting, and Engagement (NSLVE). Your campus may be eligible for a retroactive seal of recognition. Submit your NSLVE data to reports@allinchallenge.org.
---
APSA Essay Contest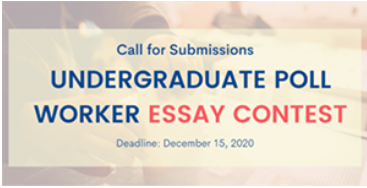 Our friends at the American Political Science Association (APSA) are hosting an essay contest about students' experiences working the polls. Students can submit a brief essay (400 words or less) about their experience for a chance to win a cash prize. Essays must be submitted by December 15, 2020. 
---
Collecting Student Voter Stories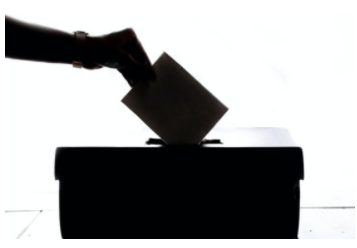 ALL IN and SLSV Coalition partners are interested in hearing about student voting experiences. If you know students who were unable to cast their ballot consider asking them to share their experience. We are also collecting remarkable voting stories at the same link. By gathering these stories, we hope to create more access and success for student voters to participate in future elections.
---
Youth Voting Data

The Center for Information & Research on Civic Learning and Engagement (CIRCLE) at Tufts University has tracked and reported youth turnout data in the 2020 election. CIRCLE data suggest that 52%–55% of voting-eligible young people, ages 18–29, cast a ballot in the 2020 presidential election. Check out their work to learn more about the increase in youth participation.
---
Congrats Leaderboard Winners
Students across the nation pledged to vote using allintovote.org. The University of Oklahoma Norman Campus ranked #1 in total student pledges to vote. Connecticut College ranked #1 in total student body percentage pledged to vote. Congratulations to our winners!
---
Giving Tuesday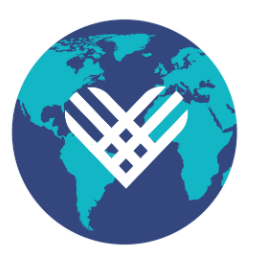 You played an essential role in helping ensure that college students were ALL IN to vote this election year. The ALL IN Team is thankful for you this holiday season and we hope you'll help us continue to support nonpartisan college student democratic engagement everyday of every year by making a tax-deductible donation this Giving Tuesday.
---
Upcoming Dates
---
ALL IN Challenge Highlights
803 Participating Institutions
428 Public 2018 NSLVE Reports | 502 2020 Campus Action Plans
307 Presidential Commitment Signatories
29 New Campuses
Angelo State University, Augusta University, Bishop State Community College, California College of the Arts, California State University-Long Beach, Claflin University, Eastern Illinois University, Eastern University, Eastern Washington University, Framingham State University, Georgia Institute of Technology, Goldey-Beacom College, Gwinnett Technical College, Henderson State University, Jarvis Christian College, Kennebec Valley Community College, Loyola Marymount University, Menlo College, Moorpark College, Rhode Island College, Saint Elizabeth University, Saint Mary-of-the-Woods College, Salt Lake Community College, Siena College, St. Philip's College, The University of Scranton, Trinity Washington University, University of Southern Maine, University of the West.
View a full list of participating campuses and their NSLVE Reports and Action Plans on our participating campus page.
---
Website | News | Donate
Facebook | Twitter | Instagram | YouTube
ALL IN Campus Democracy Challenge
1156 15th St NW, Suite 1000, Washington, DC 20005
allinchallenge@civicnation.org | 202-908-5226
© 2020 ALL IN Campus Democracy Challenge, All Rights Reserved.
The ALL IN Campus Democracy Challenge is an initiative of Civic Nation, a 501(c)(3) organization.