Latest news from AASHE's Sustainability Tracking, Assessment & Rating System™ (STARS)
February 2020
DATA sharing deadline approaching
Since 2012, AASHE has collaborated with Sierra and The Princeton Review to allow colleges and universities in the U.S. and Canada to use the STARS Reporting Tool to share their sustainability data for potential inclusion in Sierra's Cool Schools ranking and The Princeton Review's Guide to Green Colleges.
Based on the positive response to the data sharing process in 2018 and 2019, we will be following the same process in 2020. The submission deadline for inclusion in both rankings, as well as AASHE's annual Sustainable Campus Index (SCI), is March 6, 2020. Please review the Data Sharing Instructions carefully to make sure your institution is included.
If you have questions about the process of submitting and sharing a STARS report, please email stars@aashe.org.
---
Avoid Common Issues in STARS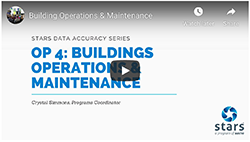 The STARS Help Center launched in 2019, and we've steadily been adding credit articles to answer FAQs, list common issues, and provide reporting examples for specific credits. This year, we're excited to share a brand new feature of the Help Center: the STARS Data Accuracy Video Series! Now, when you visit the Help Center credit article for many of the credits in STARS with the highest error rates, you'll be able to watch a short video, usually 5 to 8 minutes in length, that provides data quality tips and resources to help you submit high-quality data under version 2.2.
AASHE also hosted a free webinar on STARS 2.2 data quality at the end of January. AASHE members can access the recording in the Campus Sustainability Hub. Institutions still working under STARS 2.1 are encouraged to review last year's 2.1 data quality webinars.
---
Conducting A Food and Beverage Inventory
Working on a food and beverage inventory for STARS 2.2? AASHE has published several resources to make the process as straightforward as possible:
Find Answers to Your Questions
---
Did you know?
For STARS 2.2, AASHE has made available text files for each credit and a data tracking sheet that includes the reporting fields for every credit. You can use these files to manage the reporting process, for example by creating forms or otherwise sharing reporting fields and guidance with data providers.
You can also generate a spreadsheet that includes your currently saved data by navigating to My Submission and selecting Download > Excel from the Export menu.
---
Help Shape STARS 3.0
Although the next major revision of STARS (3.0) is not slated for release for two years or more, we are already beginning the development process and recently released a draft vision for STARS 3.0. To further inform our work, we would love to know more about how you would like to see STARS evolve. Have an idea for a new credit or a reworking of an existing one? Thoughts on simplifying the reporting process? Let us know!
Email your thoughts, suggestions or proposals to stars@aashe.org.
---
Submit for an AASHE Sustainability Award
Each year the AASHE Sustainability Awards recognize institutions and individuals leading the sustainability
movement.
Consider highlighting innovations happening on your campus by submitting for a Campus Sustainability Achievement Award!
The deadline to submit for an award this year is May 15 at 11:59 p.m. Eastern.
---
Welcome New STARS Participants
Arkansas Tech University
Capilano University
Cedar Crest College
Cégep de Sherbrooke
College of Saint Benedict & Saint John's University
Dallas County Community College
Lake Washington Institute of Technology
Los Angeles City College
Minerva Schools at KGI
National Taiwan University
Salve Regina University
Universidade do Porto
University of New England
University of Portland
West Los Angeles College
Westover School


---
Resources
---
The Sustainability Tracking, Assessment & Rating System™(STARS) is a transparent, self-reporting framework for colleges and universities to measure their sustainability performance.
The STARS Update is a quarterly e-newsletter with up-to-date information on the latest STARS technical developments, publications, deadlines, tips and tools.
Association for the Advancement of Sustainability in Higher Education
2401 Walnut Street, Suite 102
Philadelphia, PA 19103
888-347-9997 | stars@aashe.org