Earth Day is around the corner: How is Champlain doing?
April 22nd is known as Earth Day around the globe. We encourage you to find one way to acknowledge this day.
Sustain Champlain, Champlain College's campus sustainability initiative has been active for over a decade and wants input from Burlington-based students, faculty and staff on how you think we are doing in terms of environmentally sustainable practices on campus, where we can improve, and how important these issues are to our community.
Your feedback is valuable as we proceed in our planning and action steps. Your participation in this survey is completely voluntary and responses are anonymous. We will compile responses into a report that will be included in our annual report and will also be linked to our 2019 AASHE STARS submission. The survey will be open from April 18th until May 1st.
As our appreciation for your completing the survey, we will give you a stainless steel reusable straw or other small gift, available at 4/26 Spring Meltdown or in Skiff Annex 203.
Champlain's Latest Greenhouse Gas Inventory
For the past ten years, Champlain has completed an in-depth greenhouse gas (ghg) inventory. This year's results show that our net emissions have stayed relatively stable over the decade, despite a 27% increase in physical space and a 7% increase in student population.  Two key recommendations for consideration on how we continue to decrease our emissions are:
1) consider carbon offsets for our student study abroad travel
2) continue renovating our historic buildings
Service-Learning Designated Courses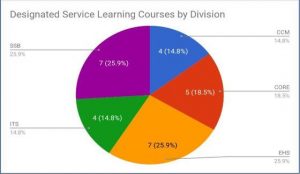 In Fall 2017, we launched the Service-Learning (SL) Course Designation processand are pleased to report that as of March 2019, 28 courses have been designated (6 of which have two or more sections).  Additionally, all EHS students take three SL coruses (EHS 100, 200, and 210) and all SSB students take at least one SL course (BUS 210).  In 2018-2019, 582 students took an SL Course!
Upcoming Events